Cuomo Says We're Only Seeing 'The First Wave' Of COVID-19: Live Updates
by Tyler Durden
ZeroHedge.com
Thu, 04/09/2020
Summary:
Italian PM says "EU could fail" if bailout package isn't handled
Russia, Tokyo report record jumps
Russian case total passes 10k
Over the past 24 hours, the US reported 32,176 new cases
US moves to try and stop the IMF from approving Iran's request for a $5 billion bailout
South Korea warns risk of virus "reactivating" in cured patients
NY reports another record jump in deaths
332,000 people have recovered globally so far
Dr. Fauci says US deaths might be "closer to 60k"
Oxfam warns outbreak could push 500M ppl into poverty
Merkel opposes coronabonds
White House floats dubious rumor about "second" coronavirus task force to focus on the economy
19 Syrians have tested positive as health orgs alarmed by outbreak
President Trump says US could reopen in phases "ahead of schedule"
Spain has now confirmed 152,446 cases of the virus
EU pressures Netherlands to drop opposition to bailout plan
Support for 'Unity Government' surges in the UK
Italian PM says lockdown might start to lift at end of April
Spain government celebrates lockdown achievements as opposition suspects cases are undercounted
* * *
Update (1150ET): Moving into the back-end of his daily briefing, Governor Cuomo said that the jump in deaths seen in recent days is to be expected, and that the key figure to focus on is the drop in ICU capacity, as the state remains moderately shy of its limits on hospital beds, ICU beds and ventilators. If this indeed is the worst of it as far as deaths and hospitalizations go, the state won't need any more assistance or outside equipment.
Meanwhile, data shared by Cuomo on Thursday exposed what may have been the reason for failing to report ICU admissions yesterday.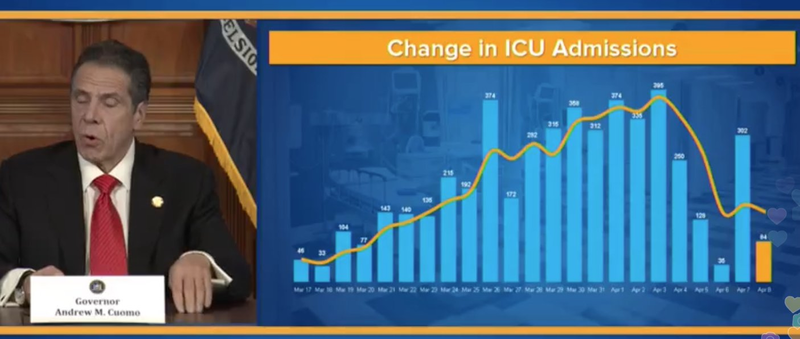 *
Update (1110ET): New York State just reported a record number of deaths in a 24 hour period for the second day in a row, after reporting about 790 deaths state-wide yesterday, it reported more than 800 deaths on Thursday.
NYC REPORTS RECORD 824 DEATHS FROM VIRUS IN LAST 24 HOURS
NYC CONFIRMED VIRUS CASES RISE BY MORE THAN 6,400, TO 84,373
Gov. Andrew Cuomo has heralded the flat-ish growth in new cases in the state as a sign of a "plateau" in the state, while also touting the spike in hospital vacancies that has occurred as deaths have jumped (an unintended consequence).
* * *
Update (1100ET): As economists in the US warn that Thursday's unemployment claims numbers suggest that the US unemployment rate is already around 13%, its highest level since the Great Depression, and worse than the depths of the financial crisis, the Nairobi-based charity Oxfam published a report on Thursday claiming 500 million people around the world would be pushed into poverty because of the virus, per Reuters.
This would cause global poverty rates to fall for the first time since the early 1990s, when the collapse of Communism and ensuing privatizations sowed chaos in formerly Communist society.
* * *
Update (1040ET): After returning to the Chancellory from isolation, German Chancellor Angela Merkel is being celebrated by the public for her government's decisive steps to contain the outbreak. Germany is testing more than 50k a day, and its robust testing program has been said to be responsible for the country's strikingly low mortality rate (under 1%).
But while her actions have helped unite Germans during this crisis, her decision to oppose the controversial "coronabonds" proposal has frustrated some of her European partners. Reuters reported Thursday that Merkel would oppose the bonds.
"I spoke today with Italian Prime Minister Giuseppe Conte for a long time and we agree that there is an urgent need for solidarity in Europe, which is going through one of its most difficult hours, if not the most difficult," Merkel said.
"And Germany is ready for this solidarity and committed to it. Germany's wellbeing depends on Europe being well. Now, which instruments are fit for this purpose, here there are different views. You know that I don't believe we should have common debt because of the situation of our political union and that's why we reject this," she added during a news conference.
"But there are so many ways to show solidarity and I believe we will find a good solution."
Merkel has already uncorked 'limitless' credit within Germany as part of Berlin's $1 trillion-plus rescue package. Rome is going to need to figure this one out in a way that won't force the Germans to dip their hands into their wallets again.
With markets set to clock one of their best weekly rallies since 2009, the White House is whipping the horse again with dubious BBG headlines, this time claiming that it will create a second task force focused on the economy with…the half of people on the main task force who are focusing on the economy. Core members would include Mnuchin and Kudlow. Of course, this isnt' the first time we've seen this rumor.
* * *