New York Reports Largest Single-Day Jump In Deaths As COVID-19 Optimism Fades: Live Update
by Tyler Durden
ZeroHedge.com
Tue, 04/07/2020
Summary:
Russia reports another concerning jump in cases
Downing Street offers update on Johnson's condition
Abe kicks off Japan's 1-month state of emergency
Spain reports jump in deaths following drop over the weekend
Wuhan lifts lockdown
US death toll tops 11k
Italy reports another deceleration in cases + deaths
UK reports deadliest day yet
New York State reports biggest one-day jump in deaths with 731
ICU admissions, intubations down significantly in New York
US cases accelerate faster than Europe's
Turkey delivers COVID-19 update
Wuhan residents crowd train platforms as they're finally allowed to leave after 10+ weeks
De Blasio says ventilator shortage is easing
12 NYPD officers have died of COVID-19
Trump admin officials jawbone market higher
Peterson poll shows 73% say COVID-19 has hit them in the pocketbook
India closes hospitals after cases confirmed
China reports no daily deaths for first time
German health ministry unveils app to help track COVID-19 patients
France prepares to ban jogging as lockdown tightens
* * *
Update (1245ET): After more than 10 weeks trapped inside their homes, and then trapped inside their city, residents of Wuhan were finally allowed to leave the city on Tuesday. NYT reported that train platforms in the city were packed beyond capacity as residents scrambled to leave.
Meanwhile, Turkey reported 3,892 new cases, bringing total to 34,109, while its death toll rises to 725 with 76 new fatalities.
* * *
Update (1210ET): Both the pace of deaths and new cases continued to slow in Italy on Tuesday as the Civil Protection Service reported 604 new deaths, a 3.7% increase, compared to yesterday's 4% jump. Italy's death toll is now at 17,127.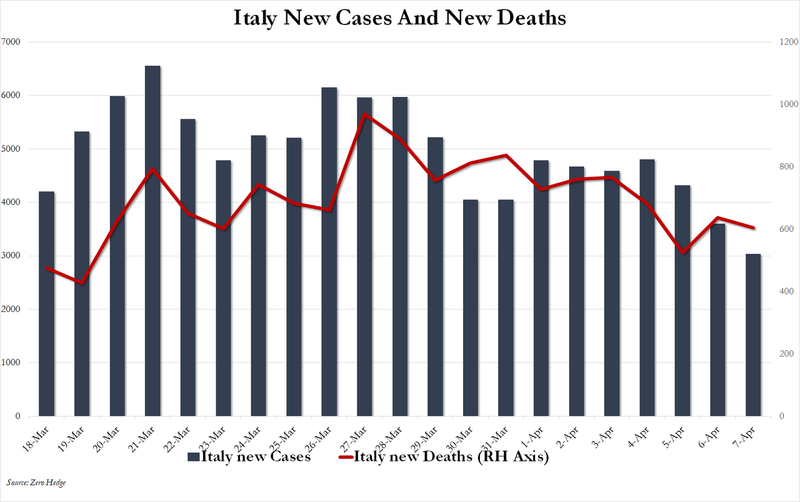 Across the country, officials reported just 3,039 new cases, bringing Italy's total to 135,586.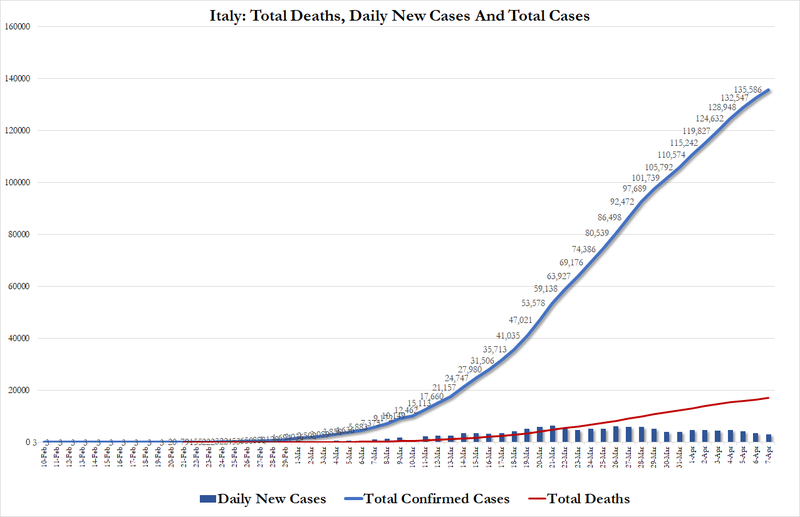 Update (1130ET): For the third day in a row, the UK has emerged as a disappointing standout among the European countries with the highest confirmed case totals by reporting another jump in deaths, along with a jump in new cases.
The UK reported 786 deaths, its deadliest day yet, bringing its death toll to 6,236; the UK has confirmed more than 51K cases.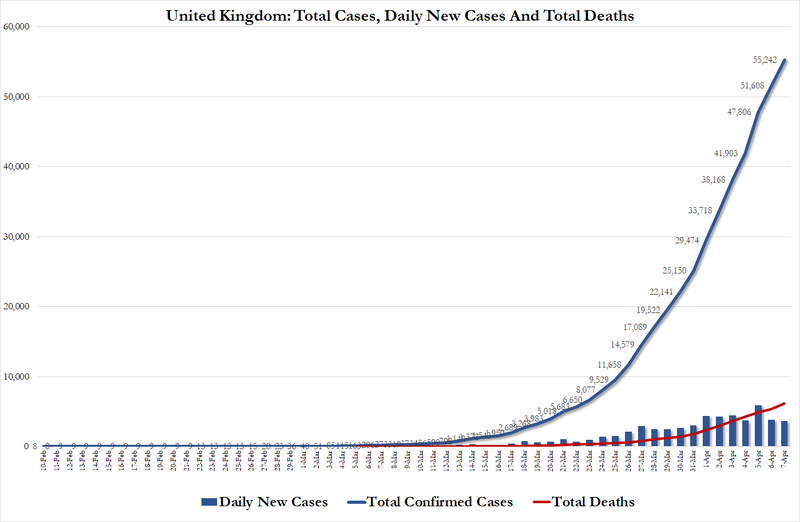 The pace of new cases declined, driving the UK's mortality rate to 12.1%, a new record. The Health Ministry also reported a drop in testing.
* * *
Update (1100ET): New York State just reported its biggest one-day jump in COVID-19 deaths, and a modest decline in new cases, quashing the optimistic narrative that President Trump has been pushing. The state also reported more than 8k new cases, bringing its total to 138,836.
For the second day in a row, Gov. Cuomo said the data appear to show that the state has reached a "plateau". On Tuesday, New York State reported 731 deaths, bringing its total to 5,489.
The dynamic – jump in deaths but drop deceleration in new cases – caused the state's mortality rate to inch higher to ~4%.
Holding a briefing with updates on #Coronavirus. WATCH LIVE: https://t.co/fTaNJGMaPn

— Andrew Cuomo (@NYGovCuomo) April 7, 2020
Hospitalizations have continued to climb, with another big jump on Tuesday…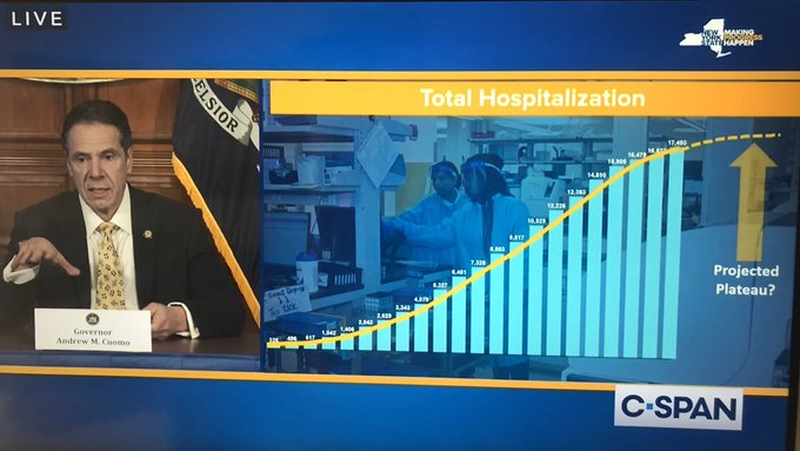 …but the good news is that ICU admissions and intubations have fallen significantly over the past few days, suggesting that the state won't need those additional ventilators after all.
Intubations and ICU admissions are down significantly in New York. #CoronaVirusUpdate pic.twitter.com/wEeWN88Yiz

— Brian Marschhauser (@editorbrian) April 7, 2020
A roundup:
New York's update:

– Number of new cases down
– Record number of new deaths
– Number of new hospitalizations up
– Number of new ICU patients down
– Number of new intubations down
– Number of newly discharged patients up

— Norbert Elekes (@NorbertElekes) April 7, 2020
New York's 'peak' – the point at which the number of daily deaths and reported cases hits its highest level – is supposed to arrive this week.
And FYI:
⚠️NYC deaths are still soaring, not decreasing! As earlier predicted by health economist @andreafeigl1, NYC weekend death drops are not real trend, only to tick up again during weekdays. Never trust a weekend death count due to well known reporting lulls. #COVID19 https://t.co/jHKi7tO14F

— Eric Feigl-Ding (@DrEricDing) April 7, 2020
* * *
Update (1015ET): During a live press briefing unveiling a program to allow NYC school students and their families to access free food, NYC Mayor Bill de Blasio acknowledged that the city's shortage of ventilators has eased somewhat in recent days.
Watch the rest here:
I'm at PS 1 in Manhattan to thank School Food Service Workers keeping New Yorkers fed during the COVID-19 crisis. https://t.co/R8nYmt63F8

— Mayor Bill de Blasio (@NYCMayor) April 7, 2020
Meanwhile, earlier, deaths n the US topped 11K (11,008 exactly)./
* * *
Update (1000ET): A recent survey carried out on behalf of the FT and Peter G Peterson Foundation found that 73% of Americans said they've lost money as a result of the pandemic.
Of those, 24% said their household income had fallen "very significantly".
While the NYT, WaPo and the Guardian have been harping relentlessly on how the outbreak is overwhelmingly harming America's most vulnerable, including the poor and minorities, the survey found that higher-earning workers were about as likely to be impacted as workers with relatively low salaries.
In a sign of how widespread the pandemic's economic impact has become, almost as many families making more than $100,000 a year reported a hit to their income (71 per cent), as those making less than $50,000 (74 per cent).
While data has shown that poorer New Yorkers were significantly more likely to be 'essential' workers, and more likely to get sick, that dynamic isn't as prevalent outside New York City, and other massively unequal coastal urban strongholds, and the American middle class and even wealthy Americans have been impacted, sometimes badly, placing them on the cusp of losing homes or other disasters. Remember, a record 10 million Americans filed for unemployment during the last two weeks of March.
* * *