Another 600 COVID-19 Patients Die In New York As US Death Toll Tops 10k; Fewest Italy Infections In 3 Weeks: Live Updates
by Tyler Durden
ZeroHedge.com
Mon, 04/06/2020
Summary:
First 'confrontation' reported at White House task force
'Peak week' begins in the US
Experts question drop in NYC hospitalizations, deaths
Situation in Italy, Spain continues to improve as UK reports biggest jump in fatalities
Belgium cases break above 20k
Russia reports biggest jump in new cases
Iranian official death toll nears 4k
Tokyo reports another 50+ cases
NY reports disappointing jump in deaths
Italy reports drop in cases, jump in deaths
Global death passes 70k
NYC expected to see 876 deaths during Thursday's "peak"
More experts warn deaths being undercounted in NYC
Germany releases plan to get "back to normal" by April 19
Worker at Georgia nuclear power plant tests positive
Cuomo doubles fine for breaking 'social distancing' rules
Spain sees drop in deaths
SK reports fewest new cases in weeks
3rd passenger dies aboard "Coral Princess"
Abe rolls out state of emergency to begin Tuesday
Trump "optimistic" about Sunday's data
Hospital operator Quorum facing bankruptcy amidst global health crisis
* * *
Update (1210ET): Just as we anticipated, the hoped for slowdown in New York City that helped send US markets roaring into the green on Monday didn't materialize, with Gov. Cuomo just reporting 599 deaths for Monday, higher than yesterday's number by a modest margin.
Meanwhile, the numbers were enough to push the US death toll over 10k, making it the country with the third-highest death toll in the world behind only Italy and Spain.
A New York State health official said the jump in deaths could suggest that NY has arrived at its peak a few days early…which is not good for any hospitals that are still short on ventilators.
".. this could suggest we are, indeed, potentially at the apex .. at this moment." https://t.co/BtFQ20xEup

— Carl Quintanilla (@carlquintanilla) April 6, 2020
Cuomo said that the death rate has been "effectively flat" for two days, but ~600 deaths a day is still alarmingly high, even for a state with 20 million residents. But if there's a silver lining to NY's still-relatively-high mortality rate, it's that at least the state's hospital occupancy has tumbled as peak week begins.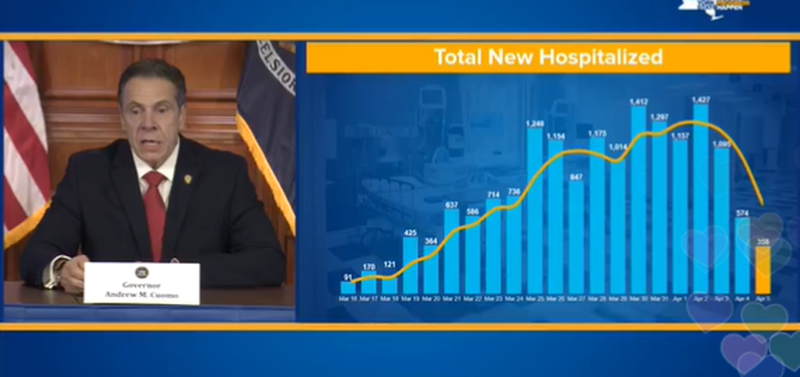 Though there isn't really all that much here to be excited about, Cuomo nevertheless warned that New Yorkers shouldn't get too "cocky".
New York Gov. Andrew Cuomo warns against "getting overconfident too quickly."

"This is an enemy that we have underestimated since day one, and we have paid the price dearly." https://t.co/GJWrww7W8b pic.twitter.com/vozfBRqbYB

— ABC News (@ABC) April 6, 2020
The governor also doubled the max fine for violating social distancing rules to $1k.
Italy, meanwhile, reported 3,599 new cases – the lowest number in three weeks – and 636 new deaths, modestly higher than yesterday.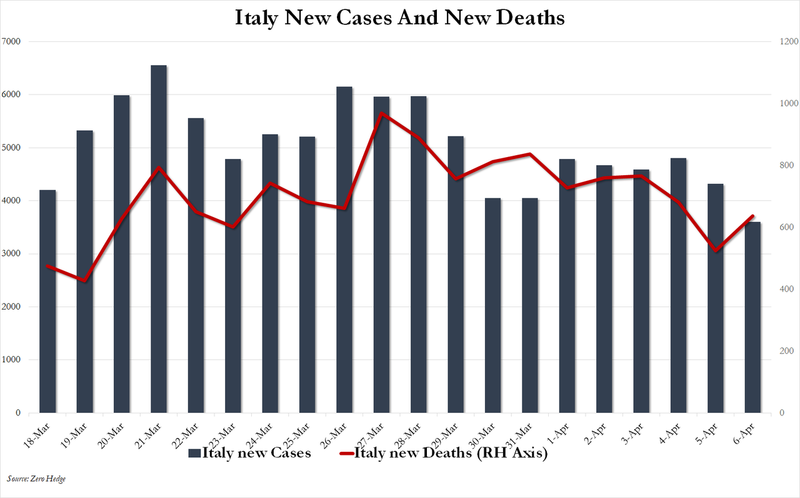 The new confirmations brought Italy's total to 132,547, and its death toll to 16,523.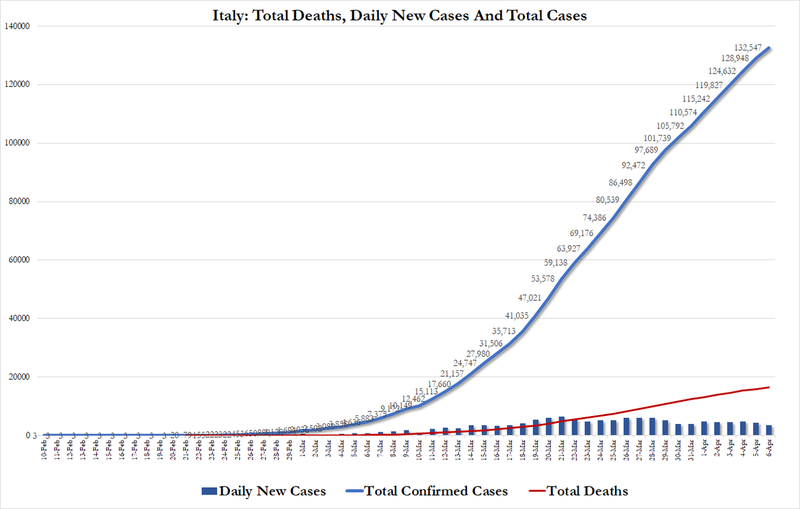 Put another way:
New coronavirus cases reported in Italy:

4/6: 3599
4/5: 4316
4/4: 4805
4/3: 4585
4/2: 4668
4/1: 4782
3/31: 4053
3/30: 4050
3/29: 5217
3/28: 5974
3/27: 5959
3/26: 6153
3/25: 5210
3/24: 5249
3/23: 4790
3/22: 5560
3/21: 6557
3/20: 5986
3/19: 5322
3/18: 4207
3/17: 3526

— Norbert Elekes (@NorbertElekes) April 6, 2020
Update (1120ET): At least five major countries have reported new COVID-19 figures over the last 90 minutes are so. They include Belgium, which reported 1,123 new cases and 185 new deaths, becoming the latest European state to pass 20k cases (exact: 20,814). It has reported a total of 1,632 deaths.
That said, the Netherlands is on track to join it as soon as Wednesday. The country reported 952 new cases on Monday and 101 new deaths, bringing its total to 18,803 cases and 1,867 deaths. Russia reported 954 new cases of coronavirus, bringing its case total to 6,343, the largest single increase so far. The Philippines reported 414 new cases of coronavirus and 11 new deaths bringing its total of 3,660 cases and 163 deaths.
Iran reported 2,274 new cases on Monday, bringing its total to 60,500, breaking above 60k, while 136 new deaths brought Iran's total to 3,7,39. Russia reported its largest jump yet shortly after extending what is now a nationwide crackdown, with 954 new cases and 2 new deaths, bringing its total to 6,343. with 954 deaths.
* * *
Update (1010ET): Before we jump into an explanation of the projections suggesting that the "peak" in the US will occur over the next 7-10 days, we'd like to draw some more attention to reports that many COVID-19 deaths are being undercounted, both in NYC and around the US.
Those dying at home aren't being counted in NYC https://t.co/aeKKhRLvjb

— ForexLive (@ForexLive) April 6, 2020
In recent days, both the administration and NY Gov. Cuomo appear to have settled on projections shared by the University of Washington's Institute for Health Metrics, which took these 'official' projections and created graphs and helped explain the it to the press and the general public.
outline predicted death tolls for each state, along with warnings about potential shortages of much-needed hospital beds.
Of course, the peak isn't going to happen simultaneously across the country; rather, it'll likely unfurl over the course of a few weeks, with most of the east-coast hot spots and their outlying areas expects to pass the peak over the next week or so. But as the city scrambles to assemble the necessary supplies of equipment and personnel, the projections warned that Thursday will likely be the 'peak' for the city, with roughly 900 deaths expected.
NJ comes next on the timeline, with a peak expected in 10 days, with just under 600 deaths expected to be reported that day. Connecticut will also follow next week, as will the Philly area.
In other news, a worker at a Georgia nuclear power plant has tested positive.
We neglected to mention this earlier, but a third passenger has died aboard the "Coral Princess" as the ship, now docked at the Port of Miami. Yesterday, Australia became the first country to launch a criminal probe of Carnival, the ship's owner (via its Princess Cruises subsidiary) related to its actions during the outbreak.
* * *