New York Reports First Drop In Daily COVID-19 Deaths As 'Hell Week' Begins: Live Updates
by Tyler Durden
ZeroHedge.com
Sun, 04/05/2020
Summary:
NY reports first drop in daily deaths since outbreak began
FT shows how US has become COVID-19s "epicenter"
NY hospitalizations drop
India bans export of Trump's 'miracle' coronavirus drug
Tokyo reports yet another jump in new COVID-19 cases
Australia launches criminal probe into Carnival Cruises
COVID-19 deaths in Japan pass 100
* * *
Before we delve into our daily breakdown of some of the biggest coronavirus-related news from around the world, we'd like to highlight yet another grim milestone in COVID-19's "conquest" (are we still allowed to use war metaphors or has that been declared un-PC?) of the US. While the outbreaks in Mexico and Canada have only produced about 16k cases between them, the total number of cases confirmed in the US has ballooned past 300k in the US (to 312,249 as of 11amET Sunday morning).
Now, here's the FT, which detailed the shift in momentum from Asia, to Europe, to the US. It's a little more complicated than look at only the overall totals and the current daily figures.
In a little over one month the daily number of Covid-19 cases globally has grown exponentially from 2,359 on March 1 to 101,503 on Saturday. At the beginning of March, Asia accounted for more than half of the total cases reported each day. This quickly shifted as outbreaks began in continental Europe, with Italy, Spain, Germany and France all reporting cases in the thousands. By mid-March, Europe was responsible for four in every five new confirmed cases each day. While Europe is still responsible for nearly 40 per cent of daily cases, the US has become the new centre of the Covid-19 pandemic. The country accounts for nearly one-third of all daily cases, with New York state particularly affected.
Here's most of that, broken down into a chart: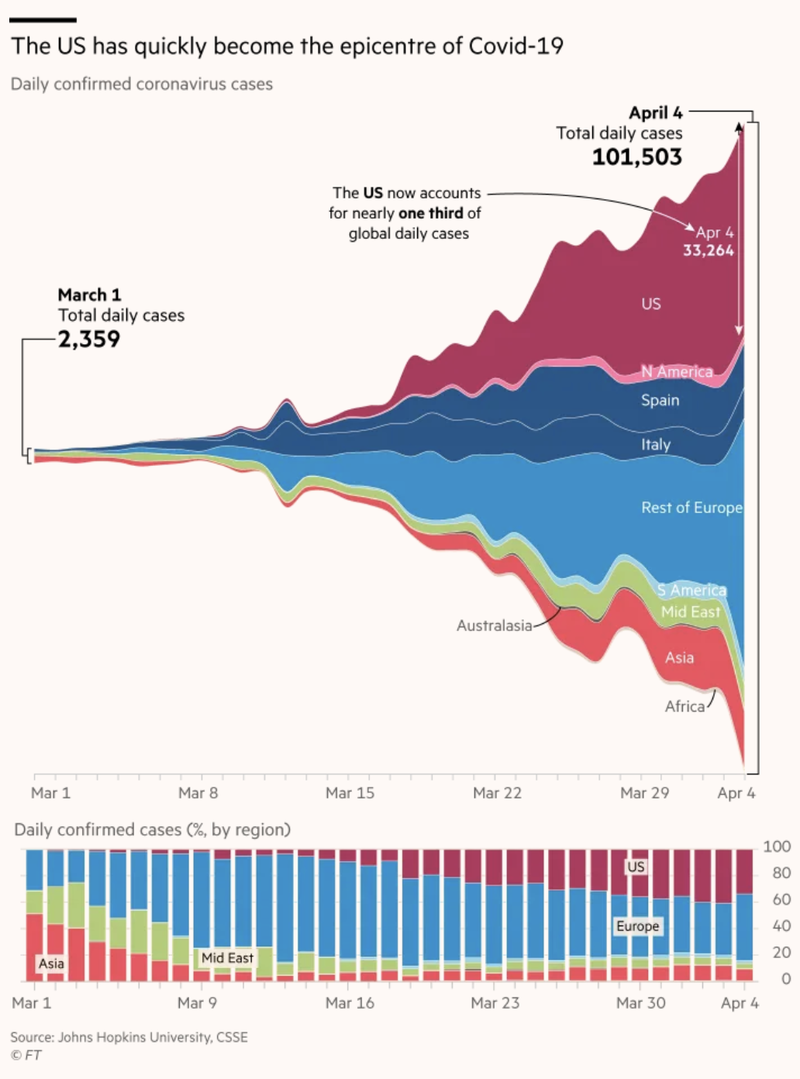 All that said, with the US gearing up for what President Trump and NY Gov. Andrew Cuomo expect to be the week where the outbreak peaks (in New York, at least), the Empire State has at least started off on the right foot.
New York reported 8,327 new cases of coronavirus and 594 new deaths on Sunday (compared with 630 a day ago), marking the state's first drop in daily deaths since the outbreak began. In total, 122,031 cases have been confirmed in the state (roughly equivalent to the national totals of both Italy and Spain )and 4,159 deaths. While we're certainly no epidemiologists, we suspect others might point to this as a small, but hopefully promising, hint that the 'peak' is near, or here.
And as we noted last night, hospitalizations in the state have shown another encouraging decline, even as many ICUs in NYC remain very close to, or at, capacity.
Cuomo is beginning his daily press briefing below:
Holding a briefing with updates on #Coronavirus. WATCH LIVE: https://t.co/gLjk74Ghtt

— Andrew Cuomo (@NYGovCuomo) April 5, 2020
The governor kicked off Sunday's presser by thanking New York's health-care workers.
Elsewhere, Tokyo reported yet another record jump in daily cases, with 143 new coronavirus infections announced on Sunday, metropolitan government officials said. Meanwhile, the number of COVID-19-related deaths finally surpassed 100 in Japan, Nikkei reports. In India, the government of Narendra Modi has banned the export of hydroxychloroquine, a drug widely touted by Trump for treating COVID-19. In Australia, prosecutors have launched a criminal investigation into Carnival Cruises as hundreds were sickened, dozens died on their ships.