US Suffers Biggest Jump In New Cases, Deaths As Governors Battle For Ventilators: Live Updates
by Tyler Durden
ZeroHedge.com
Sat, 04/04/2020
Summary:
US nonfarm payrolls was an unmitigated disaster
CDC recommends Americans wear facemasks in public
Russia reports drop in cases after extending quarantine
NY COVID-19 cases top 100k
Bolsonaro urges country to "go back to work" as Brazil's governors say opposite
McConnell affirms 4th coronavirus bill in the works
Brazil says first COVID-19 case and death in South American happened 1 month earlier
Beijing says more than half of foreign diplomats identified as close contacts of COVID-19 patients
NJ reports jump in new cases, deaths
Number of recovered patients tops 250k globally
US reports biggest one-day jump in deaths, cases
Japan sees resurgence of cases continue
Navy hospital ship in NY only treating 20 patients
White House plans to pay for coronavirus care
CNN's Brooke Baldwin tests positive
Netherlands reports another 148 deaths
UK reports biggest daily jump in deaths
Thousands of small business owners excluded from 'Paycheck Protection Program'
Spain, Germany report encouraging deceleration in new cases
Singapore launches strict 14-day lockdown to fight virus resurgence
Trump slams 3M on twitter
400M in loans doled out
Bank of America becomes first big bank to issue loans via the plan
Mnuchin confirms 'Paycheck Protection Plan' is a go
Tokyo mayor warns about resurgence of cases on CNN
* * *
Update (1920ET): Johns Hopkins University just updated its database of COVID-19 infections…and the death toll in the US has climbed north of 7k after US states reported 1,314 new deaths on Friday, the biggest one-day jump in the US since the outbreak began. The CDC also confirmed 31,160 new cases, the biggest one-day jump in cases, bringing the US total to 276,037.
If you squint really hard…it almost looks like the curve is flattening out…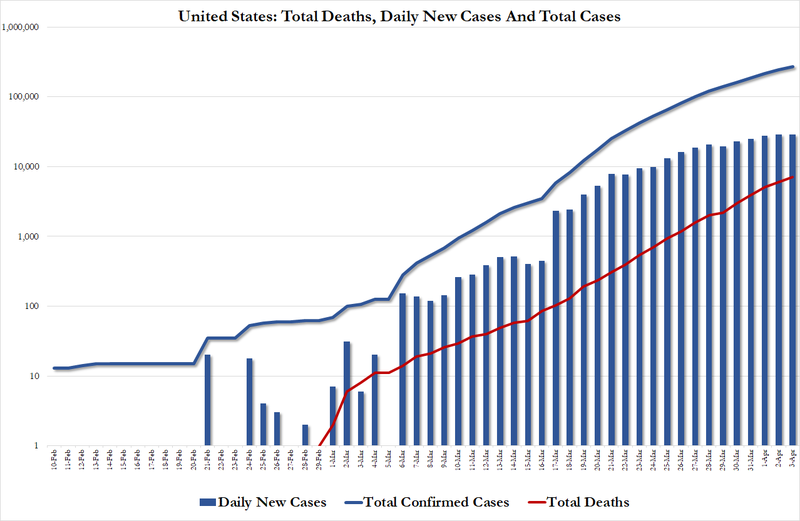 Terrified Americans can at least take solace in the fact that Congress – as Mitch McConnell just confirmed – is already working on coronavirus rescue bill No. 4…while most Americans are still waiting for the help from bills 1,2 and 3.
* * *