Cuomo Warns "More People Are Going To Die", New Jersey Lowers Flags To Half Staff, As US Cases Top 250K: Live Updates
by Tyler Durden
ZeroHedge.com
Fri, 04/03/2020
Summary:
US nonfarm payrolls was an unmitigated disaster.
Russia reports drop in cases after extending quarantine
NY COVID-19 cases top 100k
Bolsonaro urges country to "go back to work" as Brazil's governors say opposite
Brazil says first COVID-19 case and death in South American happened 1 month earlier
Beijing says more than half of foreign diplomats identified as close contacts of COVID-19 patients
NJ reports jump in new cases, deaths
Number of recovered patients tops 250k globally
Japan sees resurgence of cases continue
Navy hospital ship in NY only treating 20 patients
CNN's Brooke Baldwin tests positive
Netherlands reports another 148 deaths
UK reports biggest daily jump in deaths
Thousands of small business owners excluded from 'Paycheck Protection Program'
Spain, Germany report encouraging deceleration in new cases
Singapore launches strict 14-day lockdown to fight virus resurgence
Trump slams 3M on twitter
400M in loans doled out
Bank of America becomes first big bank to issue loans via the plan
Mnuchin confirms 'Paycheck Protection Plan' is a go
Tokyo mayor warns about resurgence of cases on CNN
* * *
Update (12:10ET): New Jersey Gov. Phil Murphy has started his latest daily press conference.

LIVE: @NBCNewsNow coverage: NJ Gov. Murphy provides latest coronavirus updates. https://t.co/v4ItXYqBTN
— NBC News (@NBCNews) April 3, 2020
Gov. Murphy reported 4,372 new COVID-19 cases and 113 new deaths, bringing statewide total to 29,895 cases and 646 deaths. He also announced he would be signing an Executive Order directing that all flags across NJ be lowered to half-staff indefinitely in honor of those who have died from the virus around the world.
"This is one of the greatest tragedies to ever hit our state. We must have a constant and visible memorial," he said.
If these latest data make you depressed, here's one reason not to despair: the number of patients who have recovered from COVID-19 around the world has passed 250,000, many multiples of the 55,781 deaths recorded so far by Johns Hopkins.
Taken together, the cases announced this afternoon by NJ & NY pushed the US case total north of 250k.
Meanwhile, the Netherlands reported 1,026 new cases of coronavirus and 148 new deaths, for a total of 15,723 cases and 1,487 deaths. Additionally, joining Chris Cuomo in the CNN quarantine, Brooke Baldwin has announced that she has tested positive.
* * *
Update (12:10ET): Italy's Civil Protection agency just released the latest coronavirus numbers for Friday, and while there were some bright spots, the 766 deaths recorded across Italy over the last day is the biggest jump since the outbreak started.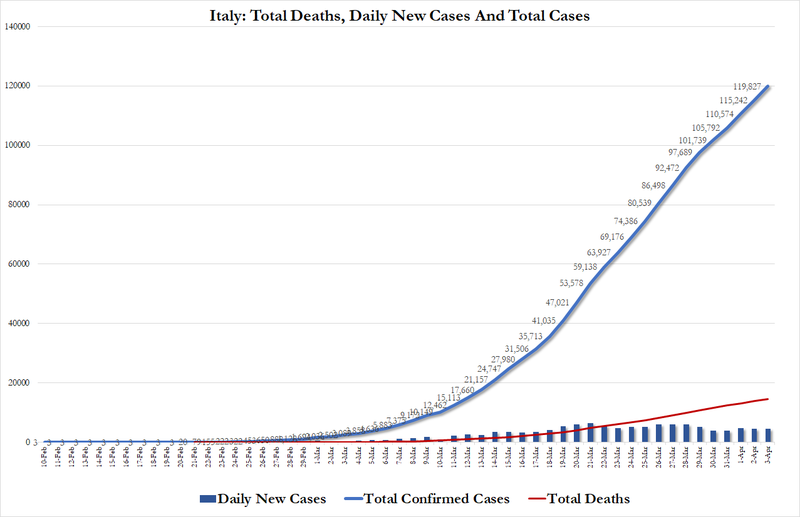 But more encouragingly, the 4,585 new cases amounted to about a 4% rise, bringing the nationwide total to 119,827, up from 115,242 a day earlier. The death toll, meanwhile, climbed to 14,681, up from 13,915, still the highest death toll in the world. The mortality rate climbed slightly to 12.2%, as the number of deaths continue to climb, while new cases reported continued to drop.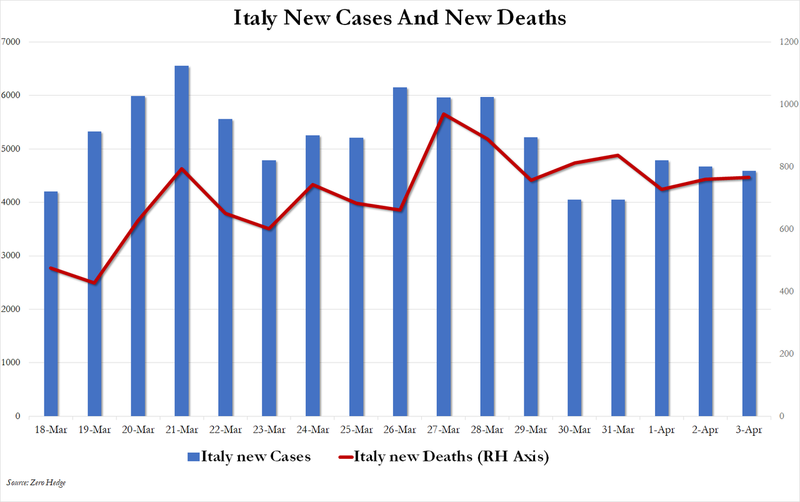 Meanwhile, back in NY, CNN just reported that the USNS Comfort, the Navy hospital ship deployed to NYC to help with the hospital overflow, is only holding about 20 patients so far.
* * *
The Rest…HERE