Italy Reports Lowest Number Of New Cases In 2 Weeks, Virginia Prepares 'Stay At Home' Order: Live Updates
by Tyler Durden
ZeroHedge.com
Mon, 03/30/2020
Summary:
Dr. Fauci says 100k-200k Americans may die from COVID-19
Trump extends guidelines to April 30
Spain case total passes China
Maryland Gov. issues 'stay at home order'
Italy reports slowest rise in new cases in 2 weeks
South Korea reports worrying rebound in cases around Seoul
Virginia to become latest state to issue shelter in place orders
Russia expands Moscow lockdown throughout country
NY confirms another 7k cases
NYC remains undisputed center of US outbreak
Seattle area reports optimistic slowdown in new cases, deaths
New York surpasses 1k deaths
Indian migrant workers 'washed' with disinfectant
Dutch navy sailors test positive
Netanyahu goes on quarantine
Trump: US has enough medical equipment & ventilators to deal with peak of virus outbreak
Mnuchin says front-line workers deserve 'hazard pay'
Spike in cases should arrive around Easter, Trump said, deaths expected to be "very low"
JNJ announces encouraging progress on vaccine
Mexico refuses "to implement state of siege" as case numbers remain low
Russia ramps up testing
WHO said outbreaks in Italy and Spain "potentially stabilizing"
UK reports another 2,619 cases
Chinese press publishes photo of Xi standing in public without mask
France reports another 4k cases
UN proposes $2.5 trillion global rescue program
Australia launches worker subsidy program
Tokyo Olympics officially delayed until 2021
Poland imposes more restrictions on life
Amazon workers planning strike
* * *
Update (1335ET): Italy's new cases has slowed, as this chart from Pantheon Macro shows: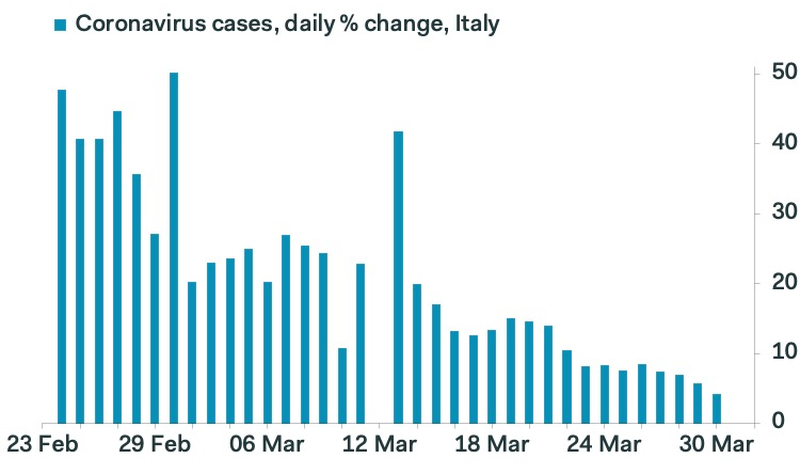 Finally, in the US, the USNS Comfort, a Navy hospital ship, has docked in New York's harbor, where it will help tend to people who don't have the coronavirus.
"Help New York. We are the ones who are hit now," Cuomo said at a press conference from the Jacob K. Javits Center, which was converted into four temporary hospitals by the U.S. Army Corps of Engineers last week. "That's today, tomorrow it is going to be somewhere else …It is going to work its way across the country."
In France, where the public has seen an encouraging drop in new cases, the case total climbed to 44,550 (prev. 40,174) on Monday, while the French death toll climbed to 3,024 (prev. 2,606).
Meanwhile, the Washington Post just reported that the governor of Virginia is preparing to issue a mandatory 'stay at home' order…
* * *