Italy Reports Deadliest Day Of Corona Outbreak: Live Updates
by Tyler Durden
ZeroHedge.com
Fri, 03/27/2020
Summary:
Boris Johnson, Matt Hancock test positive
US stock futures turn lower after 3-day rebound
Italy reports 919 new deaths
Global case total nears 538k
US case total nears 86k, with ~1300 deaths
China border closure begins
1 in 10 Americans say they know somebody with the virus
DC mayor advisor dies
New York death toll spikes
South Africa lockdown begins as country confirms first 2 deaths
Netherlands reports ~1k new cases, 112 new deaths
Hong Kong reports 65 new cases, largest daily jump
Singapore makes standing too close to somebody else illegal
North Korea says 2,280 people still in quarantine
All of Russia placed on lockdown
Hungary PM announces lockdown plans
Israel mobilizes army to enforce lockdowns
President Xi, Trump promise to "unite" to fight virus during call
* * *
Update (1320ET): As more stories out of New York City about people surviving COVID-19 emerge, of course it's a city where a significant chunk of the population work in media, or at least hoped to work in media when they first moved to the city and started bartending six nights a week to pay that massive city apartment rent, which they incidentally will no longer be able to afford, it's becoming increasingly clear: young people can still get really sick from COVID-19.
If you have asthma, COVID-19 can really rock your shit, as one recent NYT personal essay suggested. Now, the WHO is once again hoping to emphasize this fact as it tries to convince the world to follow the lockdowns, even though the organization has in turn said the lockdowns were too much, and not enough, it's warning that young people get COVID-19 at rates even higher than the old. 10% to 15% of COVID-19 patients under the age of 50 experience severe or moderate COVID-19 symptoms, the WHO said.
While case numbers are rising, the virus can still be controlled through aggressive measures, including testing, said WHO epidemiologist Maria Van Kerkhove during the organization's Friday press conference from Geneva. Officials reminded the public that a vaccine is still at least 12-18 months away, said WHO Director-General Tedros Adhanom Ghebreyesus, who also chided the US and other countries and individuals and instead advised them all to refrain from using unproven therapies, because they could be harmful and that may cause shortages of the drugs for diseases they were made for Norway and Spain are enrolling patients for Solidarity trials, which now involve more than 45 countries.
* * *
Update (1250ET): A member of DC Mayor Muriel Bowser's legal team died this morning from complications stemming from COVID-19. Mayor Bowser announced the unfortunate news during a Friday press conference and sent her condolences to the family, local media reports.
See a picture of him with the mayor below: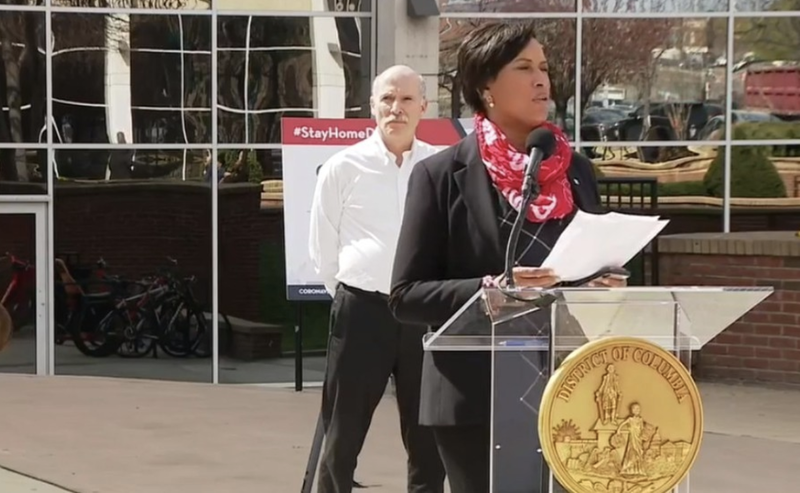 * * *
Update (1240ET): Italy reported 919 deaths for Thursday, bringing the national death toll to 9,134, its highest daily jump since the outbreak began.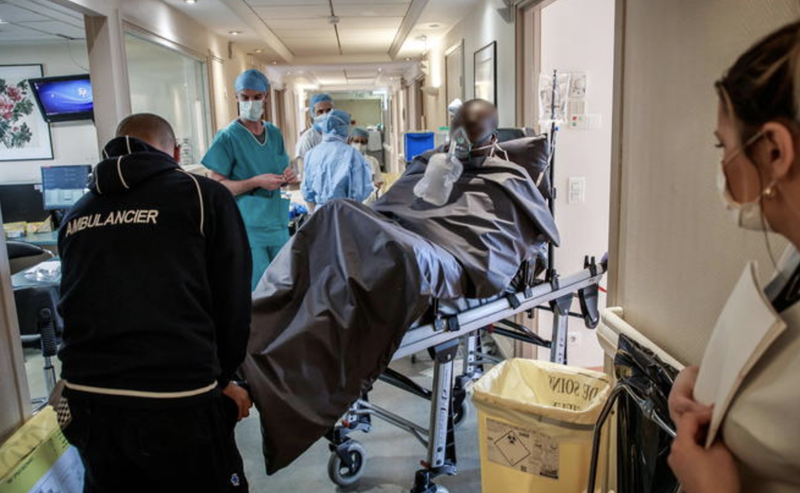 It also reported another 6k new cases, bringing the national total to 86,498 from 80,539.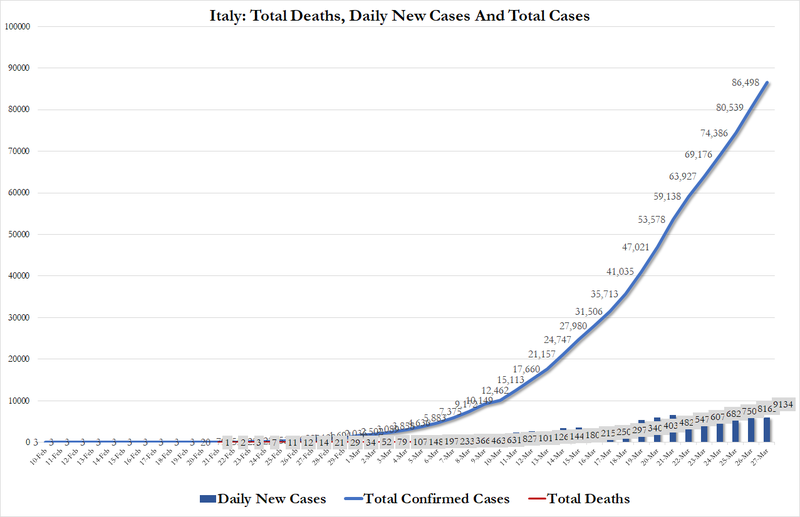 Again, it looks like the pace of new deaths is unequivocally beginning to accelerate once again.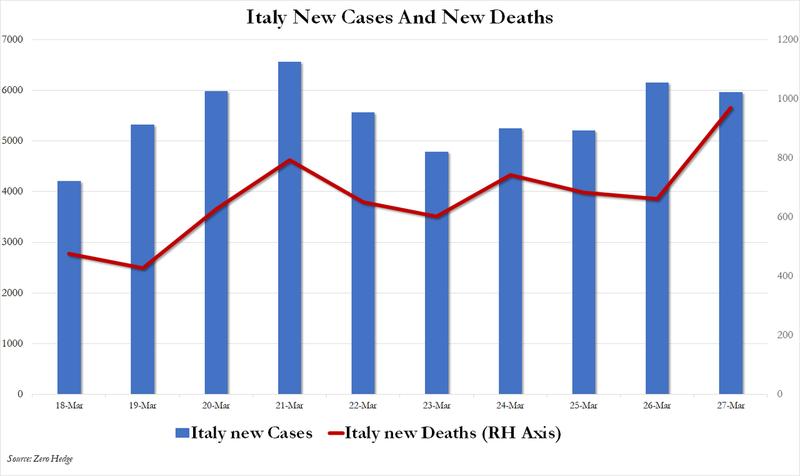 Analysts from Deutsche Bank pointed out that the US is "ahead of the curve"…but not in the way it wants to be.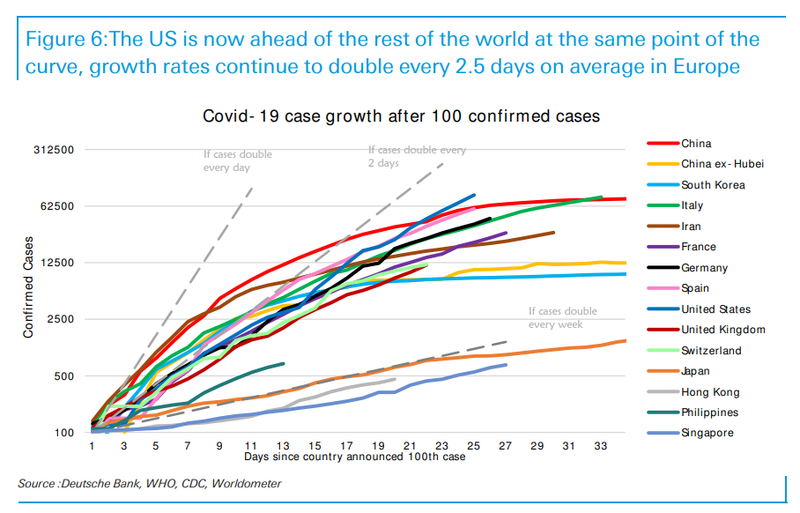 Update (1230ET): New York's coronavirus death toll rose to 519 on Friday, up from 385 the previous day, said Gov. Andrew Cuomo during a press briefing from the Javits Center, which has been converted into a makeshift overflow hospital.
At the Javits Center in New York City giving a briefing on #Coronavirus. WATCH: https://t.co/Fwj4LXm0vn

— Andrew Cuomo (@NYGovCuomo) March 27, 2020
Meanwhile, France has extended its nationwide coronavirus lockdown for another two weeks until April 15, said Prime Minister Edouard Philippe on Friday.
The number of confirmed cases in the state climbed to 44,635, Cuomo said, up from 37,258.
"This could of course be further extended if the health situation requires it," he said.
France is struggling with a sudden surge in deaths as the virus rages across Europe.
Slovakia, one of the last countries in Europe to detect cases of COVID-19, said on Friday that trucks carrying non-essential goods would not be allowed to enter the country via border crossings from Austria, Poland, the Czech Republic and Hungary, as Slovakia steps up efforts to suppress the outbreak. This marks Slovakia as one of the first states to really crack down on trade, a step that most haven't felt necessary.
* * *