US Reports Largest Jump In New Cases, Deaths As "Apocalyptic" Surge Rocks Hospitals In New York, New Orleans: Live Updates
by Tyler Durden
ZeroHedge.com
Thu, 03/26/2020
Summary:
Jerusalem's Church of the Holy Sepulchre closed
New York City hospitals report "apocalyptic" surge in cases
Elmhurst Hospital in Queens is overwhelmed with new cases
More than 500k volunteers sign up to help the NHS in Britain
New Orleans hosts major outbreak
Inmate in Washington DC tests positive
India passes $22.6 billion bailout package
Tokyo reports 40 cases for 2nd day in a row
A record 3.3 million Americans file for unemployment
157 more deaths reported in Iran
Putin shuts down Moscow, delays vote on constitutional measures
Wednesday was deadliest yet in US
President Xi calls on nations to improve policy coordination to avoid a recession
Mnuchin says he speaks with Powell up to '30 times a day'
* * *
Update (1030ET): The Treasury Department has announced new sanctions against several senior Iranian officials and business entities on Thursday, after hinting earlier this month that more sanctions against the Iranians would land soon, and that the US wouldn't hold back because of the coronavirus epidemic.
U.S. IMPOSES FRESH IRAN-RELATED SANCTIONS -TREASURY WEB SITE
U.S. IMPOSES SANCTIONS ON 15 INDIVIDUALS, FIVE ENTITIES UNDER IRAN AND TERRORISM-RELATED SANCTIONS PROGRAMS
Earlier, Iranian authorities reported 157 deaths over the last day, raising the total to 2,234, while it confirmed 2,389 new cases, bringing the total official count in Iran to 29,406.
Health ministry spokesman Kianoush Jahanpour said "fortunately, until today 10,457 of those infected have recovered and been discharged from hospitals," he told a news conference.
During Thursday's videoconference between G20 leaders, Chinese President Xi Jinping called for nations to improve coordinations in macro economic policies to stave off a global recession.
Xi said nations need to implement strong, effective fiscal and monetary policies; coordination needed to strengthen global financial supervisions, and nations need to work jointly to stabilize global supply chain. He added that China will increase output of raw-material level medicines, living necessities, preventive medical gears, and increase their supplies to the global market.
* * *
Update (0930ET): In the US, stocks have gone vertical at the open. Meanwhile, comments from President Xi are just hitting the tape.
CHINA'S XI JINPING SAYS CORONAVIRUS OUTBREAK HAS HIT GLOBAL PRODUCTION, DEMAND – STATE MEDIA
XI CALLS FOR JOINT EFFORTS TO STABILIZE SUPPLY CHAIN:XINHUA
Meanwhile, in Italy, the hard-hit Lombardy region reported a jump in cases.
On CNBC, during an interview with an almost overly sympathetic Jim Cramer, Treasury Secretary Steven Mnuchin said that not a day goes by where he doesn't speak with Fed Chairman Jerome Powell. Mnuchin says he's approved "every single one of" the Fed's requests for new lending facilities. On new jobless claims report, he says "these numbers right now are not relevant".
For the second day in a row, health officials in Tokyo reported 40 additional coronavirus cases, matching or possibly exceeding yesterday's total of 41.
Earlier, weekly unemployment claims data showed a massive jump last week, as expected.
* * *
President Trump's hurried demands to get the nation "back to work" before Easter probably couldn't come at a worse time. Across the US, but mainly in a handful of 'hot spots', most notably New York City and the surrounding area, the number of confirmed cases and deaths attributed to COVID-19 is climbing at an alarming rate.
According to John Hopkins data, Wednesday was the deadliest day yet for the US with 233 fatalities reported, taking the US to 65,273 cases and 938 deaths. In New York and California, the number of confirmed cases is doubling every few days.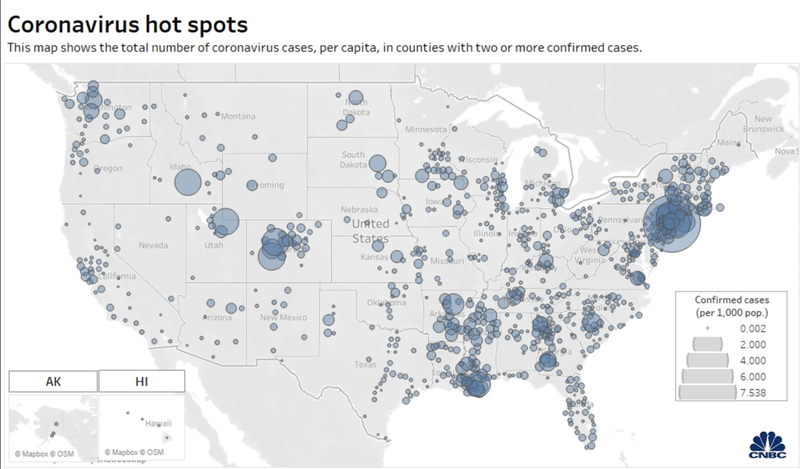 As Russia reports record growth for a second day, President Vladimir Putin has ordered the country's capital and largest city, Moscow, to close up all restaurants, bars and "non-essential" shops. In an online post, Moscow mayor Sergei Sobyanin ordered the closure of government offices and religious sites – which he urged Muscovites not to visit – and asked all other Russians not to visit the capital during a planned 'nationwide holiday' set to last for all of next week. The Kremlin has also halted all international air traffic, both for airlines and charter flights, excluding repatriation flights bringing Russian citizens back into the country.
Russia reported 182 new coronavirus cases in the past 24 hours on Thursday, bringing the country's total to 840, along with 3 deaths.
Last night, President Putin delivered a nationwide address where he delayed a vote on constitutional amendments that would allow him to remain in the Kremlin until 2036, and announced that next week would be a national holiday, urging Russians to stay at home. He didn't declare a national emergency or any other type of special circumstance, but a government medical advisor has reportedly told Putin that given the spread already documented in Moscow, that he must shut the country down to prevent a full-blown outbreak.
The lockdown comes as roughly one-third of the world's population is now facing some degree of movement restriction: Indian PM Narendra Modi followed up his decision to lock down the second-largest country in the world by announcing a $22.6 billion relief package to help the "poor and suffering."
"It's only been 36 hours since the lockdown was imposed," the country's Finance Minister Nirmala Sitharaman said at a news conference on Thursday. "Now we have come up with a package which will immediately take care of the welfare concerns of the poor and suffering workers and those who need immediate help."
The relief package includes medical insurance coverage of up to $66,400 per person (a considerable sum in India) for those battling the virus on the front lines, incuding medical workers, sanitation workers and community health workers.
The measure is expected to cover 2 million people, a tiny fraction of the country's population. Firefighters have been repurposed to spray disinfectant around the country, and police have been acting aggressively to enforce the lockdown.
The Rest…HERE