A "Major Disaster": Army Deploys In New York State, Italy Confirms Record 800 Deaths In A Single Day: Live Updates
by Tyler Durden
ZeroHedge.com
Sat, 03/21/2020
Summary:
Massive surge in number of deaths and cases in UK, Germany, Spain, Italy, and France
New York, New Jersey deaths, cases accelerate;
NY Gov Cuomo: "months, not weeks" to control virus
NYC airspace closed after positive Air Traffic Controller test
NJ declares full state lockdown; "will take action" for people not following precautions
FDA authorizes first 45-minute COVID-19 test
US Fiscal Aid package around $2 trillion (10% of GDP), Kudlow
Officials increasingly calling for the cancellation of the Tokyo Olympics
* * *
Update (1415ET): Just as Gov. Cuomo hinted earlier this week, New Jersey Gov. Phil Murphy has signed an executive order mandating that all non-essential workers living in the state stay home.
Meanwhile, a group of European countries have reported new figures, including Spain, which announced that more than 5,000 new cases and ~300 new deaths were confirmed over the past day, increasing the total number of cases in the country by 25% to 24,926, according to the Spanish Ministry of Health.
The death toll in the country is at 1,326.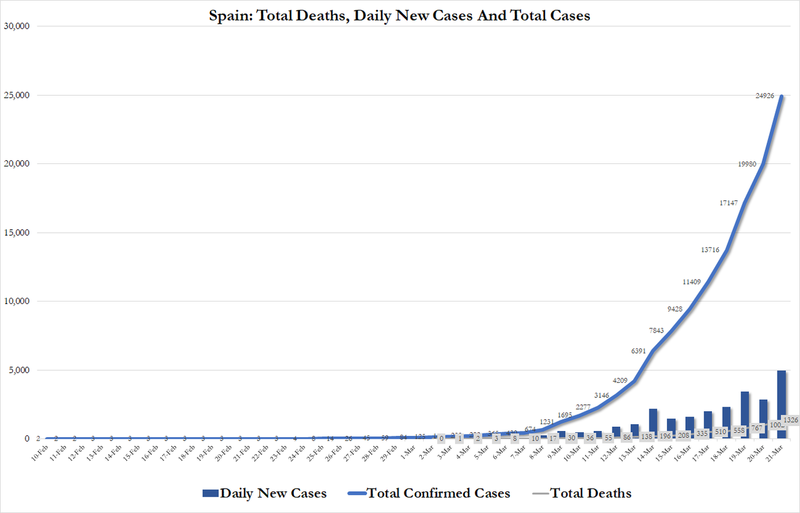 Germany confirmed that it has agreed to take on over €150 billion of new debt as part of a €350 billion package of emergency measures to save its economy from the brutal effects of the coronavirus pandemic.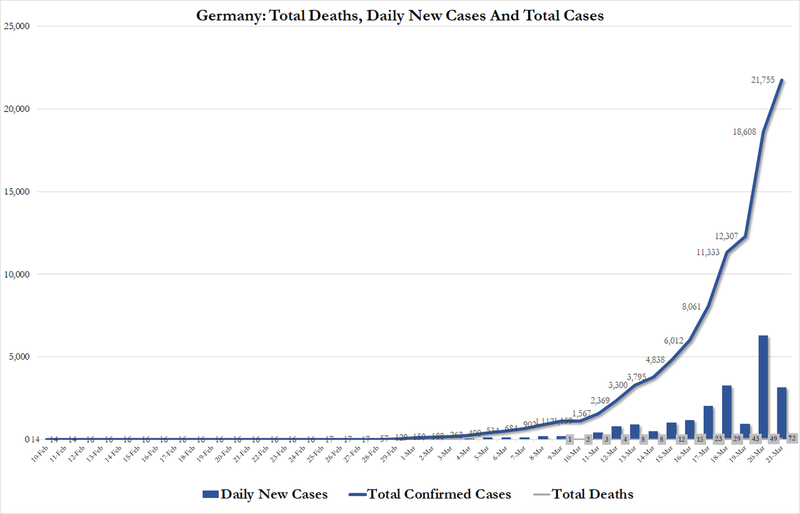 More devastating figures were released from Italy on Saturday, including announcing 793 new deaths, the highest total yet, bringing its total to 4,825, well above China's total, and the latest in a grim string of records that has so far tracked the worst fears of epidemiologists. In total, more than 53,578 cases have been confirmed.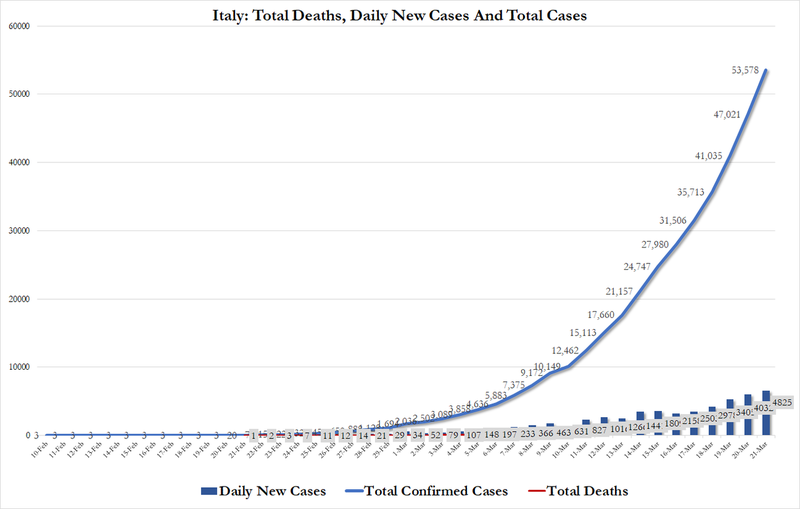 UK today saw total deaths reach 233. Italy was at exactly that figure on March 7. Another 53 people with coronavirus have died in England, bringing the total of deaths in the country to 220. The patients were aged between 41 and 94 years old and all had underlying health conditions, according to NHS England. Earlier, two more deaths were recorded in Wales, bringing its total to five, and another death in Scotland, taking the number to seven. Northern Ireland has recorded one death.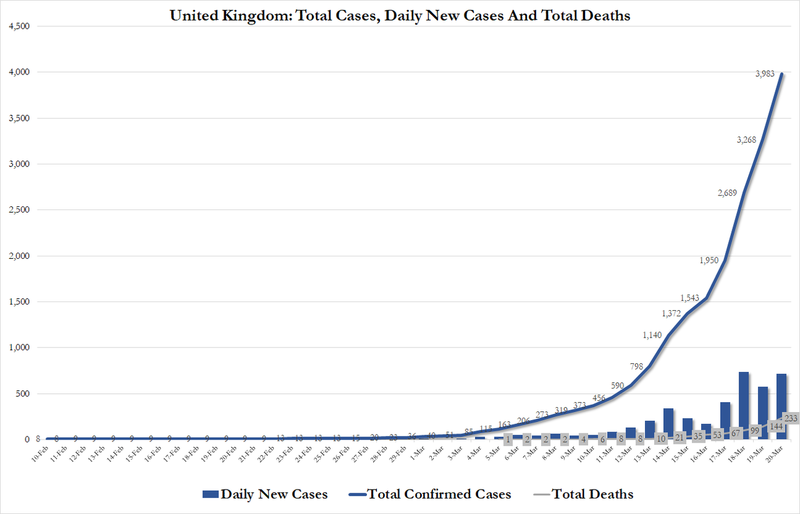 Finally, France also just reported the biggest yet daily surge of covid cases, which jumped by 1,847 to 14,459, while the number of deaths surged the most yet, or 112 to 562 overnight.
Meanwhile, in Asia, Bangkok, Thailand's capital, imposed a partial shutdown from Sunday as the number of confirmed cases surged past 400 with a rising number of people in critical condition. Malls in Bangkok will be closed, and shops offering food and essential services will be among the few allowed to remain open, Bangkok Governor Aswin Kwanmuang said during a press briefing on Saturday. The restrictions will begin Sunday, and continue until at least April 12, he said.
* * *