Staffer For Vice President Pence Tests Positive For Coronavirus, China Records No New Domestic Cases For 2nd Day In A Row: Live Updates
by Tyler Durden
ZeroHedge.com
Fri, 03/20/2020
Summary:
NYC Mayor de Blasio says "we are now the epicenter of the crisis."
Staffer for VP Pence test positive; White House says "no close contact"
China reports no local infections for 2nd day in a row
Global case total passes 250k
Hong Kong reports largest daily jump in cases on record as travelers revive outbreak
NY rolls out restrictive new measures
NY case total tops 7k
Italy says Army will help enforce lockdown, effectively declaring martial law; might extend lockdown through early May
Spain death toll cracks 1,000
Italy reports another 627 deaths
Confirmed cases in US pass 14k
Drive thru testing site in NJ's Bergen County has a line that's over 1,000+ cars long
Switzerland bars all gatherings of more than 5 people
Greenwich cases spike as Darien shutters COVID-19 testing clinic
Trump says no plans for national lockdown
Germany to pass 'shadow' budget on Monday
EU suspends budget rules
Bavaria becomes first German state to impose 'lockdown'
Johnson says UK can defeat virus in 12 weeks if 'we work together'
Treasury now moving back both filing & payment deadlines for 2019
Novartis will donate up to 130 million doses of hydroxychloroquine to support global response
NBC News employee succumbs to virus
Dr. Fauci says social distancing should continue for several weeks
MTA confirms it has 23 sick workers
US, Mexico agree to shut southern border
China makes first purchase under 'Phase 1' trade deal
Altria chairman & CEO tests positive
Military confirms 35 American troops infected in Europe
* * *
Update (1940ET): CTGN reports that China reported 41 new coronavirus cases on Friday, but for the second consecutive day, all of the cases were foreigners who allegedly contracted the virus abroad and carried it to China.
And for the third day in a row, no new cases were confirmed in Hubei Province.
Just in case you were curious how they did it…
On Friday, 41 new #COVID19 cases were reported on the Chinese mainland, all imported from abroad. With seven more deaths, the total number of deaths now stands at 3,255.

No new cases have been confirmed in #Hubei Province for three consecutive days. pic.twitter.com/R1keNLxLZo

— CGTN (@CGTNOfficial) March 20, 2020
…basically, President Xi harnessed the power of patriotic socialism, and led the valiant Chinese people to victory against the unseen, yet all-consuming foe. Around the world, more than 250k cases have been confirmed, and the WHO pointed out that it took more than three months to reach 100,000 cases worldwide, but only 12 days to log the next 100,000.
As millions of Americans panic about the possibility that their governor could hand down a 'shelter in place' order at any moment, across the country, panic buying continued on Friday. In Connecticut, where the outbreak in Westchester County has already started to bleed across the border into wealthy suburban Fairfield County, a haven for the Wall Street elite. A local news website reports that 53 cases have been confirmed in the town of Greenwich, one of the wealthiest zip codes in the country, and an area that's virtually synonymous with wealth and privilege.
Too bad their neighbors closed that testing clinic.
* * *
Update (1850 ET): An official working for Vice President Pence has tested positive for the coronavirus, his office announced Friday, becoming the first known positive test to date for a White House staffer, although the admin is quick to downplay the risk to the executive branch:
"This evening we were notified that a member of the Office of the Vice President tested positive for the Coronavirus."
"Neither Pres. Trump nor VP Pence had close contact with the individual. Further contact tracing is being conducted in accordance with CDC guidelines", a spokeswoman says.
According to @VPPressSec:
"This evening we were notified that a member of the Office of the Vice President tested positive for the Coronavirus. Neither President Trump nor Vice President Pence had close contact with the individual"

— Steve Herman (@W7VOA) March 20, 2020
Separately, following the tragic death of an NBC employee, Fox News Media CEO Suzanne Scott and President Jay Wallace informed staffers that a Fox Business employee in New York has also tested positive for coronavirus. Here's the note that just went out.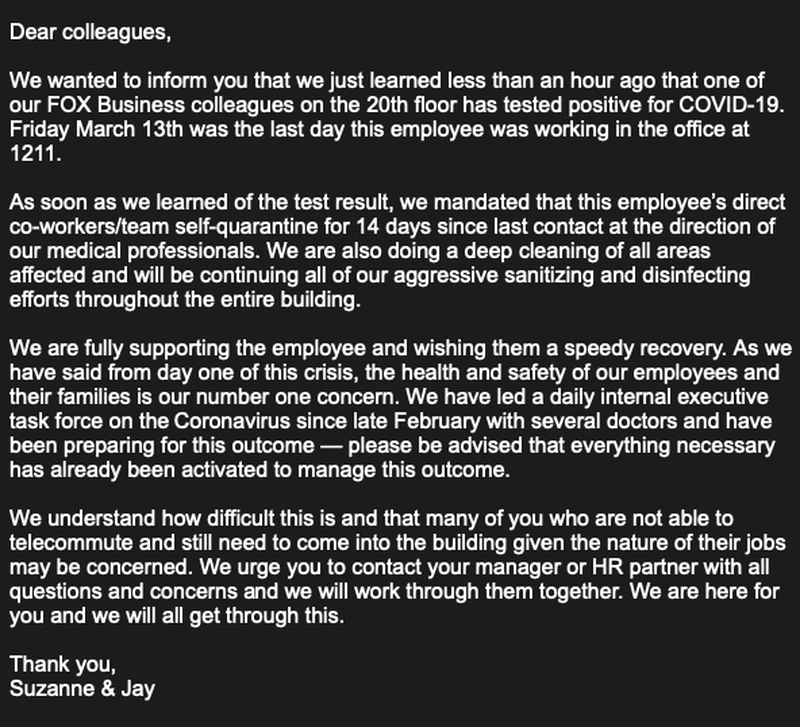 * *