Second Great Depression Begins? Goldman Now Expects A Record 24% Crash In Q2 GDP; Sees 9% Unemployment
by Tyler Durden
ZeroHedge.com
Fri, 03/20/2020
On Wednesday we mused that a race had emerged between Goldman and JPMorgan over who can downgrade the US GDP growth rate the most. Up until that point, Goldman held the lead, with its recently announced -5% cut to Q2 GDP. But then JPM's chief economist Michael Feroli, admitting he really has no idea what he is doing but deciding to do it nonetheless, announced that he now expects Q2 GDP to crater by an unprecedented -14%, a drop the kinds of which have never before been seen.
But Goldman, which just three months ago said the US economy is "nearly recession-proof" (but apparently not depression proof), and instantly lost lost all credibility…

… decided that if it can't impress its clients with its predictive skills, the least it can do is outshine, or rather outdull, JPM's forecast which it did moments ago when it slashed its previous GDP estimate published less than two weeks ago, and now sees Q2 GDP crashing at a ridiculous -24% rate, and up from -5% just days ago, which means the US is basically entering a second Great Depression. The trade off, as with JPM, Goldman sees a V-shaped recovery in Q3 but we can likely ignore that: there is no way the country will recover from this kind of "once in a generation" supply and demand shock in 3 months. No way.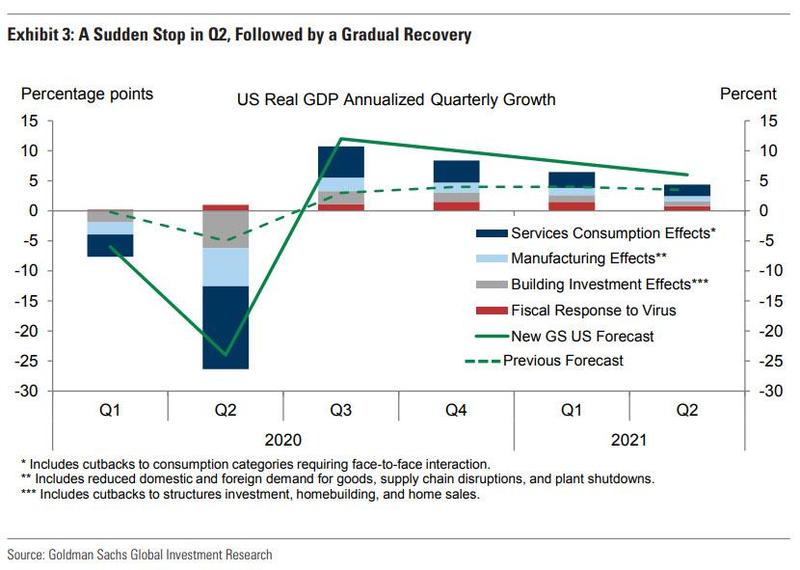 While we expect Goldman to take the machete to this analysis as well in the coming days, because if the US economy is indeed paralyzed for at least one quarter, then all of GDP will be lost meaning a -100% annualized print is increasingly likely, here are some of the punchline from the report which will be dramatically revised in just a few days, if not hours.
Over the last few days social distancing measures have shut down normal life in much of the US. News reports point to a sudden surge in layoffs and a collapse in spending, both historic in size and speed, as well as shutdowns of many schools, stores, offices, manufacturing plants, and construction sites. These developments argue for a much sharper drop in GDP in Q1 and Q2.
We expect declines in services consumption, manufacturing activity, and building investment to lower the level of GDP in April by nearly 10%, a drag that we expect to fade only gradually in later months. We now forecast quarter-on-quarter annualized growth rates of -6% in Q1, -24% in Q2, +12% in Q3, and +10% in Q4, leaving full-year growth at -3.8% on an annual average basis and -3.1% on a Q4/Q4 basis.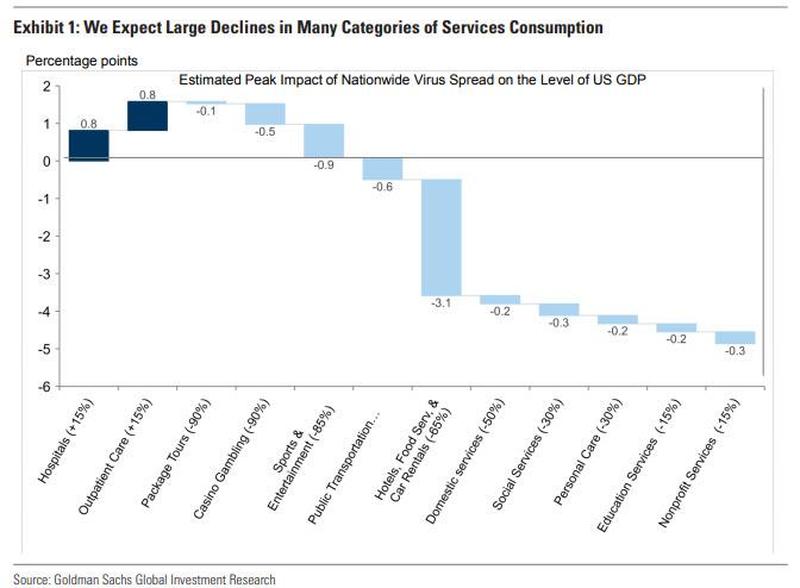 The Rest…HERE