Italy Declares 'Martial Law', Uses Army To Enforce Lockdown, As Too Many Citizens Defy Gov't: Live Updates
by Tyler Durden
ZeroHedge.com
Fri, 03/20/2020
Summary:
Hong Kong reports largest daily jump in cases on record as travelers revive outbreak
Italy says Army will help enforce lockdown, effectively declaring martial law; might extend lockdown through early May
Spain death toll cracks 1,000
Confirmed cases in US pass 14k
Germany to pass 'shadow' budget on Monday
Bavaria becomes first German state to impose 'lockdown'
Johnson says UK can defeat virus in 12 weeks if 'we work together'
Treasury now moving back both filing & payment deadlines for 2019
NBC News employee succumbs to virus
Dr. Fauci says social distancing should continue for several weeks
MTA confirms it has 23 sick workers
China makes first purchase under 'Phase 1' trade deal
Altria chairman & CEO tests positive
Military confirms 35 American troops infected in Europe
* * *
Update (1055ET): Meanwhile, in London…
This was my commute to work in London this morning @BorisJohnson. This is what you get on London underground when you reduce the service but people still have to go to work. There was a lot of coughing too.

How do we stay safe in this environment?#CoronaVirusUpdate pic.twitter.com/wT345MEjND

— David Riley (@DRileyamusing) March 20, 2020
Boris Johnson's government has continued to deny reports about an impending 'lockdown' of London. But with 10k troops on standby, we suspect that Italy might soon have some company in the 'martial law' department.
* * *
Update (1015ET): The Treasury has officially moved back 'Tax Day', by postponing both the payment deadline (which it announced earlier) and the filing deadline (which it just announced Friday morning).
In other news, an NBC News employee has died from COVID-19.
As an update: Confirmed cases in the US passed 14,000 Friday morning, while the number of confirmed deaths hit 160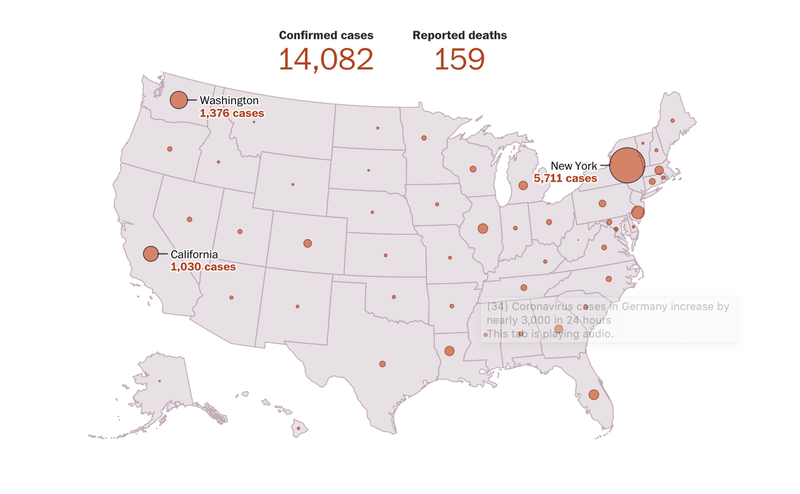 Update (0950ET): The market didn't seem to care all that much, but Handelsblatt reported Friday that the German government is planning to pass a planned €200 billion budget to combat the crisis, as Berlin continues to facilitate mass testing and triaging that has kept its mortality rate among the lowest in Europe.
Barely a day has gone by over the past two new weeks that there hasn't been some report about Germany suspending its 'debt brake' due to the crisis and boost fiscal spending, as Christine Lagarde and the ECB have called on them to do. Even before the outbreak, reports about Germany passing a 'shadow budget' to boost tepid economic growth date back to at least the fall.
Germany's outbreak began in the state of Bavaria, still its worst-hit region. And as governments around the world tighten restrictions on movement, Bavaria on Friday imposed new "fundamental restrictions" on public life to aid the fight against COVID-19, DW reports. The move, of course, comes less than 12 hours after the governor of California imposed similar measures.
"We're shutting down public life almost completely," Bavarian Minister President Markus Söder said.
People will only be allowed to leave their homes for necessary purposes, such as going to work or the doctor and buying groceries or medicine.
"It's not easy to take these decisions," Söder said. "We take these decisions according to the best of our knowledge and conscience. There will be a Bavaria after corona, but it will be a stronger one if we don't look away."
The measures will go into effect for two weeks starting Friday evening.
In other news, the German state of Saarland wants to shut down restaurants and restrict people from going out in public, moves that are similar, though somewhat less restrictive, than Bavaria. Saarland State Premier Tobias Hans will recommend the move to his cabinet this afternoon, the state chancellery confirmed.
* * *
Update (0945ET): Six weeks ago, many branded us 'alarmists' for publishing warnings by credible epidemiologists and virologists about the infectious potential of the novel coronavirus.
Coronavirus pandemic:

From 0 to 125,000 cases: 14 weeks

From 125,000 to 250,000 cases: 9 days

— Norbert Elekes (@NorbertElekes) March 20, 2020
If you still believe those warnings were 'alarmist', we wish you the best of luck during the coming weeks. You're going to need it.
* * *
Update (0928ET): The US military just confirmed that 35 American troops in Europe have tested positive.
Meanwhile, the FCA in the UK warned banks to ease up on repossessions and the like, issuing a statement claiming that "no responsible lender should be considering repossession as an 'appropriate measure' at this time. This comes after BoE Governor Bailey warned that banks should suspend foreclosures and repossessions.
Though it's faded into the background, tensions over whether China would be able to keep up with its 'Phase 1' trade deal commitments have slackened somewhat now that Beijing has made its first expected purchase of US agricultural goods.
CHINA BUYS 756,000 METRIC TONS OF U.S. CORN, FIRST MAJOR PURCHASE UNDER PHASE ONE TRADE DEAL
* * *
The Rest…HERE