Trump Bans All Travel From Europe For 30 Days; Tom Hanks Infected; NBA Suspends Season: Live Updates
by Tyler Durden
ZeroHedge.com
Wed, 03/11/2020
Summary:
WHO declares Covid-19 is a pandemic
President Trump declares a travel ban from all European countries (not UK)
Tom Hanks, wife announce they have the Coronavirus
NBA suspends all games until further notice
Utah Jazz player Rudy Gobert has tested positive for coronavirus.
LA confirms first death
Seattle schools close for two weeks
Italy closes stores
MGM says guest at Vegas's 'The Mirage' tested positive
Denmark closes schools, will send 'non-critical' public employees home to work
New Jersey case total climbs to 23
Juve player Daniele Rugani
DC Mayor declares public health emergency
Congressional doctor says up to
Cuomo confirms 39 new cases in NY, raising total to 212
First death in Indonesia
Confirmed cases in France top 2,000
Washington State to ban events over 200
Details of cruiseline industry's 'health and safety proposal' leak
'Waffle House' employee in Atlanta confirmed
UK reports 7th death
Chicago cancels St. Paddy's Day parade
NY sends in National Guard
IADB cancels meeting in Colombia as virus spreads across Latin America
Mnuchin says first part of virus stimulus plan will be ready in 2 days
Utah reportedly planning to shut public college and university campuses
Dr. Fauci warns virus 10x more deadly than flu and could infect millions if not handled early
Australia passes A$18 billion stimulus package
Seoul says 99 cases tied to call center
FEMA evacuates Atlanta office over coronavirus scare
3 Boeing workers test positie
Washington DC advises cancellation or postponement of all gatherings with more than 1,000 people
Harvard to prorate room and board for students
US cases surpass 1,000
UK Health Minister catches virus
Ireland, Bulgaria, Sweden report first deaths
Connecticut declares state of emergency
UK total hits 456 following largest daily jump on record (83 new cases)
Global cases pass 120,000
South Korea reports new outbreak in call center
Japan reportedly planning to declare state of emergency
* * *
Update (2130ET): Tom Hanks and his wife, Rita Wilson, have tested positive for the coronavirus during a trip to Australia, he said in a Wednesday Instagram post.
Hello, folks. Rita and I are down here in Australia. We felt a bit tired, like we had colds, and some body aches. Rita had some chills that came and went. Slight fevers too. To play things right, as is needed in the world right now, we were tested for the Coronavirus, and were found to be positive.
Well, now. What to do next? The Medical Officials have protocols that must be followed. We Hanks' will be tested, observed, and isolated for as long as public health and safety requires. Not much more to it than a one-day-at-a-time approach, no?
We'll keep the world posted and updated.
Take care of yourselves!
Hanx!
In separate news, Utah Jazz All-Star Rudy Gobert tested positive for coronavirus; "sources say Gobert is feeling good, strong and stable — and was feeling strong enough to play tonight." The NBA's reaction was instant: the game Gobert was playing in was canceled, and both the Jazz and the Oklahoma City Thunder teams and lockerrooms are currently quarantined. Nobody has left Chesapeake Arena.
Both teams and lockerrooms are currently quarantined. Nobody has left Chesapeake Arena

— Tony Jones (@Tjonesonthenba) March 12, 2020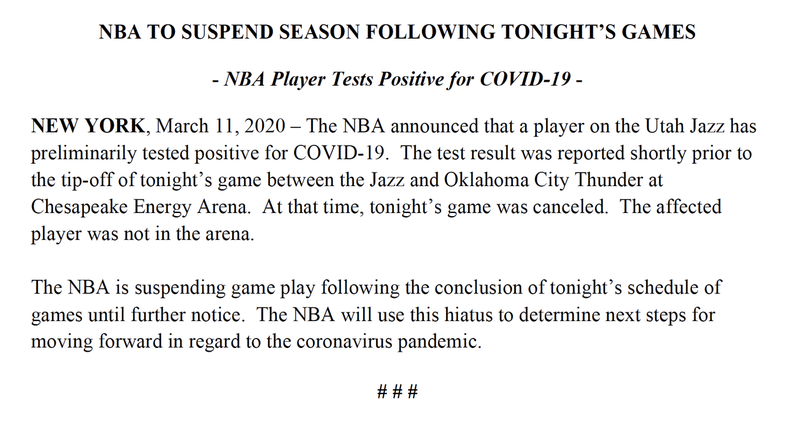 Update (2110ET): President Trump has ordered a complete travel ban from European nations for the next 30 days (beginning at midnight on Friday). The ban does not include the United Kingdom. Speaking from the Oval Office, Trump called the coronavirus a "horrible infection" and said he was addressing the nation to talk about the "unprecedented response to the coronavirus outbreak."
#BREAKING: President @realDonaldTrump announces a new travel ban on all of Europe for 30 days. pic.twitter.com/ALBWcNx5ke

— Washington Examiner (@dcexaminer) March 12, 2020
While Trump initially announced that the ban would also include "trade and cargo", a subsequent clarification from the White House, perhaps upon seeing the market's reaction, made it clear that Trump misspoke, and the ban does not apply to goods and trade.
Hoping to get the payroll tax cut approved by both Republicans and Democrats, and please remember, very important for all countries & businesses to know that trade will in no way be affected by the 30-day restriction on travel from Europe. The restriction stops people not goods.

— Donald J. Trump (@realDonaldTrump) March 12, 2020
Additionally, Trump laid out his plans for taking emergency action to provide relief for those suffering financial hardship due to the virus.
The President also said health insurance companies had agreed to waive all co-payments for coronavirus treatments and extend insurance coverage to cover coronavirus treatments.
* * *
Update (1950ET): As states around the country mull whether to follow Washington and shutter their schools, we've received a reader tip claiming that Utah Gov Gary Herbert will announce on Thursday at 9 am MT that the state is shutting down all its public campuses of higher education. A press release will follow. The official date and duration is not know at this time.
Again, that's according to an as-yet-unconfirmed tip, so treat it accordingly.
Of course, if this is accurate, that's just another ~20,000 college kids about to go on an extended, cut-rate spring break.
* * *
Update (1937ET): Seoul has just confirmed that 99 cases have now been tied to an outbreak at a call center in Seoul's Guro district, one of the busiest and most crowded parts of town. Low paid workers commuting from far away helped pass the infection along their route, creating another outbreak just as South Korea was getting the outbreak in the city of Daegu under contol.
Seoul Mayor Park Won-soon made the announcement early Thursday in Seoul. It's unclear whether these constitute new, or already counted cases.
Australia just announced a A$17.7 billion stimulus package to bolster its economy against the fallout from the virus, joining what's becoming a growing list of developed countries that have acted more quickly than the White House to address that aspect of the crisis.
To be sure, the Trump administration deserves credit for swiftly working out a compromise with Democrats to pass an $8.3 billion spending package that increases funding for the CDC, FDA and the other agencies within DHHS, dole out money to the states, buy vaccines when they're available and $1.25 billion for "international activities."
* * *
Update (1820ET): Juventus, a football club based in Turin, a city in Piedmont situated just outside Italy's initial exclusion zone, just confirmed that center-back Daniele Rugani has tested positive for the coronavirus, though it's not yet clear who.
BREAKING: Juventus centre-back Daniele Rugani has tested positive for coronavirus, the Serie A club have confirmed.https://t.co/PWNnhoOE5z

— Sky Sports News (@SkySportsNews) March 11, 2020
This is the first time a Serie A football club has confirmed that one of its top players has been infected.
Juventus' leaked line-up next game: https://t.co/6rQ1HZkzKk pic.twitter.com/PNlbg9TMfA

— Jay Kob (@ln1982) March 11, 2020
And suddenly, it seems clear that Italian soccer's plan to ban fans at league contests is truly inadequate.
Juventus played Lyon recently.

Lyon played PSG recently.

PSG played Dortmund tonight.

Etc etc etc.

— Stan Collymore (@StanCollymore) March 11, 2020
Immediately, most fans thoughts probably turned to Cristiano Ronaldo, the club's star player.
Earlier in the US, Texas reported that a toddler was among its latest batch of confirmed cases for Covid-19. Another characteristic that differentiates Covid-19 from the flu is that young children are also at risk.
* * *