2nd Utah Jazz Player Tests Positive, ESPN Reports Gobert 'Was Careless In The Lockeroom': Live Updates
by Tyler Durden
ZeroHedge.com
Thu, 03/12/2020
Summary:
Scott Gottlieb says US can still avoid "Italy-like" outcome
UK reports 2 more deaths
2nd Utah Jazz player tests positive
Reporter claims Gobert was careless in the lockerroom
2020 champions league tournament postponed until next year
US Major League soccer suspends play
Trump says we may need to extend travel ban
Reports claim once again that Merkel is ready to whip out the checkbook
EU officials condemned Trump's travel ban
Trump says 'markets are going to be fine'
Spain has approved a €2.8 billion rescue package
Olympic torch lit in front of just 100 spectators
La Liga suspends season after Real Madrid player tests positive
3 F1 racers quarantined
Blackstone advises portfolio companies to draw down revolving credit lines
NHL rumored to be planning a league play suspension as playoffs begin
Passenger on JetBlue flight from NY to FLA tests positive for virus
Spanish cabinet being tested for coronavirus
Scandinavia begins shuttering schools
Iran reaches out to 3 million Iranians who may have been infected
Market participants wary of dissipating bond market liquidity
Global deaths pass 4,600
* * *
Update (1115ET): As sports-betting operations and sports fans around the world wait to hear whether the NBA playoffs will be suspended or cancelled, it's been reported that a second Utah Jazz player has tested positive for the virus.
The new patient is star guard Donovan Mitchell, who joins teammate Rudy Gobert.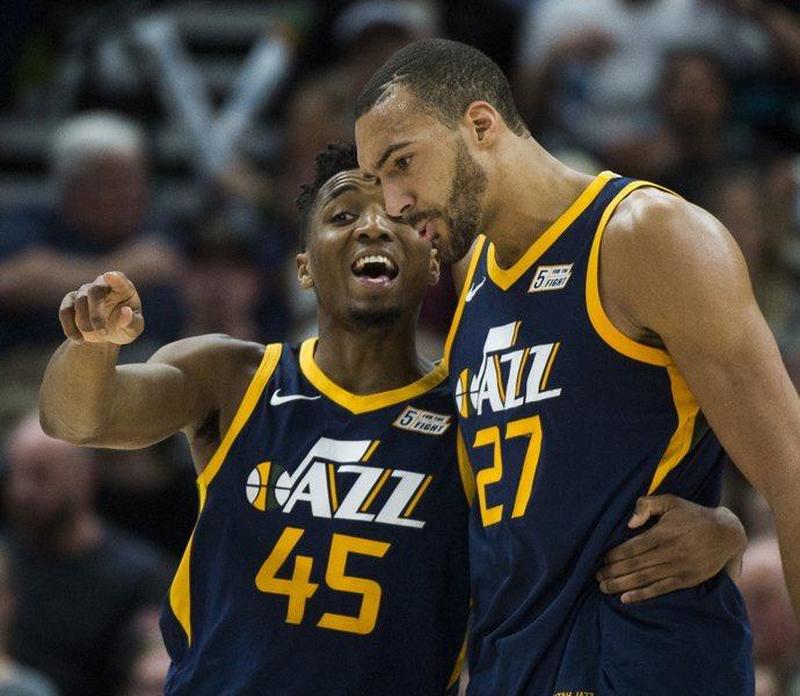 The two sick players, pictured together...
A reporter claimed sources close to the team said Gobert had been 'careless' in the lockerroom, after demonstrating his disdain for the public panic around the virus.
Jazz star Donovan Mitchell has tested positive for the coronavirus, league sources tell ESPN. Jazz players privately say that Rudy Gobert had been careless in the locker room touching other players and their belongings. Now a Jazz teammate has tested positive.

— Adrian Wojnarowski (@wojespn) March 12, 2020
This would suggest that the virus has been spreading among the teammates.
At the White House, President Trump said he doesn't support House Democrats' plan for the emergency economic package, and accused them of stuffing it with "goodies."
He also said that the US may need to extend travel ban for longer, or "we could shorten it."
We neglected earlier, but in Australia, three Formula One team members have been placed into isolation amid concerns they may have contracted the coronavirus, stoking more criticism of the decision to go ahead with the Australian Grand Prix, the Guardian reports.
* * *
Update (1105ET): As Democrats and Republicans duke it out on Capitol Hill over the coronavirus emergency fiscal package, Spain has just approved a €2.8 billion package to support social services in its provinces as the country battles the outbreak. Meanwhile, President Trump is telling reporters that 'markets are going to be fine' amid the second bone-shaking, trade-halt-provoking selloff this week.
Trump also said he will not use his powers under the Stafford Act to declare a national state of emergency, though he didn't rule it out in the future.
Italy has also proposed a rescue package of €25 billion, according to reports.
And in the US, it appears the American professional soccer league is following La Liga and the champions league and suspending play, according to Sports illustrated.
MAJOR LEAGUE SOCCER TO SUSPEND ALL PLAY IMMEDIATELY: SI
* * *
Update (1055ET): Weeks after declaring that nothing would stop Euro 2020 champions league tornament, it appears its organizers are ready to throw in the towel.
According to media reports, the European soccer league is planning to postpone the 2020 tournament until next year because of the coronavirus.
https://twitter.com/Football__Tweet/status/1238113594031693824?ref_src=twsrc%5Etfw%7Ctwcamp%5Etweetembed%7Ctwterm%5E1238113594031693824&ref_url=https%3A%2F%2Fwww.zerohedge.com%2Fgeopolitical%2Feu-leaders-slam-trumps-unliteral-travel-ban-global-outbreak-death-toll-passes-4500
Earlier, La Liga, the Spanish top-flight football club, announced it would follow the NBA by suspending its season. Now, football fans across Europe are about to be very disappointed.
* * *