UK Confirms 6th Coronavirus-Linked Death As Austria Bars Italians From Entry: Live Updates
by Tyler Durden
ZeroHedge.com
Tue, 03/10/2020
Update (0950ET): A sixth patient has succumbed to the coronavirus in the UK, BBC News reports.
UK has managed to keep the body count lower than several European peers (notably France and Spain) while Germany only just recorded its first death.
For some context:
https://twitter.com/COVID_19corona?ref_src=twsrc%5Etfw%7Ctwcamp%5Etweetembed%7Ctwterm%5E1237371248453263360&ref_url=https%3A%2F%2Fwww.zerohedge.com%2Fgeopolitical%2Fnew-jersey-declares-state-emergency-coronavirus-cases-triple-greater-new-york
* * *
Update (0850ET): As the US market open draws near, investors are parsing a flood of coronavirus related news overnight, including the good (President Xi's to Wuhan and a sharp drop in new cases in South Korea), the bad (US confirmed cases nearing 1,000), and the ugly (Italy's crackdown is starting to resemble China's, as the video below would suggest).
"Please stay at home & go outside only when you need to buy medicines or see doctors. Please follow our rules & wear face masks," Italian authorities use loudspeakers to promote awareness among local residents about #COVID19 prevention and control. pic.twitter.com/2EKEEm03b6

— Global Times (@globaltimesnews) March 10, 2020
In another landmark move, Italian government officials announced Tuesday that payments on mortgages will be suspended across Italy due to the coronavirus outbreak, Italy's deputy economy minister said.
"Yes, that will be the case, for individuals and households," said Undersecretary of Finance Laura Castelli during an interview with Radio Anch'io (Me Too).
Italy's banking lobby ABI said on Monday that lenders representing 90% of total banking assets would offer debt moratoriums to small firms and households grappling with financial stresses from the outbreak.
While we've focused on some of the new developments in the US earlier, there's plenty going on in Europe to rattle investor confidence. The number of confirmed coronavirus cases in Spain has doubled in the past few days, prompting the government to shut all schools in Madrid and the surrounding area for 2 weeks.
The Spanish parliament's lower house suspended all activities on Tuesday for at least a week after a lawmaker with the country's right-wing Vox Party was confirmed to have the virus.
MP Javier Ortega Smith was diagnosed with the virus, El Pais newspaper reported, citing sources from with Vox.
Ortega Smith is Vox's No. 2 leader, and in this capacity participated in a large scale political rally last weekend, where we interacted with constituents and other lawmakers, Reuters said.
While the outbreak is rapidly waning in Daegu, Korean Air Lines warned on Tuesday that the coronavirus outbreak could threaten its very survival after more than half of the world restricted passengers entering from South Korea, forcing the company to practically eliminate its international routes. In the US, the largest airlines are allowing passengers to rebook tickets through April 30 without paying fees to change flights citing uncertainty about traveling during the coronavirus outbreak.
Mainland China reported 19 additional coronavirus cases and 17 additional deaths on March 9, another marked drop in daily cases, bringing the total number of cases in China to 80,754 and death toll to 3,136.
Chinese President Xi arrived in Wuhan for the first time following the outbreak, while there were also reports that China's Hubei province is to implement a health code system to start permitting people to travel within the province. All 14 temporary coronavirus hospitals have been shuttered.
In France, Minister of Culture Franck Riester has tested positive for the virus according to France's Health Minister Olivier Véran, who made the revelation during a Monday evening interview with a French news station.
Last night, Italian PM Giuseppe Conte expanded the country's 'lockdown'-lite travel restrictions to all of the country, advising 60 million Italians to "just stay home" until the outbreak is over. In the country, more than 9,000 people have been diagnosed with the virus and 463 have been confirmed dead.
Following in the footsteps of Columbia and NYU (which have cancelled classes and, in NYU's case, advised students not to return after an upcoming week-long break), as well as Stanford & Princeton (which have moved all classes online), Harvard is the latest school to move all classes online for the rest of the semester.
According to the official figures, the coronavirus has killed 54 more people in Iran in the past 24 hours, the largest single-day jump in deaths since the virus arrived in Iran early last month, according to Al Jazeera.
As Iran's official death toll climbed 54 to 291, the country also confirmed 881 new cases increasing the total to 8,042.
In a sign that some European countries have grown weary of the EU's warnings that closing borders and restricting travel between Italy would be overreactions, Austria on Tuesday announced that it would ban all travelers from Italy unless they could produce documentation proving they were virus-free. This comes after Israel banned all foreigners from traveling to the country for 2 weeks. The government in Austria, led by conservative Chancellor Sebastian Kurz, the country's youngest-ever leader, has also pushed for schools to close and workers to work from home, as events with more than 100 people have been banned.
Denmark and Serbia joined in by cancelling all inbound flights from countries and regions hard-hit by the virus (including Italy), while British Airways has cancelled all flights to Italy. Even Kazakhstan, has barred entry to travelers from Italy, and will soon add France, Germany and Spain – three countries where outbreaks are rapidly spiraling out of control – to the list beginning March 12, according to chief sanitary doctor Zhandarbek Bekshin.
The first virus-linked death has been recorded in Lebanon, which just announced its plans to default on a debt payment for the first time as its own domestic financial crisis worsens.
Though it cautioned that this didn't constitute a "stimulus package", Japan released its second package of measures worth about $4 billion in spending to cope with the fallout of the coronavirus outbreak, focusing on providing support to small and mid-sized firms, amid mounting concerns about the fragile economy.
The package of ¥430.8 billion – $4.1 billion – reflects the pressure policymakers are facing to stem the risk of corporate bankruptcies and buttress Japan's listless economy.
Polish President Andrzej Duda said he will not hold large campaign meetings ahead of elections in May to try and stop the spread of the virus, while in the Czech Republic, Prime Minister Andrej Babis, who called on Italy to close its borders, which it eventually did, said he would temporarily close all schools and universities while also banning gatherings of more than 100 people.
* * *
NYC-based bankers better have a bugout base in Antarctica, because all the suburban bedroom communities preferred by wealthy financiers have already been infected with the coronavirus: Westchester, New Jersey, Fairfield County and Long Island (though thankfully not the Hamptons) have all reported cases of the virus (even scarier: a handful of infections have no clear connection to another case, potentially offering a glimpse into what might be a much wider 'community outbreak').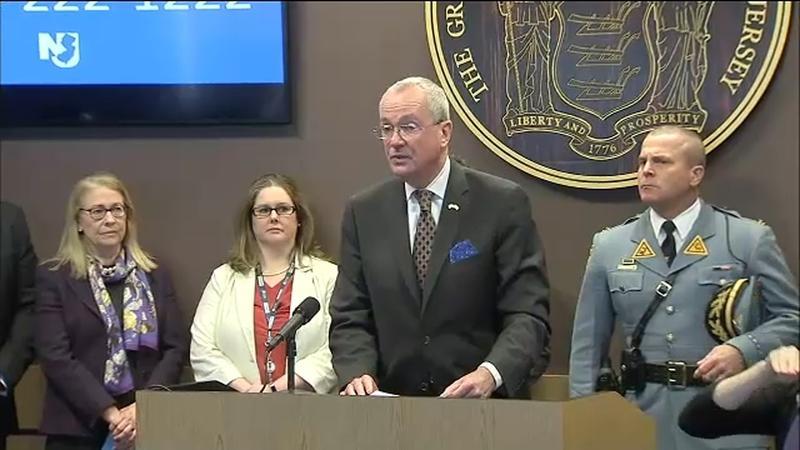 At around 11 pm on Monday, as thousands of financial professionals were probably passed out, exhausted after the most brutal trading day since the financial crisis, New Jersey Gov. and former Goldmanite Phil Murphy declared a state of emergency or some kind of public health emergency in New Jersey, joining Washington, Missouri, Florida, Maryland, New York and others (in Missouri, St. Louis has activated 'emergency operations).
BREAKING: I'm declaring a State of Emergency for New Jersey amid an outbreak of #COVID19.

We've been ahead of the curve in terms of our preparations, and this declaration will help keep us there.⁰⁰For more information, visit https://t.co/UyohzX5yGkhttps://t.co/ACoJrkLgJm pic.twitter.com/9gINlZKB1f

— Governor Phil Murphy (@GovMurphy) March 9, 2020
As President Trump and VP Pence dangle tax cuts and more fiscal stimulus in front of the market and the real economy, state governors and their top public health officials will ultimately be responsible for most of the 'containment' activities in their states.
Murphy's declaration follows an emergency order by Gov. Andrew Cuomo a couple of days ago. Murphy said he based his decision "on the facts on the ground."
"We are acting based on the facts on the ground and by the latest medical science," Murphy said in a video statement on his Twitter account.
"We have been ahead of the curve in terms of our whole-of-government preparations and this declaration will help keep is there," he added.
Since Friday, confirmed cases of the coronavirus in the Tri-State Area have tripled, from 49 to 156. As of Monday afternoon, New York has the most cases of any state in the country, though it hasn't yet recorded any deaths. These cases include dozens in Westchester County, which has become one of the nation's biggest hotspots that's not on a cruise ship.
Among the new cases in NYC is a 7-year-old, an FDNY EMS and, of course, Port Authority executive director Rick Cotton. Department of Health Officials said that some who were in contact with Cotton should adhere to a 14-day quarantine policy, with March 6 being the earliest possibly date of concern for transmission.
As of Tuesday morning, at least 729 people in 36 states and Washington DC have tested positive for coronavirus, according to a new database from the New York Times that is committed to tracking every single confirmed case in the US in detail.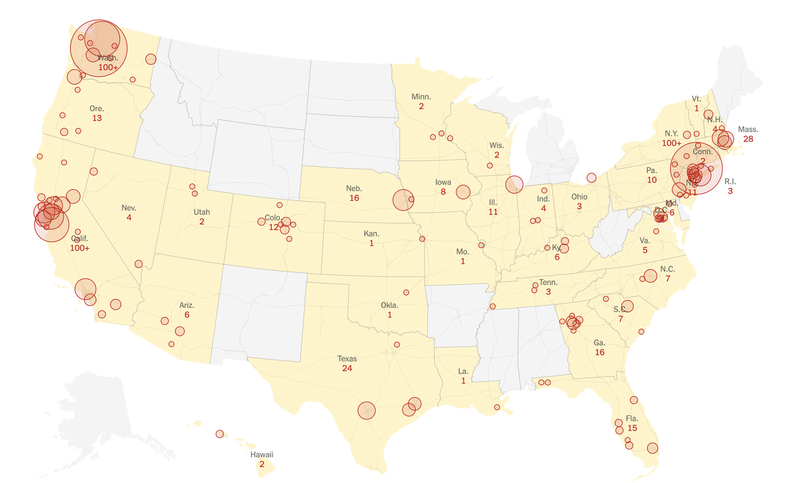 Last night, San Francisco Mayor London Breed confirmed another 5 cases, bringing the country's total to 13. All five patients know each other and are all quarantining at home, according to local media reports.
At a press conference Monday evening where President Trump assured markets that more fiscal stimulus is on the way, Pence and the leaders of the CDC promised that testing capacity has been rapidly expanded as more public and private labs have come online.
Hopefully, America's dismal testing rate will soon see a large bump, exposing the true extent of the outbreak.
jesus christ, America what are you doing https://t.co/H2MQhsk4nK pic.twitter.com/g5szZCLdM6

— Rob Price (@robaeprice) March 9, 2020