Covid-Contagion Spreads: American, Delta, Spirit, & United All Pull Guidance, Slash Flights
by Tyler Durden
ZeroHedge.com
Tue, 03/10/2020
Hundreds of thousands of flights across the world have been canceled amid Covid-19 nearing pandemic status.
Airlines are slashing routes on a weekly basis, mainly to Asia Pacific countries and now Italy. The latest airline to announce cutbacks is American Airlines on Tuesday morning.
American started cutting flights in late January as confirmed virus cases and deaths soared in China. It has also reduced international seat capacity by 10% for the summer season, including a massive 55% reduction in flights to Asia Pacific countries.
American will slash domestic seat capacity by 7.5% in April, as many airports across the country are ghost towns as people stay home to avoid being infected. The issue with Covid-19 is that it can remain in the air for upwards of 30 minutes and travel 14 feet. This would suggest that anyone in confined spaces like airports or the cabin of a narrow-body aircraft, could have a high probability of contracting the infection. People are waking up that Covid-19 is much more dangerous than the flu, as it appears airports across the country are empty:
ATL Airport – empty pic.twitter.com/BS5LXp6O7k

— Joseph Kilcullen (@Joekilcullen) March 10, 2020
I have never seen the Montreal airport this empty. This is the new post-apocalyptic world we live in #COVID19 pic.twitter.com/cSMo4DHjCn

— John Hairabedian (@johnhaira) March 8, 2020
https://twitter.com/sarahgalore/status/1236499361644916736?ref_src=twsrc%5Etfw%7Ctwcamp%5Etweetembed%7Ctwterm%5E1236499361644916736&ref_url=https%3A%2F%2Fwww.zerohedge.com%2Fmarkets%2Fcoronavirus-fallout-american-cuts-flights-plunging-demand-delta-pulls-guidance
DFW Airport is a ghost town. Never seen it this slow. No one was in Admiral's Club, all the restaurants were empty. No lines at TSA. Staff confirmed "lots of cancellations". pic.twitter.com/5oDxY8wcUB

— Colin (@clnbrns) March 5, 2020
We noted several days ago that the global air travel industry is in crisis, expected to experience the biggest shock in demand not seen since the 2001 terrorist attacks and the 2008 financial crisis. "It's unprecedented," said Jefferies analyst Sheila Kahyaoglu.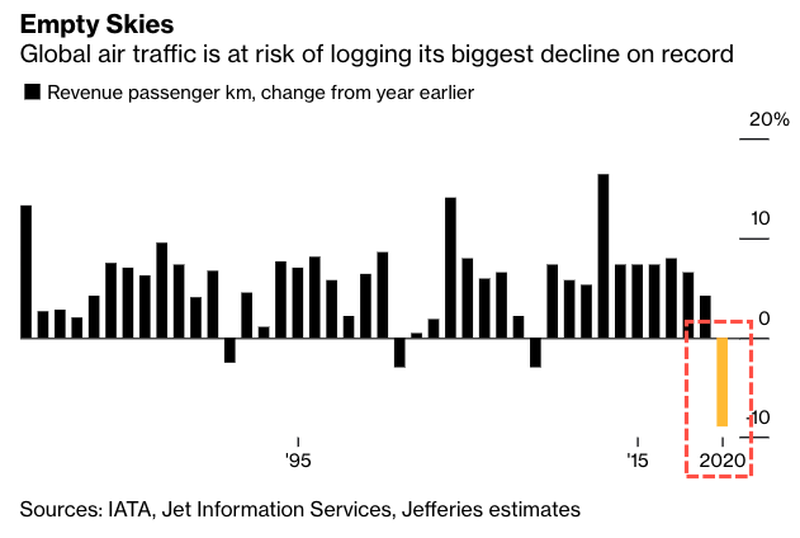 The steep decline in passengers prompted American, Delta, and Spirit Airlines to all withdraw FY 20 outlooks on Tuesday morning. United Airlines withdrew its 1Q20 guidance on declining demand. Despite the gloomy forecasts, all four airlines are up premarket on expectations of a relief package from the Trump administration to cushion the demand shock.
Delta CEO says he thinks "no question" we'll see government intervention with airlines because of #coronavirus

— Leslie Josephs (@lesliejosephs) March 10, 2020
Earlier this month, we pointed out how plunging demand and canceled flights across the world triggered a crash in jet fuel prices.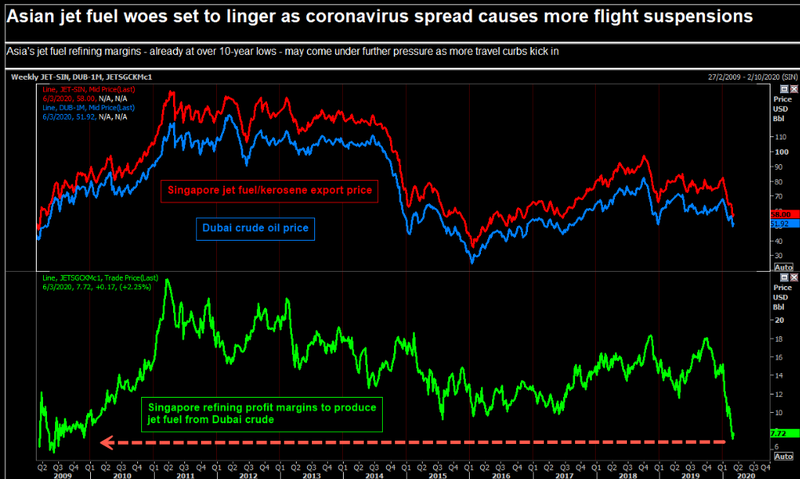 And as a result of declining flights, the global travel industry is now headed for a "great crisis" with several hundred million jobs at risk and at least 10% of global GDP in jeopardy.