German Health Ministry Confirms First 2 Coronavirus Deaths, Gov Cuomo Reports 142 New Cases In NY: Live Updates
by Tyler Durden
ZeroHedge.com
Mon, 03/09/2020
Summary:
First 2 Coronavirus deaths recorded in Germany
Confirmed cases near or pass 1,000 in France, Germany and Spain
Germany state of Brandenburg has between 4k and 5k in home quarantine
South Korea imposes travel advisory, confirms another 96 cases
Hungary stops flights to and from Northern Italy
PM Johnsons says UK won't close parliament
Trump to hold WH meeting on fiscal stimulus
Italian PM promises "massive shock therapy" to save economy from coronavirus
Deutsche Bank cancels 150-year-anniversary celebrations
Dozens of flights leave northern Italy despite quarantine, even as airlines cancel routes
Moody's says US economy headed for recession
Cuomo confirms 142 new cases in New York State, bringing total confirmed in NYC to 19
NY has started making its own sanitizer
Columbia University cancels classes, Princeton moves lectures online
77 new public health labs open across US Monday
Spain PM says he will have 'emergency plan' to tackle outbreak
UK confirms another 45 cases
VP Pence will hold press conference at 5:30ET Monday
Amtrak shutters 'Acela Corrider'
Korean construction worker contracted by US military tests positive
Total number of cases in Italy hits 7,375
'Grand Princess' will soon dock in Oakland
Trump congratulates VP Pence via tweet
New cases in South Korea drop as Philippines case total doubles
EUCO President says conference call will be held to coordinate EU response
Germany and France finmins hold talks to discuss crisis
Missouri declares first "presumptive" positive Sunday night; father of patient breaks quarantine
Dutch infections climb to 321
* * *
Update (1200ET): South Korea showed once again that the pace of new infections has continued to slow on Monday, while also raising its travel advisory for northern and central Italy.
S. Korea raises travel advisory for northern, central Italy https://t.co/z4bJncNuBu

— Yonhap News Agency (@YonhapNews) March 9, 2020
This follows SK's second case update for Sunday: 96 new cases, which were identified between midnight Sunday and 4 pm, have brought the nation's total number of infections to 7,478, the Korea Centers for Disease Control and Prevention said, according to Yonhap. That follows 248 new cases detected earlier.
After recording its first coronavirus case last week, Hungary has stopped flights to and from northern Italy and cancelled its March 15 national day celebrations amid growing fears that the outbreak will spread, according to the FT.
In the UK, a fourth coronavirus patient died on Monday. The patient was being treated at the Royal Wolverhampton Hospital and was in their 70s with underlying health conditions, UK health authorities confirmed. The person had contracted the virus in the UK and efforts are being made to trace their contacts.
* * *
Update (1140ET): Port Authority Executive Director Rick Cotton has been diagnosed with the coronavirus. Cotton, the executive director of the Port Authority of New York and New Jersey, the independent quasi-public government agency responsible for the port, apparently contracted the virus after visiting airports and other Port Authority facilities.
He is at home under quarantine, NY Gov. Andrew Cuomo said.
During what has become a daily (sometimes twice-daily) live press update, Cuomo confirmed that the number of cases in New York State has climbed to 142, with 16 new cases in Westchester, 7 new cases in NYC, 12 new cases in Nassau County, 2 new cases in Rockland County and 1 new case in Ulster County: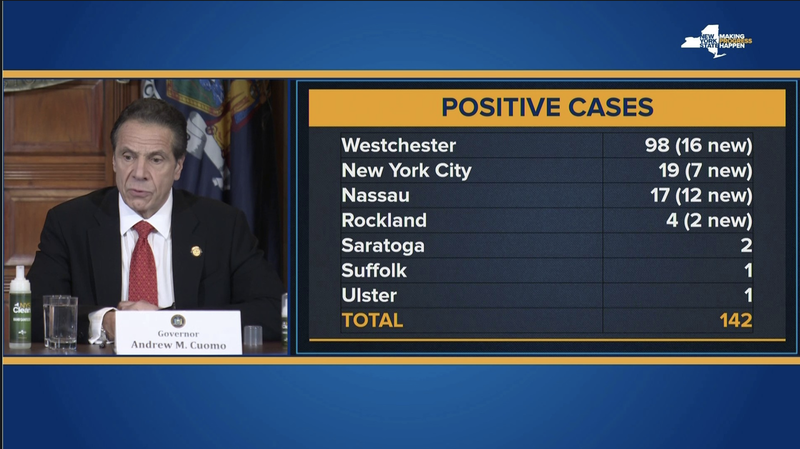 With 142 cases of the new coronavirus, New York has 6% of the cases in the nation, however, only 8 of those people are hospitalized currently.
After reiterating that the panic and hysteria is far out of proportion to what's actually happening, Cuomo said Monday morning that as the national run on Purell continues, the state will produce its own hand sanitzier, which it can accomplish at a cost of $6 a gallon to make the NYS hand sanitizer.
The product is being produced at the Great Meadow Correctional Facility in Washington County. Unfortunately for NYC residents, the hand sanitizer is not available to the general public; it's being provided, for free, to school districts and municipalities.
Cuomo added that the NYS hand-sanitizer has "a floral bouquet" – before adding that he was joking, though in all seriousness the governor said he did detect a "hint of citrus."
Speaking after Cuomo, NYS Health Commissioner Howard Zucker says the state, in consultation with the CDC, is considering a closure of the public schools in New Rochelle for a period of weeks. Jewish schools in the city, a locus for new coronavirus infections, are already closed. Zucker added that New York state's public health labs can test "several hundred" coronavirus samples each day.
In addition, Cuomo said the state has shut down nursing homes in the Westchester County city of New Rochelle to visitors. He urged other nursing homes to be cautious because "this is the vulnerable population." Cuomo said he spoke with VP Pence on Monday about NY getting approval for automated testing.
Cuomo gave the first gallon of NYS hand sanitizer to @J__Velasquez pic.twitter.com/R5QwtgdCDy

— Jimmy Vielkind (@JimmyVielkind) March 9, 2020
Outside the evacuees, at least 15 patients have recovered: Six in California, four in Nebraska, two in Illinois, one in Washington, one in Arizona and one in Wisconsin.
Here's an updated case map of the US, courtesy of NBC News: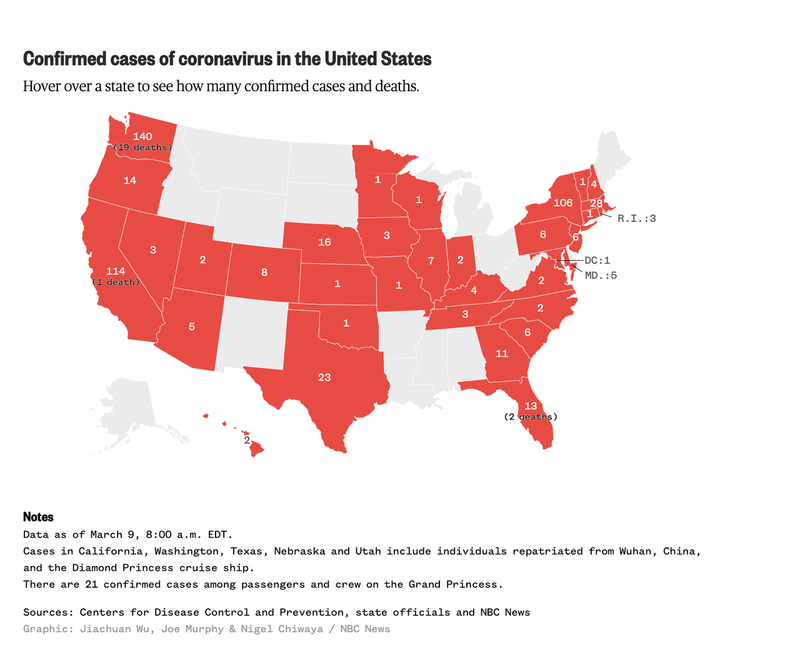 Update (1130ET): In a landmark moment for the coronavirus outbreak in Europe, German health officials have reported the first coronavirus-linked death on German soil, Bild reports.
Moments later, the German health ministry confirmed that two patients have died on Germany soil.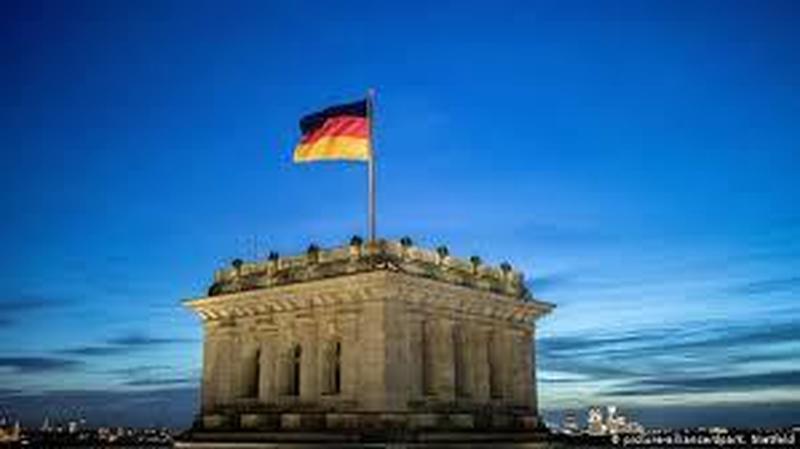 This comes after a German man died in Egypt yesterday.
* * *
Update (11:25ET): A statement delivered minutes ago by the CDC asked colleges and universities with students studying abroad to consider bringing them back to the US, and that upcoming study abroad programs should be cancelled.
* * *
Update (1120ET): Italian PM Giuseppe Conte promised earlier on Monday a "massive shock therapy" intended to revive the Italian economy.
Italian Prime Minister Giuseppe Conte promised 'massive shock therapy' to overcome the impact of the #coronavirus outbreak, after his government shut off much of the country's industrial and business heartlands https://t.co/MjxzarFrJt pic.twitter.com/bUYP0bUHsA

— Reuters (@Reuters) March 9, 2020
Conte also urged Europe to embrace "strong" action to stop the outbreak. These sentiments were echoed by French President Emmanuel Macron on Monday, when he demanded that Europe come up with a "strong, massive and coordinated response". During a euro zone finance ministers meeting next week, the bloc is expected to come up with a plan to revive to Continental economy and avoid a brutal downturn.
* * *