Market Bloodbath: Middle East Stocks Crater; Kuwait Halted; Aramco Below IPO; Dow Indicated Down 500
by Tyler Durden
ZeroHedge.com
Sun, 03/08/2020
In case a global viral pandemic wasn't enough of a concern, on Saturday Saudi Arabia launched a global oil price war, when Aramco announced unprecedented discounts on Brent shipments to clients around the globe, with Bloomberg later reporting that the OPEC nation was set to flood the world with excess production potentially to as much as a record 12 million barrels a day, which in a world where oil demand has cratered due to China's economy remaining paralyzed due to the pandemic, assures that when Brent reopens for trading tonight it will be in freefall, tumbling into the $30s if not lower as OPEC is no more and every producer now scrambles to undercut everyone else in price, unleashing another deflationary massacre and forcing central banks to pull another market-supporting rabbit out of their hat.
Until they do, however, traders in the Middle East where markets have already reopened, decided to sell first and ask questions later, as stocks cratered ahead of the first official oil price prints, which will come after what was already the biggest one day drop in Brent since 2008 on Friday after news that the OPEC+ alliance had fractured. And now oil will have a Saudi oil price war to deal with, prompting some to speculate that the price oil could drop into the high teens, if not lower.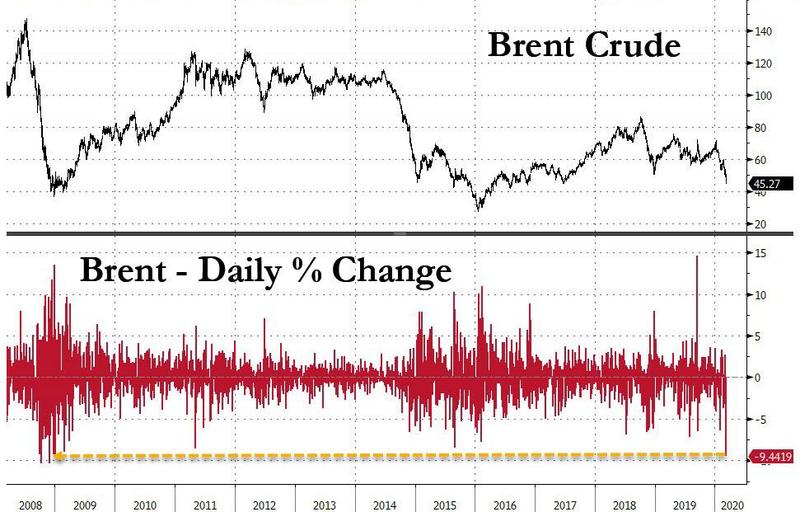 Kuwait led the sell-off, halting trading of the biggest and most liquid shares after its index tumbled 10% and bringing its losses this year to 18%, while every stock index in the region plunged. Dubai's DFM General Index and Saudi Arabia's Tadawul All Share Index clocked up the sharpest drop for a session since the 2008 financial crisis.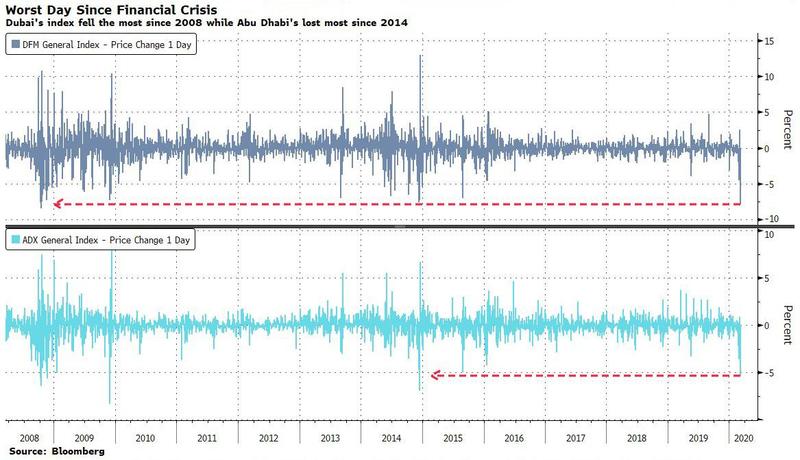 And, as we noted last night when we pointed out that Aramco's IPO top-ticked the market in both Brent and global investor stupidity…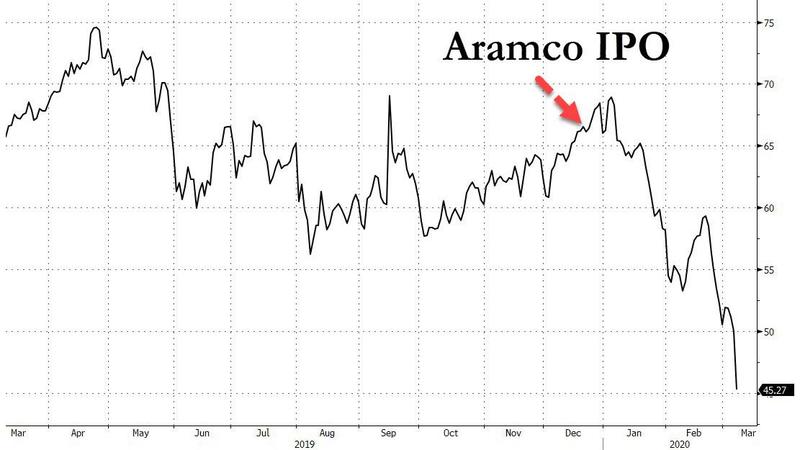 … oil giant Saudi Aramco fell below its IPO price for the first time, plunging down over 9% to a record low of SAR30.00.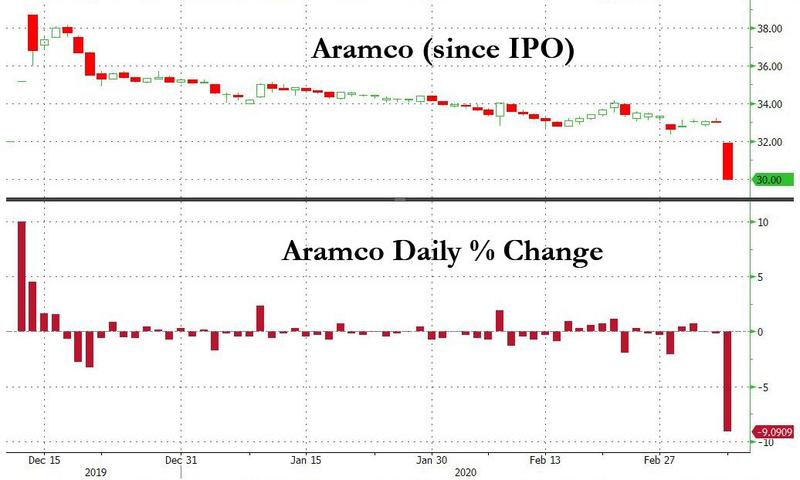 Elsewhere, Dubai's DFM General Index and Saudi Arabia's Tadawul All Share Index all posted the biggest one-day drops since the 2008 financial crisis.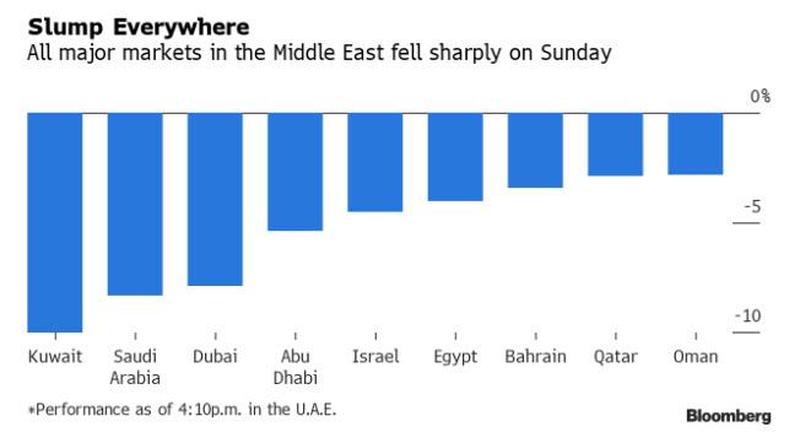 Bank shares were hit the hardest: in Riyadh, Al Rajhi Bank finished 7% lower. Emirates NBD PJSC, Dubai's biggest bank, fell 9.6%, while First Abu Dhabi Bank PJSC and National Bank of Kuwait SAKP ended 6.7% and 9.3% lower, respectively.
Some more details from Bloomberg:
Saudi Arabia's Tadawul index was back to the level of November 2017, before its inclusion in the emerging-market gauges compiled by MSCI Inc. and FTSE Russell.
Dubai's DFM General Index finished 7.9% lower, with real estate bellwether Emaar Properties down 9.7% to the lowest since 2012.
Kuwait's main index extended losses this year to 18%, compared with a 32% gain in 2019 that was the best performance in the region.
Indexes in Saudi Arabia, Dubai, Abu Dhabi, Kuwait, Bahrain, Qatar, Egypt and Israel all traded below a technical threshold that indicated they were oversold.
Commenting on the bloodbath, Mohammed Ali Yasin, chief strategy officer at Al Dhabi Capital said that mideast markets "are finding it difficult to cope with all these variables that have been happening over the past 10 days. That's why we see this panic-selling across the board taking certain markets to lows not seen even during the financial crisis."
"The sharp decline in oil prices is becoming a bigger concern for regional investors amid adverse global headlines," said Iyad Abu Hweij, managing partner at Allied Investment Partners in Dubai, who expects "heightened anxiety" to persist in markets.
Meanwhile, ahead of Monday's US open, UK spreadbetting service IG was indicating Dow futures to be down more than 500 points, as last week's violent selloff was set to return with a bang and as traders hoped that the Fed would make another emergency announcement later on Sunday to help ease the pain.