Italy Reports 2nd Straight 1,000+ Jump In Cases As Mortality Rate Hits 5%; Israel Weighs Ban On Foreigners: Live Updates
by Tyler Durden
ZeroHedge.com
Sun, 03/08/2020
Summary:
Italy reports 2nd straight 1,000+ jump in cases, deaths jump 60%; mortality rate in Italy hits 5%
New York State confirms 16 new cases bringing total north of 100
16 million Italians wake up under quarantine
Egypt reports Africa's first coronavirus death, a German citizen
Pope Francis cancels Sunday address
Dr. Fauci warns community spread is getting out of control.
'Grand Princess' to dock in Oakland on Monday
Saudi Arabia quarantines province
Spain death toll hits 17, 600+ cases
Cuomo says he wants to avoid closing NYC schools, transit if possible
Iran official death toll hits 194
Daegu Mayor says outbreak may be slowing as number of new cases falls
* * *
Update (1330ET): For the second day in a row, Italian health officials on Sunday have reported 1,000+ newly confirmed cases of the novel coronavirus. In addition, deaths have climbed 50% to 366 deaths, up from 233.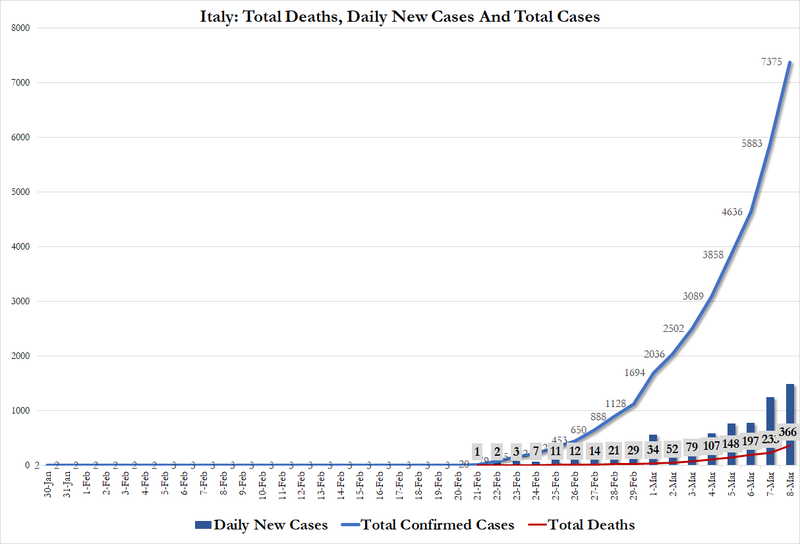 The Italian fatality rate has now hit 5%.
In France, the total number of confirmed cases has climbed to 1,126, with 19 deaths. Germany has reported 107 new cases of coronavirus, raising the total to 902, with 40 cases in Berlin.
In Israel, PM Benjamin Netanyahu is reportedly weighing a ban on all foreigners entering the country. A few hours ago, Israel closed the rest of its border with Egypt after the country reported the first coronavirus-linked death in Africa. The deceased is a German citizen.
* * *