Cuomo Declares State Of Emergency As 21 More Coronavirus Cases Confirmed In New York: Live Updates
by Tyler Durden
ZeroHedge.com
Sat, 03/07/2020
Update (1255ET): Gov Cuomo has declared a state of emergency in New York after 21 new cases of Covid-19 were confirmed, bringing the state-wide total to 76, according to NBC 4 New York.
Seven of the cases are in NYC. Total cases in the tri-state area have hit 80.
There have been at least 80 total cases found in New York, New Jersey and Connecticut, with the biggest portion of infected patientsin NY's wealthy Westchester County, just north of the Bronx. There have been 57 people to test positive there, Gov. Andrew Cuomo said Saturday, almost all of which are connected to the cluster that started with the midtown Manhattan lawyer Lawrence Garbuz and his family.
* * *
Update (1240ET): Now that every country in Europe has been infected with the virus, Italian health officials confirmed on Saturday that the national death toll has hit 233 after officials reported another 36 deaths.
DEATH TOLL IN ITALY OF CORONAVIRUS PATIENTS RISES TO 233 FROM 197 ON FRIDAY
TOTAL NUMBER OF CONFIRMED CASES OF CORONAVIRUS IN ITALY RISES TO 5,883 FROM 4,636 ON FRIDAY
The epicenter of the outbreak in Europe is seeing shit go straight parabolic.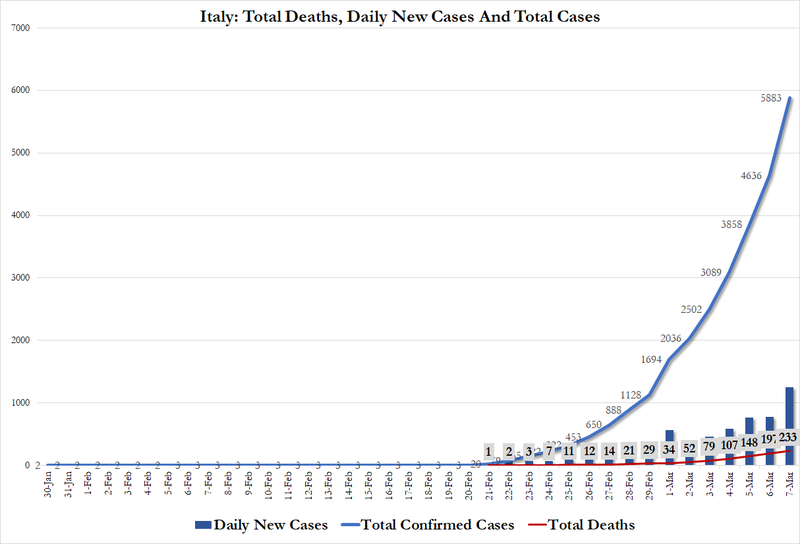 Italian government officials announced that they would adopt a new decree on Saturday with measures to to try and stem the contagion, but it's not clear yet what exactly they're planning.
Meanwhile, as more European countries track infected Italians spreading the virus within their borders, Sweden – of all places – is presenting a model of how to swiftly identify and quarantine those who have been exposed. All cases of Swedes who traveled to Northern Italy to ski during the holidays have been tracked, all people who came into contact with the possibly infected have been quarantined.
Unfortunately, the outbreak is no longer limited to the north of Italy.On Saturday, CNN reports, a US Navy sailor stationed in Naples tested positive for the virus, marking the first case for a US servicemember stationed in Europe.
The servicemember was stationed at a naval support facility in Naples. They are receiving medical and other support in accordance with CDC guidelines.
* * *