Cuomo Reports Another 11 Cases In New York State: Live Updates
by Tyler Durden
ZeroHedge.com
Fri, 03/06/2020
Summary:
14th death reported in the US as case total hits 234
Germany reports 90 new cases to 534
U. of Washington will move all classes online for rest of semester
Italy reports another 678 cases
Gap closes NYC office
New York cases climb to 33
Baggage handler at Heathrow tests positive
Madrid closes old folks homes
Trump visit to CDC is back on
WHO: "false hope" that virus will disappear when summer arrives
WHO: We don't know mortality rate
Kudlow: "Buy stocks"
2nd death in UK, cases hit 163; France reports 2 new deaths bringing total to 9
French total cases hits 577
Egypt reports 12 cases aboard cruise ship on the Nile
2,733 asked to voluntarily quarantine in NYC
Trump scraps trip to CDC
Switzerland, the Netherlands report 1st deaths
Slovakia only country in Europe without coronavirus
Russia accuses Italy of spreading virus
Singapore reports 13 new cases, largest one-day jump since outbreak began
US case total: 234
South Korea, Japan feud over virus
Microsoft, Adidas, Lockheed say at least 1 employee has contracted virus
China claims it can have vaccine ready by April
Pompeo says China withheld information, leaving US "behind the curve"
* * *
Update (1220ET): New York Gov. Andrew Cuomo has confirmed another 11 cases in his state, bringing the total to 33.
UPDATE: There are now 33 confirmed cases of #Coronavirus in NYS — 11 new positive tests since yesterday.

All new cases are connected to the original New Rochelle case.

As we do more tests, the number of positive cases will rise, as we are seeing.

— Andrew Cuomo (@NYGovCuomo) March 6, 2020
Watch the rest of his press conference below:
Happening Now: Updating New Yorkers with the latest information on #Coronavirus and the state's response. https://t.co/Vms475eNuh

— Andrew Cuomo (@NYGovCuomo) March 6, 2020
* * *
Update (1205ET): As Europe's worst outbreak continues to worsen, Italian health authorities just confirmed another 678 cases of the virus, bringing the total to 4,636.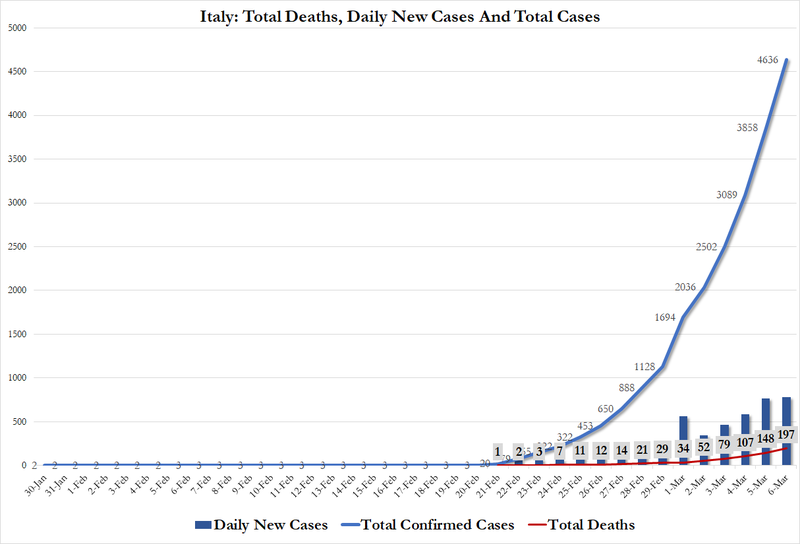 A few other updates over the last hour:
Facebook is closing its London offices.
FACEBOOK SAYS IT IS CLOSING ITS LONDON OFFICES UNTIL MONDAY AFTER AN EMPLOYEE BASED IN SINGAPORE WHO HAS BEEN DIAGNOSED WITH COVID-19 VISITED THE LONDON OFFICES ON 24-26 FEBRUARY
Gap has closed its New York office after a worker was infected (BBG).
Preppy apparel retailer Gap Inc. has closed its New York City headquarters after a worker tested positive for the coronavirus.
The building is located at 55 Thomas St. in Lower Manhattan. The person isn't in the office and is recovering at home, according to a memo sent to Gap workers at the location.
A baggage handler at Heathrow Airport in London has tested positive (BBG):
Coronavirus has reached Europe's busiest airport, after two British Airways baggage handlers at London Heathrow tested positive for the disease.
The affected workers are recovering in isolation at home, British Airways parent IAG SA said Friday in an email. A small number of the luggage handlers' colleagues are also being tested, a person familiar with the matter said.
Madrid Closes 213 Old People's Centers on Coronavirus (BBG + El Pais):
Madrid region will close 213 old people's centers for a month to avoid novel coronavirus infections, El Pais newspaper reports, without specifying how it got the information.
Total number of cases in Spain rose to 374, Health Ministry said.
Earlier, Russia blamed Italy for the handful of cases identified inside Russia's borders.
* * *
Update (1155ET): As the number of confirmed cases in NYC nears double-digit territory, more banks are telling their people to work from home or travel to 'backup sites'. The latest is Citi, which is reportedly moving its traders and salespeople to a backup site in Rutherford.
Mastercard has shut two offices after an employee contracted the virus.
* * *
Update (1115ET): Mexico said it's considering additional fiscal stimulus to combat the economic fallout from the coronavirus outbreak. Meanwhile, the State Department is reportedly considering whether to recommend that Americans avoid cruises for now.
EXCLUSIVE – U.S. IS CONSIDERING WAYS TO DISCOURAGE SOME U.S. TRAVELERS FROM TAKING CRUISES AS PART OF EFFORTS TO LIMIT SPREAD OF CORONAVIRUS – U.S. OFFICIALS
EXCLUSIVE – U.S. OFFICIALS SAY NO FINAL DECISION HAS BEEN MADE ON ANY POTENTIAL CRUISE INDUSTRY ACTIONS IN REGARDS TO CORONAVIRUS
WHITE HOUSE MULLING DEFERRED TAXES OVER VIRUS IMPACT: WAPO
And as Larry Kudlow said earlier and WaPo is now apparently reporting, the White House is weighing additional tax cuts to combat virus impact.
* * *
Update (1105ET): Just two days after the WHO declared that the global mortality rate for the coronavirus was 3.4%, which prompted an avalanche of criticism of President Trump, who said he had a "hunch" the mortality rate was closer to 1% a day before US officials released an official estimate reflecting the same, the WHO has apparently back-tracked, claiming it actually can't say for certain what the mortality rate is.
WHO'S VAN KERKHOVE SAYS WE DON'T KNOW TRUE MORTALITY RATE
WHO'S RYAN: VIRUS MAY BE DEVASTATING IN REFUGEE CAMPS
*WHO: HIGH-INCOME COUNTRIES LACK SUFFICIENT HOSPITAL CAPACITY
White House Press Secretary Stephanie Grisham just said his visit to the CDC is "back on", after Trump said something about a potential coronavirus test at the facility in Atlanta.
Grisham said that person has actually tested negative, so he visit is back on. The visit is set for 4 pm ET.
* * *