Covid-19 Cases In New York State Double As Seattle Closes Schools For 2 Weeks: Live Updates
by Tyler Durden
ZeroHedge.com
Thu, 03/05/2020
Summary:
New Jersey confirms first presumptive case
NY state cases double to 22
Seattle closes 26 schools
Pentagon tracking 12 possible COVID-19 cases
Illinois reports 5 more cases
NYC reports 2 more cases, raising total to 4
Italy postpones referendum vote; death toll hits 148
WHO's Tedros: "Now's the time to pull out the stops"
Tennessee confirms case
Nevada confirms first case
New Delhi closes primary schools
EU officials weigh pushing retired health-care workers back into service to combat virus
Italy to ask EU for permission to raise budget deficit as lawmakers approve €7.5 billion euros
Beijing tells residents not to share food
30-year-old Chinese man dies in Wuhan 5 days after hospital discharge
Cali authorities tell 'Grand Princess' cruise ship not to return to port until everyone is tested
Global case total passes 95k
Lebanon sees cases double to 31
France reports 2 more deaths
EY sends 1,500 Madrid employees home after staffer catches virus
Trump says he has a "hunch" true virus mortality rate is closer to 1%
Switzerland reports 1st death
South Africa confirms 1st case
UK chief medical officer confirms 'human-to-human' infections are happening in UK
UK case total hits 115
Google, Apple, Netflix cancel events
HSBC sends research department and part of London trading floor home
Facebook contract infected in Seattle
Microsoft, Google, Amazon, Netflix cancel events and/or ask employees to work from home
Netherlands cases double to 82
Spain cases climb 40, 1 new death
Belgium reports 27 new cases bringing total to 50
Germany adds 87 cases bringing total to 349
* * *
Update (1300ET): Bernie Sanders has cancelled an upcoming Mississippi rally. Interestingly enough, the coronavirus is only one reason. The Sanders campaign has apparently realized that any more effort campaigning in Mississppi would be wasted – Democrats in the state are mostly black and will back Biden by a massive margin.
* * *
Update (1250ET): During yet another press conference (the fourth in roughly 36 hours), NY Governor Andrew Cuomo just announced that the number of confirmed coronavirus cases in his state has nearly doubled to 22.
BREAKING: Gov. Andrew Cuomo announces that there are 11 new cases of novel coronavirus reported in Westchester County, New York City and Long Island. https://t.co/oXKxkKrm1m pic.twitter.com/wlZhBMUf96

— ABC News (@ABC) March 5, 2020
* * *
Update (1230ET): Illinois has confirmed 5 more cases of Covid-19, bringing the US case total to 159.
Over in the UK, the Telegraph reports that a patient has died from the virus, marking the first death in the UK as the number of confirmed cases nears 100.
In other news, the Ultra Music Festival in Miami has been postponed until next year.
As we noted earlier, Cali Gov. Gavin Newsom has ordered the 'Grand Princess' cruise ship to remain offshore until all its passengers can be tested for the virus. We were one of the first media organizations to link the death of a 71-year-old man in California to the investigation into a previous voyage of the cruise ship and its connection to one of the patients.
Now, Fox 2 KTVU is reporting that several passengers aboard the ship are displaying flu-like symptoms.
In fact, two women have posted a YouTube video from their cabin, saying they are experiencing typical cold symptoms, but that they do not have a fever. They said in the video that they were
tested for the virus, but told they didn't have it.
In other news, Hawaii has become the fourth state to declare a state of emergency over the virus, even though no cases have been confirmed in Hawaii yet, despite several scares. But Hawaii Gov. David Ige said the declaration would allow the state to better prepare.
Regarding the latest case confirmed in California, that of an LAX airport screener, officials reportedly can't tell if he contracted the virus at work, or "in the community" – which is extremely discouraging, if you ask us.
Cali has reported 53 cases so far.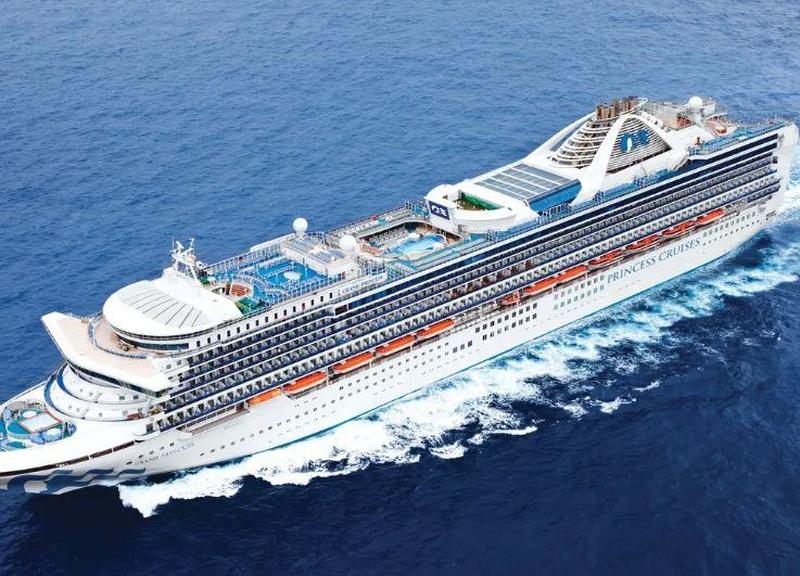 The Grand Princess currently has 2,500 passengers. The number of crew is unclear.
In a statement, Princess Cruises said there are no confirmed cases and that only 100 individuals have been "identified for testing."
"There are fewer than 100 guests and crew identified for testing, including all in-transit guests… those guests and crew who have experienced influenza-like illness symptoms on this voyage, and guests currently under care for respiratory illness," the statement said.
So Newsom is going to let thousands de-board after testing a smattering of 100 people out of more than 3,000. Sounds like a great 'containment' plan.
We're also starting to wonder how Carnival Cruise, which owns Princess cruises, is going to deal with this latest crisis.
* * *
Update (1220ET): As more workers are being told to work from home and more schools, events and businesses close around the world, Seattle has just closed 26 schools – the entire school district – for two weeks.
* * *
Update (1215ET): Italy's national death toll has just taken another leap higher: Officials are now reported a new total of 148 deaths, following the disclosure of 25 deaths in Lombardy about an hour ago. Another couple of dozen deaths have apparently been recorded since.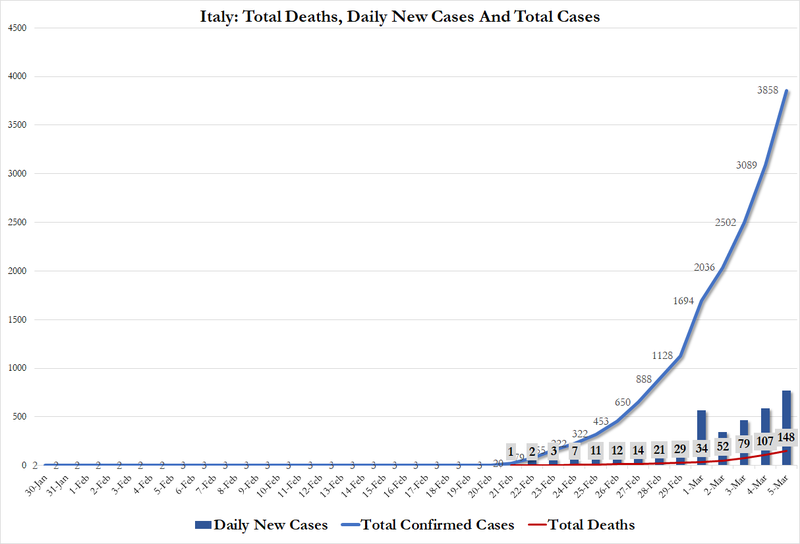 Italy might want to consider taking a page out of Iran's playbook and lying about the numbers.
Speaking of Iran, neighboring Iraq has just reported another three cases, bringing its total confirmed to 38.
Before we go, we wanted to mention one final comment from Dr. Tedros from Thursday's Trump-shading, China-praising, WHO press conference.
After Dr. Tedros chided world leaders for not doing enough, while simultaneously claiming that the world is well-prepared for the virus, the good doctor claimed that while we're not quite at 'pandemic' level yet (a fact that's disputed by many experts, who believe we are indisputably in the midst of a pandemic) there are "very concerning signs".
* * *