LA County Declares Local Emergency After Confirming 6 New Cases As Florida Reports 4th; Italy Closes Schools For 2 Weeks: Live Updates
by Tyler Durden
ZeroHedge.com
Wed, 03/04/2020
Summary:
New York has reported its third case: the son, wife and daughter of an infected Westchester County lawyer have been diagnosed with the virus
Italy finally confirms school closure
Italy will ban public events, and close cinemas and theaters even though the government denied an earlier ANSA report that the country would also close schools & universities momentarily
Fla reports 4th case
Italy urges elderly people to stay indoors if possible
Ecaudor confirms 3 new cases, raising total to 10
Pence confirms after meeting airline execs that travelers from Italy & SK would be tested multiple times
German finance minister declares outbreak "a global pandemic"
Russia blames "enemies" for spreading fake news about outbreak
Israel urges people to stop shaking hands, will quarantine travelers from most of Europe
EU reports a second coronavirus case at its headquarters in Brussels
France has reported 45 new coronavirus cases, bringing the total to 257
UK cases surge by 34 to a total of 85 – a 66% surge.
China reported 119 additional coronavirus cases and 38 additional deaths
South Korea reported 809 additional coronavirus cases and 4 additional deaths
Israel quarantines group of soccer fans
"Official" Iranian death toll hits 92
Saudi suspends Umra pilgrimage
Japan confirms 3 more cases from Osaka
* * *
Update (1240ET): Fla. Gov. Ron DeSantis has confirmed that a fourth person has tested positive for the novel coronavirus in his state.
* * *
Update (1220ET): Italian public health officials have confirmed plans to keep schools closed until March 15.
Italy, the epicenter of the outbreak in Europe, is reportedly preparing to take restrictions to the next level and close all schools and universities in the country for at least two weeks. This comes as the total case count has climbed above 3k, while the death toll has climbed to 107, according to health officials.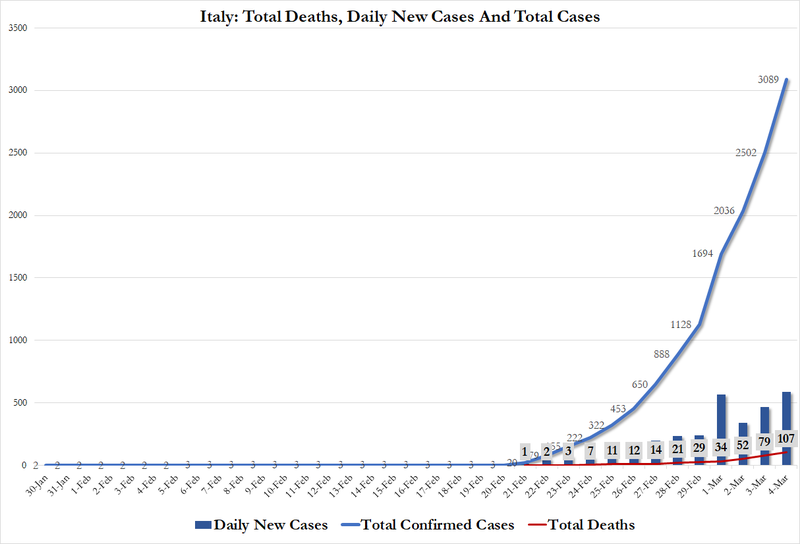 Over in the US, reports from Capitol Hill claim the bill to approve emergency coronavirus funding might be ready for a vote Wednesday evening. Reports yesterday claimed the vote wouldn't come until next week.
* * *