US Death Toll Hits 9 As Virus Spreads To North Carolina: Live Updates
by Tyler Durden
ZeroHedge.com
Tue, 03/03/2020
Summary:
US virus death toll hits 9
2nd case confirmed in NY
Spain reports 1st death
1st case confirmed in North Carolina
Italy mulls cancelling all sporting events for a month
2nd NY case commuted to Manhattan, traveled to Miami
Chile, Argentina report first cases
Third case possibly identified in Fla.
Stocks surge, then fade, after surprise 50 bp rate cut
4th person dies in France
Fauci says we should know soon whether Gilead's vaccine will work
Son of Westchester corona case attended NYC school that closed
Pope tests negative for coronavirus
NYC high school closes over 'suspected case of coronavirus'
Global case total passes 91,000
UK case total hits 51
US case total tops 100 across 15 states (including evacuees)
South Korea case total passes 5,000; death toll hits 34
Italian death toll surpasses Iran
Iran confirmed cases pass 2,000, 70+ dead
Head of European football says Euro 2020 will go on
9 new cases confirmed in Japan
* * *
Update (1610ET): Some footage of President Trump from a press conference earlier in the day, where he said "anything can happen" with the virus, sounding slightly less dismissive of the risks.
Trump on people w/o health insurance w/ coronavirus: "They have a big problem & we're going to look at the uninsured people that, you know, this came out as a surprise to all of us. It just happened. It shows what can happen in life … [we're gonna] see if we can help them out" pic.twitter.com/nolTXDpdPU

— Aaron Rupar (@atrupar) March 3, 2020
Meanwhile, for American stocks, it was a "not-so-super Tuesday" as the risk of a prolonged pandemic in the US and across the world appeared to climb.
Trump added during a brief meeting with reporters after the market closed that he felt the Fed wouldn't do more and "that's unfortunate", he added that the economy is in "great shape" and added that one vaccine is heading to trials and other remedies are being tested – he even mentioned the possibility of a middle class tax cut.
* * *
Update (1535ET): A special committee guiding Italy's virus response has reportedly recommended that the government force the cancellation of every sporting event in the country for a month, stopping football just weeks before Euro 2020.
Earlier, the organizers of Euro 2020 said the virus wouldn't stop the tournament.
As the virus spreads across the US, one notable standout is Hawaii, which hasn't confirmed a single case despite facing several scares early on. On Tuesday, local media reported that the annual Honolulu Festival has been cancelled over virus fears, according to Hawaii News Now.
Meanwhile, we're hearing reports that the lawyer who is the second case of the virus in New York worked at a firm based in Grand Central, increasing the probability that he took public transit, like the Metro North commuter train on the New Haven line that passes through his home town of New Rochelle.
On Capitol Hill, an emergency funding bill to finance the fight against the coronavirus could be completed and ready for the signature of the US president Donald Trump by Friday evening, Senator Patrick Leahy said.
Mike Pence and Chuck Schumer met on Tuesday, and talks were reportedly productive, with a deal possible in the near future.
Algeria has confirmed three new cases, bringing the country's total to eight, according to the nation's health ministry.
Ireland has confirmed a second case on Tuesday; like the first, it was tied to travelers to Italy, something that's becoming a theme as the virus spreads from Italy across the continent.
* * *
Update (1530ET): Officials have confirmed the first case of the virus in North Carolina, Reuters reports. This comes after state officials in Georgia, New Hampshire and Florida among others have confirmed their first cases as the virus nears the point of spreading to half of the 48 states in the Continental US (though, importantly, Hawaii has had some close calls).
Meanwhile, here's a handy breakdown of the cases in Washington State, the hardest hit state so far.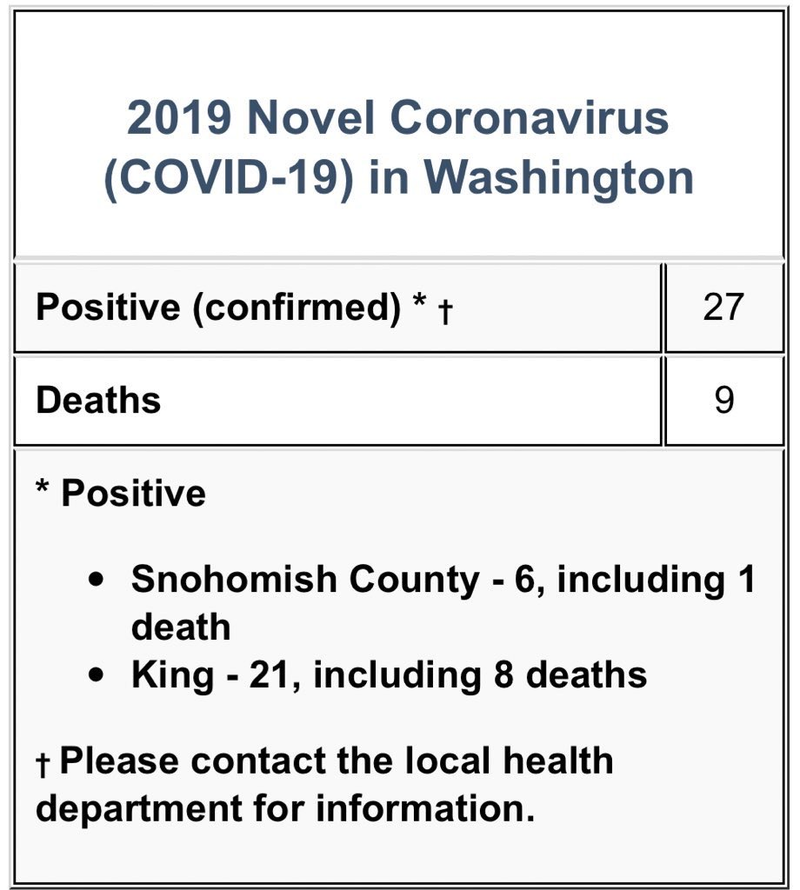 All 27 cases are clustered in two counties considered to be 'suburban Seattle', making the Washington outbreak the largest concentration detected to date by the US public health system.
* * *
Update (1520ET): The WHO said during its Tuesday press conference that the death rate for Covid-19 is higher than the 2% previously believed.
"More people are susceptible to infection and some will suffer serious disease. Globally about 3.4 percent of COVID-19 cases have died," he said. "By comparison, seasonal flu generally kills far fewer than 1 percent of those infected."
By comparison, the flu kills 0.1% of those infected. The WHO credited the "rapidly growing insight" into the virus thanks to the research that has been carried out since the outbreak began.
* * *