US Death Toll Climbs To 5 As Washington Reports 3 More Deaths In King County: Live Updates
by Tyler Durden
ZeroHedge.com
Mon, 03/02/2020
Summary:
US death toll climbs to 5; all in WA.
2 new cases confirmed in Tampa Bay
Santa Clara County confirms 2 more cases, bringing county total to 9
Gottlieb warns US cases likely in 'low thousands'
Illinois announces 4th case
Boris Johnson: "A very significant expansion" of the virus is "clearly in the cards"
Italian death toll climbs 18 to 52 while total cases surpasses 2,000
BMW tells 150 to quarantine after Munich employee infected
WHO's Tedros: Virus is "common enemy" of humanity so don't focus on blame
Jordan reports first two cases
Death toll in France doubles, total cases climb to 191
Tunisia reports first case
UK total climbs to 40
OECD warns global growth could fall by half
Indonesia reports first cases
"Progress is being made" toward a vaccine
Cuomo says NY expects more cases
India confirms 2 more cases
'Official' Iran death toll hits 66
EU confirms 38 deaths across 18 members
First cases confirmed in Fla.
2 Amazon employees test positive in Milan
Virus now in 7 US states: Washington, California, Illinois, Rhode Island, New York, Florida and Oregon
San Antonio virus patient re-hospitalized after testing positive
China warns it could face 'locust invasion'
* * *
Update (1420ET): Washington State health officials announced Monday that three more coronavirus patients in King County have died, bringing the US death toll to 5. The new cases announced brings the total cases in the county to 14.
In other recent news, Oman has become the latest Middle Eastern state to ban travelers from coronavirus-impacted countries, joining Qatar, Saudi Arabia and the UAE.
Senegal has become the second country in sub-Saharan Africa to confirm a coronavirus case, joining a growing list of countries and cities that have reported their first cases on Monday.
King County Chief Executive Dow Constantine confirmed during an 11 am (local time) press conference that his county is in final negotiations to buy a motel and convert it quickly into modular housing.
That presser is ongoing for whoever wants to watch:
Live now: https://t.co/yLzA6GH8td

— King County Council (@KCCouncil) March 2, 2020
* * *
Update (1400ET): French officials just confirmed their country's 191st case as of Monday, with confirmations doubling in two days. They also reported three new deaths, bringing the country's total to seven.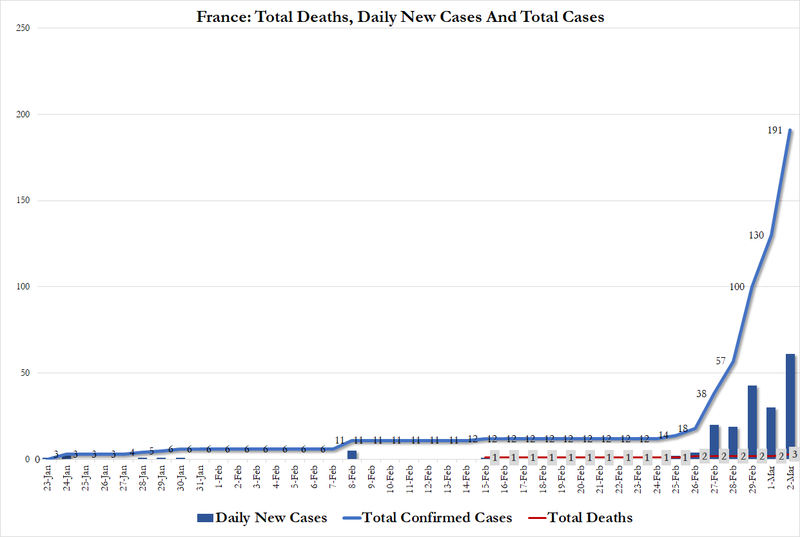 In other news, the UAE is evacuating its citizens in Iran as the coronavirus spreads.
The CDC just announced that it has confirmed Florida's first two coronavirus cases confirmed late Sunday night.
One Washington County is also reportedly devising a plan to buy a motel to start housing coronavirus patients.
* * *