FDA Announces Plan To Speed Up Coronavirus Testing As South Korea Reports Huge Jump In New Cases: Virus Updates
by Tyler Durden
ZeroHedge.com
Sat, 02/29/2020
The unceasing 24/7 flood of coronavirus news yielded some disturbing developments last night as public health officials in Oregon and Washington State confirmed the third and fourth coronaviruses of "unknown origin" in the US.
To President Trump's chagrin, public health officials on the west coast warned that the cases are evidence that community outbreaks have already begun in Northern Cali, Oregon and Washington State. So if you were planning on traveling to the Pacific Northwest any time soon…you might want to reconsider.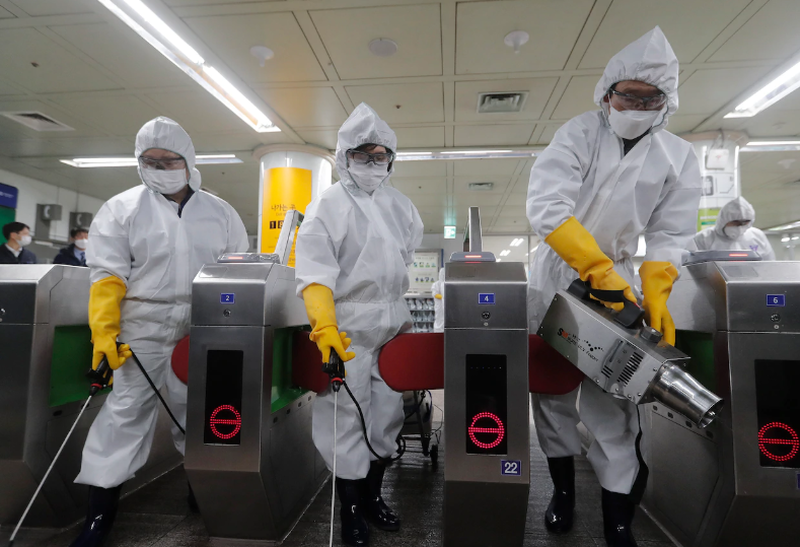 In Europe, the Middle East and the Far East, we saw a rash of new cases overnight (including the first case in Qatar) nearly doubled on Friday to along with news of more cancellations of sports games, concerts and public events. France has temporarily banned all public events involving more than 5,000 people. Health Minister Olivier Véran announced the decision after an emergency government meeting on Saturday.
Veran also confirmed 16 new cases of coronavirus on Saturday, bringing the country's total taking to 73 since the outbreak began. Two patients have died, a 60-year-old French teacher and an 80-year-old Chinese tourist. On Friday alone, the number of confirmed cases nearly doubled.
Across France, all gatherings of more than 5,000 people in confined spaces will be cancelled." The same applies to events "in an open environment where people can mix with others from areas where the virus is possibly circulating," according to France24.
South Korea reported more than 800 new coronavirus cases on Saturday, the biggest jump of any country, and twice the number reported yesterday by Chinese authorities in Hubei. Unsurprisingly, the increase was mostly concentrated in Daegu, the epicenter of the outbreak in South Korea.
But the biggest news Saturday morning was in the US, where the FDA released sweeping new guidelines speeding up hospitals' ability to test for the virus, appearing to resolve an issue about which public health officials, epidemiologists and labs from NYC to Cali had loudly complained. According to WaPo, some experts are worried that these new measures will still fall short. We suspect we will soon know for certain if the changes were effective, or not.
Read the full briefing below:
THE Rest…HERE