Market Pukes As California Governor Says State 'Monitoring' 8,400 For Coronavirus Infection: Live Updated
by Tyler Durden
ZeroHedge.com
Thu, 02/27/2020
Summary:
WHO says outbreak in Iran likely worse than official numbers suggest; outbreak could go in "any direction"
Cali monitoring 8400
Dozens of hospital staffers who treated US coronavirus patient with 'unknown' origin being 'monitored'
Facebook cancels annual 'F8′ developers' conference
Iran confirms 26 deaths, vice president for women and family affairs infected
Germany confirms 14 new cases
Lagarde: Not yet time for ECB to intervene to fight economic backlash of outbreak
HHS says risk to public remains "low"
Italy reports 3 more deaths, bringing total to 17
Pence, Azar appoint Mnuchin, Kudlow & Surgeon General Adams to Coronavirus Task Force
Starbucks says it has reopened 85% of Chinese restaurants
Azar: Sonoma case might be 'community transmission'
Salvini meets with Italian president amid national unity government speculation
South Korean new cases surpass China's new cases as SK confirms 505 new cases
China, Japan close school nationwide
CDC fears 'community outbreak' in Sonoma County after discovering first US case of "unknown origin"
CDC says patient from Solano county
Saudi Arabia suspends pilgrimages to Holy Sites
Hawaiian Airlines suspends service to South Korea
Brazil's neighbors take steps to keep virus out
* * *
Update (1345ET): As the hysteria surrounding the mysterious coronavirus case in California with no obvious connection to China mounts, California Gov. Gavin Newsom just confirmed that the state is 'monitoring' 8,400 people. Given the lack of context, the market is clearly assuming the worst, as stocks puke.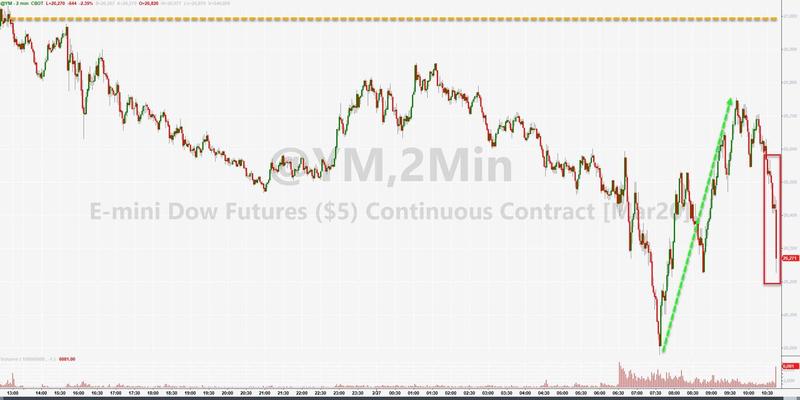 Can't say we blame them.
* * *
Update (1330ET): The German state of North Rhine-Westphalia has confirmed 14 new cases of the virus in the Heinsberg Area, bringing Germany's total to 26.
Here's what Johns Hopkins map and register of confirmed cases looked like at 1:30ET: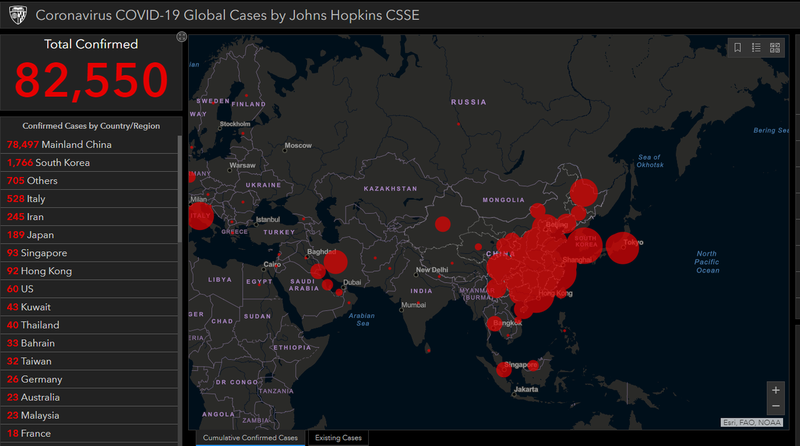 Goldman is also asking some to skip a conference over the virus, Reuters confirms.
* * *
Update (1315ET): Facebook is the latest major tech firm to cancel a conference or employee event. The social media giant said Thursday that it's cancelling its annual F8 developer conference, the biggest FB event of the year, over coronavirus concerns, according to CNET.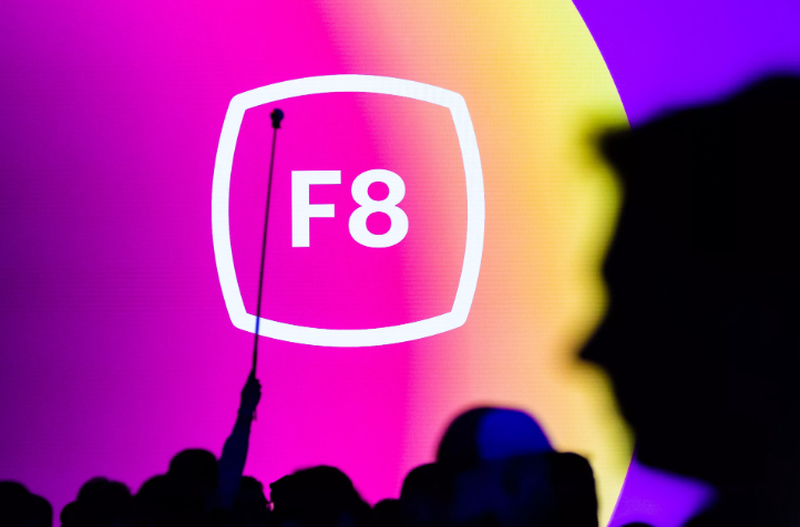 The cancellation will be a major hit for San Jose, where the conference was scheduled to take place at the McEnery Convention Center on May 5 and 6. Last year, the event attracted more than 5,000 developers, creators and entrepreneurs from all over the world.
Zuckerberg typically delivers a widely covered keynote speech at the conference. With all of the scrutiny the company is facing during this election season, Zuck is passing up an opportunity to potentially take a swing at his critics, or show them up.
The company said it's planning to bring developers together at locally hosted events, videos and live streamed content.
* * *