China To Change Coronavirus "Infection" Definition Again In Pursuit Of Fewer Cases
by Tyler Durden
ZeroHedge.com
Wed, 02/19/2020
One week ago, China shocked the global community and capital markets, when it unexpectedly reported a huge jump in new Coronavirus cases, which after declining comfortably for the prior weeks, suddenly soared by nearly 15,000 overnight.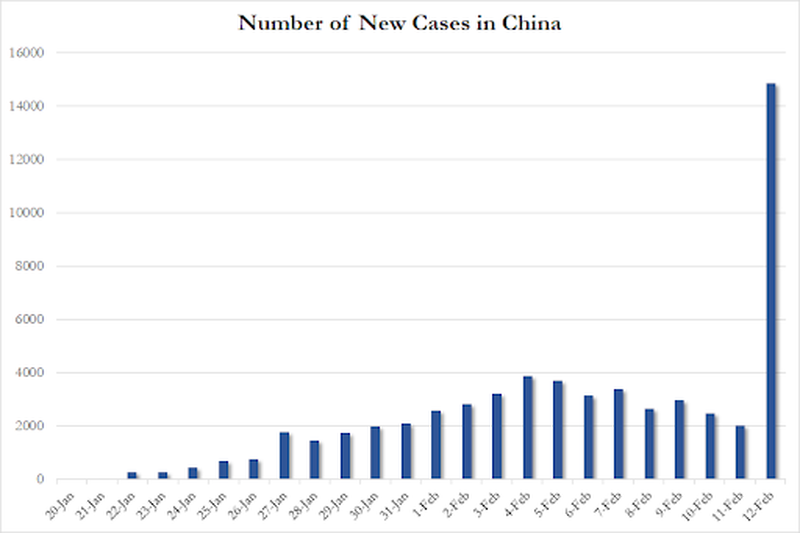 The move, which stunned markets sending futures sharply lower as the carefully crafted narrative that China was regaining control over the coronavirus epidemic, was the result of Beijing's intention to appear "transparent" with the public and to concede that the situation was worse (but not far too worse) than officially represented especially amid the flood of media reports showing infected (and not infected) Chinese citizens getting carted away against their will to places unknown, even as hundreds of random people would fall dead, the final moments caught on camera. As a result, the province of Hubei, epicenter for the Coronavirus infection, changed the definition of infection and loosened its diagnosis criteria by starting to classify as "confirmed" cases that were clinically diagnosed by physicians, instead of purely validated by a genetic test.
The move, which was not followed by other provinces, led to a dramatic surge in newly reported cases in Hubei to 10 times the previous rate. Admitting they were "doing it wrong", Chinese officials said the change was necessary due to the prevalence of undercounting inside the virus-ridden province.
There was just one problem: when China changed the definition of infections, it apparently also changed the definition of deaths, because not only did the new infection surge, but so did the number of new fatalities, something which should not have happened if the stated reason for the definition change was credible.
https://zh-prod-1cc738ca-7d3b-4a72-b792-20bd8d8fa069.storage.googleapis.com/s3fs-public/styles/inline_image_desktop/public/inline-images/2020-02-12%20%282%29.png?itok=nO0zEQXC
It took China about 24 hours to realize the massive mistake it had made by upward revising both the number of new "cases" and "deaths", and one day later it once again revised the official number of deaths reported on Feb 13, this time sharply lower, blaming "double counting" for its latest fabrication fuck up.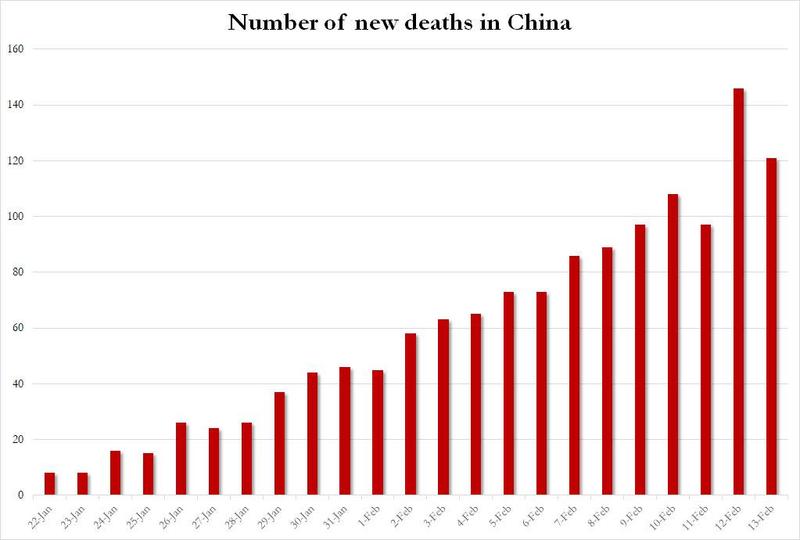 The problem is that despite Beijing's best intentions to regain the people's trust after the upward "infection" revision, showing just how "open and transparent" it really is, the message most took home is that Beijing was manipulating the infection data more than even the most hardened skeptics expected, and as a result virtually nobody has dared to show up to their place of work, nearly three weeks after the end of the Lunar New Year, and as a result China's economy has ground to a halt, and continues flatline to this day, suggesting a global recession may now be inevitable.
So one week later, Beijing finds itself in the same spot, if facing precisely the opposite problem: not how to regain people's confidence that it is reporting the correct disease numbers, but that it is safe to get back to work because – you know – China is on top of the whole pandemic thing.
It is therefor delightfully poetic that to achieve this China will now also do precisely the opposite it did one week ago, and starting today, Chinese national health authorities will report even lower new infection numbers, following the release of guidelines for how coronavirus cases are diagnosed.
Yes, in the sixth edition of its diagnostic criteria released Wednesday for covid-19, the National Health Commission has undone what it did just one week earlier, and has eliminated the distinction between how cases would be classified in Hubei province and other regions. Cases will now be reported under two categories: "suspected cases" and "confirmed cases," the document said.
As such, moving forward, and as was the case prior to Feb 13, cases will only be described as "confirmed" if they stem from a positive result in a nucleic acid test, not if they are clinically diagnosed by physicians.
What this means is that, in its scramble to "confirm" that it has regained control over the Coronavirus, China's National Health Commission may report – as soon as this evening – the first official drop in new cases since the pandemic started. Why does this matter? Because that is now the catalyst everyone is waiting for to pounce and declare that the epidemic is effectively over, even if of course isn't. But since for China it is no longer an option to not have people go to work, the Chinese Communist Party will take its chances with another major breakout in coronavirus, or rather pneumonia, which is how all the thousands of new "mystery" deaths will be tagged by the friendly Chinese coroner, who will be instructed to never use the word coronavirus again and instead attributed covid-19 fatalities to far more mundane causes such as pneumonia, and ordinary flu.
The real question, of course, is just how bad is the situation on the ground if Beijing is now willing to openly force people into situations which have a high probability of a fatal outcome. The bigger question, however, is how many people will actually believe Beijing that the pandemic is now on its way out and actually do as Beijing demands, because if enough of China's 1.4 billion decide they have had enough of being lied to and sacrificed for the "greater supply chain good", then things in China can turn very ugly, fast.