Wuhan Hospital Boss Dies, Beijing Finally Accepts American Infectious-Disease Experts
by Tyler Durden
ZeroHedge.com
Mon, 02/17/2020
Summary:
China finally allows US experts in
Singapore reports 3 new cases, DP reports 90
Beijing weighs postponing National Congress
Japan delays Tokyo Marathon, raising concerns about the Olympics
14 Americans aboard evacuation flight found to have virus
5 virus-linked deaths rumored in Tibet
WHO reiterates that signs of slowdown in new China cases doesn't mean outbreak is slowing
Wuhan hospital boss dies
* * *
Update (1515ET): State media reports have confirmed that Liu Zhiming, the boss of one of the Wuhan hospitals battling the coronavirus, has died.
Breaking: Liu Zhiming, head of Wuchang Hospital, a designated hospital in #Wuhan, died just now from pneumonia caused by #COVID19. Mourning goes to the FIRST hospital director who died on the battlefield against the virus. pic.twitter.com/wHbvMm3Lsp

— Secret Beijing (@Secret_Beijing) February 17, 2020
It's the first death of a major figure on the front lines of the epidemic since Dr. Li Wanliang succumbed to the virus last week.
* * *
Update (1030ET): For what seemed like weeks after the outbreak began, Tibet repeatedly reported that it had zero confirmed cases of the virus, even after it had spread to every other Chinese province (there are 31 in total).
Now, online rumors might shed some light on why: It's not that the virus hadn't arrived, it's that party leaders in Tibet – for whatever reason (lack of resources, a motivation to impress Beijing) – didn't report the full breadth of the problem.
Unconfirmed reports claim 5 have died in Tibet from the virus.
Over 850 confirmed cases, 5 deaths due to COVID-19 in Tibet

— Russian Market (@russian_market) February 17, 2020
It's just another reminder that…
"When agents of the state fear no external checks and balances, it is rational for them to bury bad news, right up until a crisis becomes too big to hide: a dynamic that builds instability into the way China is run."
Smart words from @DSORennie this week: https://t.co/zEimI595Kl

— Simon Rabinovitch (@S_Rabinovitch) February 15, 2020
We wonder what the 'real' North Korea numbers are looking like?
Meanwhile, WHO Director-General Dr. Tedros reiterated on Monday a sentiment he first expressed over the weekend: That though Chinese data appear to show a decline in the number of new cases, this isn't necessarily a guarantee that the virus is slowing: "Every scenario is still on the table."
* * *
Update (1000ET): As the velocity of the outbreak moves toward 'exponential' territory – it's doubling every six days…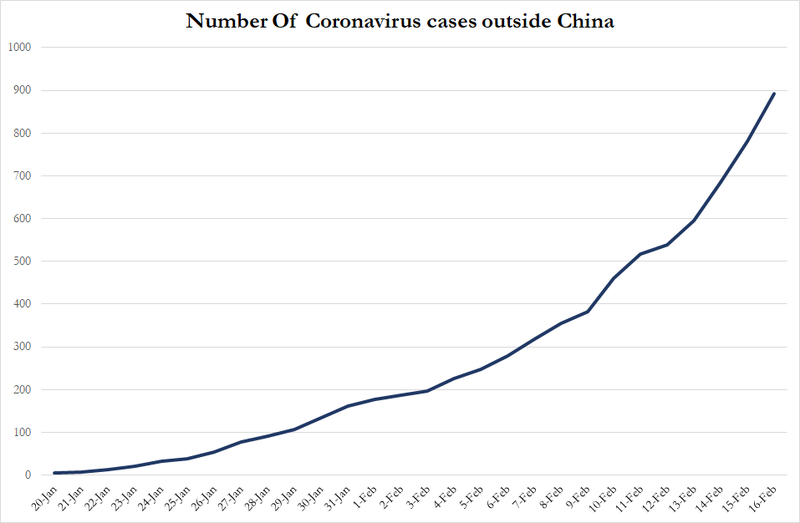 ..here are some updates on the latest cases confirmed outside of China.
First, we'd just like to comment on the numbers above and explain why we think they're important for investors and the general public to keep in mind.
Though deaths and confirmed cases outside China are still far below the number confirmed inside China, since nobody trust's China's numbers given the current state of the economy (why would so many people – 760 million – need to be on lockdown for a problem that's mostly localized to Hubei?) the trajectory of these numbers is probably the best barometer for how the outbreak is going.
It's just the latest sign that it will be up to the international community to ascertain how bad this outbreak could really get, despite the WHO's praises of China, which – surprise, surprise – likely were motivated by an "ulterior motive" (like China's enormous contribution to the annual WHO budget).
Tedros got paid https://t.co/w5xo5DwkVj

— FXHedge (@Fxhedgers) February 17, 2020
Singapore has reported two additional confirmed cases, taking the country's total to 77.
Japan says 454 passengers and crew from the 'Diamond Princess' have been confirmed infected – that's another 90 cases.
Last night, Reuters reported that police across China have carried out raids on homes, restaurants and makeshift markets and arrested more than 700 people accused of violating the nationwide ban on the selling or consumption of wild animals. This is part of the reason why Beijing wants to reconsider its regulations on the trade and consumption of wildlife.
Though leftists denounced criticisms of food items like "bat soup" and "three squeaks" as racist, the Chinese government and the bulk of the Chinese people now view the consumption of animals like reptiles, civet cats and hedgehogs as "fundamentally unsafe," per the NYT.
The Rest…HERE