Cruise Ship Coronavirus Cases Spike 30%; First Death Recorded In Europe
by Tyler Durden
ZeroHedge.com
Sat, 02/15/2020
Summary:
Toll of infected passengers and crew aboard 'the Diamond Princess' climbs to 285; The US arranges a charter plane for Americans aboard ship.
First fatality in Europe as Chinese tourist died in France.
China has sent 217 medical rescue groups totaling 25,633 personnel to Hubei province to fight the outbreak.
First case reported in Africa after the Egyptian Health Ministry confirms non-Egyptian patient who recently traveled to China
Hubei health officials report 2,420 new cases and 139 new deaths for Feb. 14
NHC officials report an additional 4 deaths and 2,641 cases.
China warns of incoming case surge
China says 1,716 medical workers have been infected
WHO demands to know more about sick doctors, insists group of 12 virus experts will reach Beijing over the weekend
Singapore reports largest daily jump in cases amid increased human-to-human transmission
Singapore reports 5 new cases
Egypt confirms first case; virus now present in 29 countries/territories
Hong Kong reports 3 new cases
New quarantine measures take effect in Wuhan
Hong Kong Disney land offers space for quarantine
Chinese company says blood plasma of recovered patients useful in combating the virus
US mulling new travel restrictions
Japan reports 4 new cases; one patient recently returned from Hawaii.
CDC Director: Virus is "Coming" to the US.
5 presumptive cases reported in British Columbia
Update (0845ET): The Epoch Times' Jennier Zeng has brought us another interesting tidbit exposing the culpability of President Xi and the rest of the Politburo in failing to contain COVID-19 before it achieved pandemic status.
#XiJinping admitted it is he who covered up the #COVID19 #coronavirus epidemic in #China. In a speech he made on Feb 3(full text in Chinese: https://t.co/U918GdPjCk), he said he started overseeing the disease control campaign as early as Jan 7. #習近平 1月7號就知道 #武漢肺炎疫情 pic.twitter.com/065BYqJZPJ

— 曾錚 Jennifer Zeng (@jenniferatntd) February 15, 2020
We're certain President Xi will eventually release an official clarification for these remarks.
* * *
Update (0825ET): Singapore reports 5 new cases of coronavirus, bringing the total number of confirmed cases in the city-state to 72.
Singapore is really pulling ahead of Hong Kong here, which has clocked just 56 cases. Still, outside China, Japan is the true No. 2 thanks to the 'Diamond Princess'.
* * *
Update (0645 a.m. ET):
Good morning. It's Saturday, and the Covid-19 outbreak continues to worsen.
Reports in the overnight detail how new confirmed virus cases are quickly increasing on the cruise ship plagued with Covid-19 in Japan. Another report specified that the U.S. government is preparing chartered flights for Americans aboard the vessel. Europe's first death related to the virus was also reported, as the virus outbreak spreads from East to West.
Japanese Health Minister Katsunobu Kato told reporters on Saturday that a 30% jump in cases were confirmed on the Diamond Princess cruise ship.
The U.S. Embassy in Japan is preparing to evacuate Americans aboard the quarantined cruise ship would be able to catch a flight back to the U.S. via a chartered plane.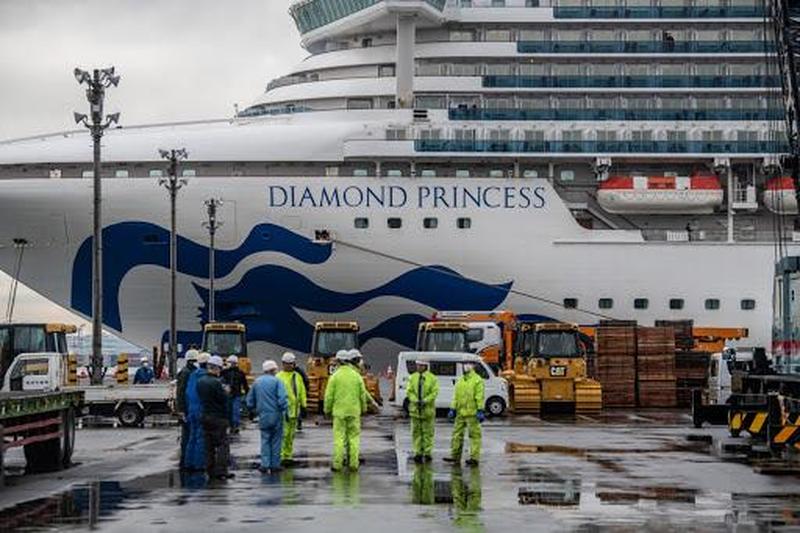 So far, 285 people have tested positive for the virus after the new 67 cases were reported on Saturday.
Japan said any American that is "confirmed to be infected with coronavirus would not be taken back to the U.S. on the planned chartered flight."
The timing of the virus outbreak for Japan is devastating for its image ahead of the Olympic Games Tokyo 2020 this summer.
Authorities said Saturday morning that eight more Tokyo residents were infected.
Europe's first fatality related to the virus was confirmed on Saturday when an elderly Chinese tourist hospitalized in France died, French Health Minister Agnes Buzyn said.
France's health minister has said a Chinese tourist has died from #coronavirus, the first fatality from the virus in Europe.

Read more here: https://t.co/FMYgk7ysV9 pic.twitter.com/UGe8XsBHCL

— Sky News (@SkyNews) February 15, 2020
So far, France has reported 11 cases of the virus, out of 66,887 global cases. The epicenter of the virus is in China, where at least 1,500 people have died, likely a higher figure considering the outbreak is being underreported.
The Chinese Foreign Minister responded to U.S. criticism of how they've handled the outbreak, saying all accusations against China are lies, none of which are facts.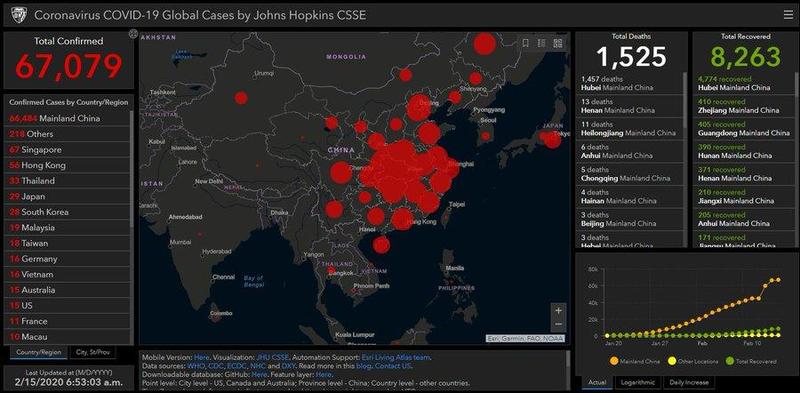 Remember when everyone said the virus was "contained"?
* * *