Hubei Reports 116 New Coronavirus Deaths, 4,823 Cases; Over 160,000 Tracked
by Tyler Durden
ZeroHedge.com
Thu, 02/13/2020
Summary:
Norwegian Cruise Line denies report of passenger being tested for coronavirus
Hubei province reports 116 new deaths and 4,823 new cases, bringing the total count to 1,486 deaths and 65,213 cases
Wuhan residents report hearing loud noises followed by helicopters
Japan reports first virus death
Australia quarantines cruise ship
President Xi says China will minimize impact from virus
Chinese leadership scapegoats local officials
EIA joins OPEC in warning about upcoming drop in oil use, the first in a decade.
HHS Secretary says CDC will announce another confirmed COVID-19 case in US on Thursday
21 people in Spain released from quarantine
US admin reportedly questioning China's reporting
White House reportedly "doubts" China's coronavirus numbers
CDC warns more infections possible after first US case confirmed in Texas (15th overall)
2 Russian women attempt escape from quarantine
EU could close border if outbreak worsens
Kudlow says US "disappointed" in China virus response
Shanghai reports 300+ more cases
* * *
Update (1945ET): Norwegian cruise lines has denied that a passenger on a cruise ship docked in Sydney Harbor has been taken for testing, according to Yahoo News Australia.
The Australian reported it understands a Singaporean man arriving in Sydney on the Norwegian Jewel was being tested by NSW Health after he fell ill with a respiratory complaint.
However in a statement to Yahoo News Australia, a Norwegian Cruise Line spokesperson denied any patients have displayed coronavirus symptoms.
"We have no guests with any respiratory-related illness on board. The vessel remains in operation, and all guests on board are in good health," a spokesperson said.
"There are various false, inflammatory media reports regarding the ship. There is absolutely no truth to those stories." -Yahoo
* * *
Update (1850ET): Hubei province reports 116 new coronavirus deaths and 4,823 cases, bringing the overall official count to 1,486 deaths and 65,213 confirmed.
The new confirmed cases include 3,095 patients who were "clinically diagnosed" following the province's new counting methodology was implemented Wednesday. Eight of the 116 deaths were clinically diagnosed.
690 patients were discharged over the last 24-hours, with 214 of those being clinically diagnosed cases. Of the 36,719 hospitalized patients, 7,953 are critically ill and under isolation treatment at designated medical institutions. There are currently 6,169 suspected cases, 3,689 cured, and 5,352 under isolation.
A total of 166,818 contacts are still being tracked, while 77,685 are under medical observation.
The below charts reflect the new figures. Keep in mind that yesterday's record increase of 14,840 patients was likely due to a massive catch-up after clinically diagnosed cases were added to the definition.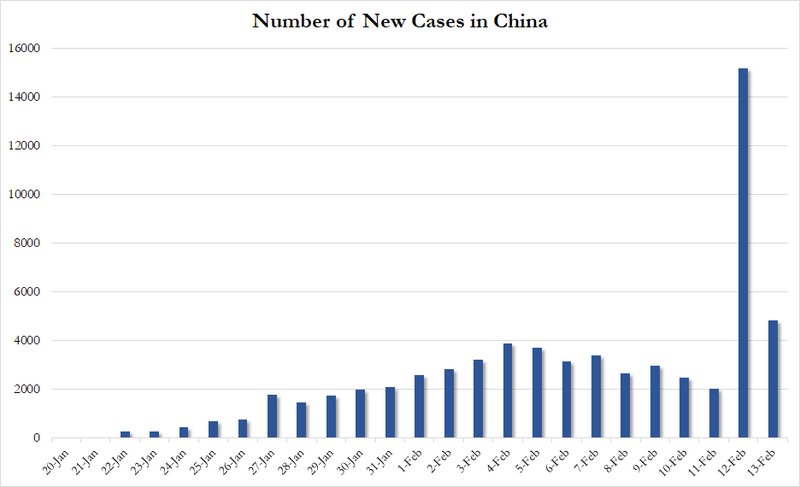 * * *