WHO Names Virus 'COVID-19', Warns "Must Do Everything Now… Vaccine Will Take 18 Months"
by Tyler Durden
ZeroHedge.com
Tue, 02/11/2020
Update (Feb. 11): The World Health Organization (WHO) continues to downplay media reports of drug breakthroughs against the COVID-19 outbreak.
WHO Director-General Dr. Tedros Adhanom Ghebreyesus said Tuesday that the first vaccine against COVID-19 "could be ready in 18 months, so we have to do everything today using available weapons to fight this virus."
Last week, the WHO played down media reports of a drug breakthrough against the virus after Reuters said a Chinese media outlet had reported that a research team at Zhejiang University had discovered an effective drug to treat people.
Then Sky News reported last Wednesday that a team of scientists from Imperial College London had found a breakthrough vaccine.
All of the media reports of a breakthrough served one purpose, pump the stock market.
WHO made an effort last week to squash optimism of an imminent vaccine. It said there are "no known" drug treatments.
"There are no known effective therapeutics against this 2019-nCoV and WHO recommends enrollment into a randomized controlled trial to test efficacy and safety," WHO said in a statement last week.
And while much of the drug breakthrough optimism boosted the stock market – the latest from the WHO of no vaccine for 18 months could top tick stocks.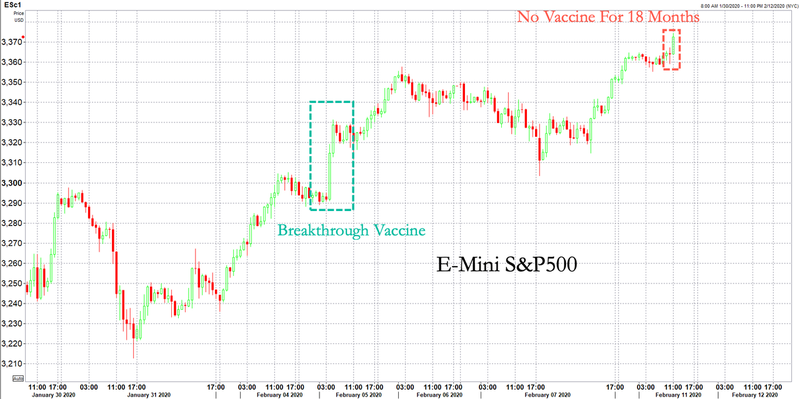 So how has Twitter reacted to no vaccine for 18 months?
Market is acting like there is already a cure

Vaccine for new coronavirus 'COVID-19' could be ready in 18 months: WHOhttps://t.co/7pMnPOeI53

— Stalingrad & Poorski (@Stalingrad_Poor) February 11, 2020
How is Canada still letting flights in from China we have to wait at least 18 months for a vaccine we r on r own https://t.co/kL8ouBCDKL

— zb (@shanezeus89) February 11, 2020
#Covid19 #Coronavirus #SARS 2.0 #2019nCov – #WHO's Tedros: The first #vaccine could be ready in 18 months … you read that right, 1.5yr out.

— TraderStef (@TraderStef) February 11, 2020
Will 18 months be too long to wait for a functioning vaccine? #uemcommunication https://t.co/FfHrnjsED6

— Cecilie (@CecilieRystad) February 11, 2020
And noted below, Vas Narasimhan, CEO of Novartis, told CNBC a more optimistic timeline of at least one year for the cure.
* * *
Markets soared on Tuesday after the Trump administration pumped out overly optimistic headlines of an early-stage trial for a coronavirus vaccine could start within the next three months. It appears "trade optimism" to save the stock market has turned to "coronavirus cure optimism."
The CEO of Novartis added some color on timelines of a potential vaccine for the deadly virus, which has infected over 6,000 people, with 132 deaths across China.
Vas Narasimhan, CEO of Novartis, told CNBC on Wednesday that it could take upwards of one year to find a new vaccine, which he called the outbreak across the world "very serious."
"The reality is, it will take over a year in my expectation to really find a new vaccine for this so, we need to really use epidemiological controls to really get this situation in a better place," Narasimhan told CNBC's Julianna Tatelbaum.
The Rest…HERE