CDC Admits Coronavirus Patient Accidentally Released Because Of "Lab Mix-Up"
by Tyler Durden
ZeroHedge.com
Tue, 02/11/2020
Summary:
Two inmates at a UK prison are being tested for coronavirus and have been restricted to their cells
13th case diagnosed in San Diego was evacuee rescued from Wuhan, she was briefly accidentally released
China death toll tops 1,000, globally cases top 40k
CNBC's Eunice Yoon reports on China's sluggish 'return to work'
Hong Kong building residents quarantined over fears virus spread via pipes
Cruise ship with 0 nCoV cases refused entry to fourth port, in danger of running out of food
Beijing fires top health officials in Hubei, summons others to Beijing for an explanation
Scientists in Hong Kong and the mainland present vastly different takes on virus
2 Japanese men test positive but were accidentally released
President Xi says China will be 'more prosperous' after outbreak
Experts suspicious about how Indonesia hasn't reported any nCoV cases
Xi also reportedly warned top officials that efforts to contain the virus had gone 'too far'
CDC admits lab "mix up" led to coronavirus patient being briefly released back to quarantine
Another citizen journalist goes missing in China
Hilton warns travel numbers could be impacted for up to a year after Under Armor saw shares plunge on sales warning
* * *
Update (1330ET): Beijing has reportedly arrested another citizen journalist named Fang Bin. His arrest follows that of Chen Quishi, whose whereabouts are still unknown days after his disappearance.
武汉公民方斌被抓 网民呼吁国际关注

曾冒险调查中共隐瞒武汉肺炎疫情的武汉公民方斌,于2月10号被抓捕。方斌曾在5分钟拍下武汉第五医院搬出8具尸体,引起国内外轰动。

2月11号大陆网友高先生说,10号上午有很多便衣和警察到方斌家抓人了,直至下午消防人员撬门才把方斌抓走,pic.twitter.com/sKPHNRqL9y

— 小婷 (@ttingxiao) February 11, 2020
Hilton is one of the latest American companies to warn about how the coronavirus outbreak will impact its business. The company said it could suppress travel numbers for up to a year, with their predictions based on what happened during the SARS epidemic. Facebook and Cisco have joined Sony and several other firms in pulling out of the Mobile World Congress, which was scheduled for Barcelona, Spain, a place the virus hasn't yet touched.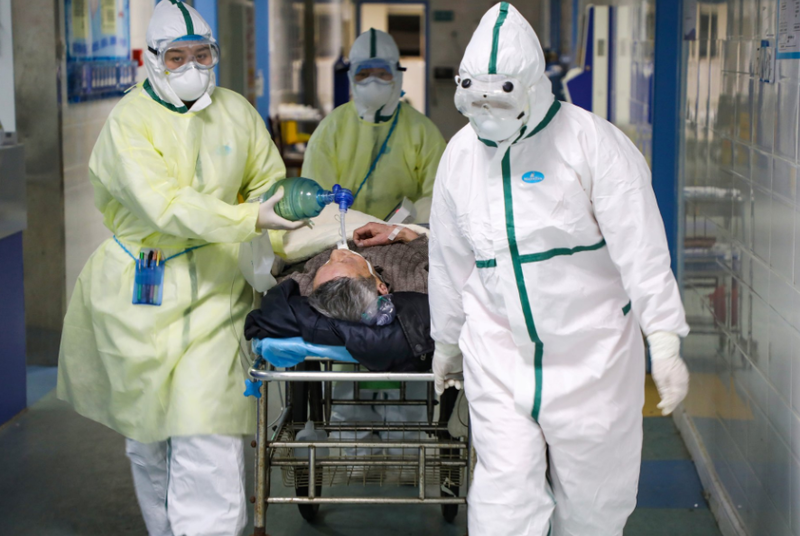 This all comes after Under Armor warned about a $60 million sales hit, sending its stock tumbling lower.
In one of the more shocking revelations on Tuesday, the CDC said a "lab mix-up" is what led to them nearly releasing an infected patient back into mandatory quarantine on a nearby military base.
On the other hand, several carmakers including Hyundai and Ford confirmed that they had reopened at least some plants on Monday after idling them for all of last week.
Dr. Anne Schuchat, a top official at the CDC, told reporters in Washington, admitted that "it turns out there was probably a mix up and the original test wasn't negative." Earlier, state officials claimed the initial test was negative, but a second test was positive.
As we noted earlier, four evacuees at Marine Corps Air Station Miramar in San Diego had been in federal quarantine after showing symptoms of the virus. After testing negative for the virus, they were returned to the base on Sunday where they joined more than 200 people who are stuck there under a 14-day quarantine order. The patient who tested positive was immediately returned to isolation, according to CNBC.
Google trends shows that interest in the virus remains elevated, though it has fallen from a peak reached on Jan. 31.
The Rest…HERE