Masked President Xi Warns 'Prepare For Long & Grim' Virus Battle As Trump Insists Outbreak Will End By April
by Tyler Durden
ZeroHedge.com
Mon, 02/10/2020
Summary:
China reports 97 deaths on Sunday bringing death toll to 910
Westerdam cruise ship to dock in Thailand after being turned away from 3 countries
Stocks are in the red as coronavirus worries return to rattle investor confidence
WHO designates 10 Chinese provinces 'hot spots'
UK confirms 4 more cases tied to possible 'super spreader'
Extended LNY holiday ends but millions still too afraid to return to office
WeWork Chairman says 100 buildings temporarily closed in China
Canadian finance minister warns nCoV "will hit Canadian economy…"
WHO says outbreak in Europe could be "spark that becomes a bigger fire"
Hong Kong reports 6 new cases, bringing total to 42, evacuates building where two nCoV patients lived
NRF forecasts drop in retail sales in February
British Airways extends China flight cancellations
President Xi addresses party officials at outbreak control center
* * *
Update (1400ET): Yet more comments from President Xi's excursion out into the neighborhoods of Beijing, where the coronavirus is menacing the city's population. During his outing, Xi warned China was prepared for a long and "grim" battle with the virus, but that China would eventually triumph.
According to SCMP, Chinese state media reported that Xi made the comment during a visit to a "district-level disease control office."
"The outbreak of the coronavirus is a major test of the national disease control and prevention centres of all levels in the country," state television quoted him as saying. "It has shown both the strengths and many shortcomings of the system."
Xi has alternatively praised the Communist cadres for their hard work combating the crisis while excoriating and scapegoating local officials accused of reacting too slowly to contain the virus (a policy that was almost definitely handed down by Beijing).
He has also insisted that the Chinese people must remain confident in the economy, which Xi insisted would bounce back from the outbreak once it's contained.
"[We] must remain firmly confident about the fundamentally positive outlook of China's economy in the long term," he told officials. "The impact is only in the short term, and we should not be scared by it."
Meanwhile, President Trump told the White House press pool that he expects the virus to go away in April because of "the heat." Unfortunately, scientists have walked back their claims about a swift end the outbreak, warning instead that it could drag on for months, if not years.
CNN wrote about the first version of this claim last week. Short version: scientists say it's too early to know how the virus will be affected by the seasons. "His hope is our hope. But we don't have knowledge that it will do that." https://t.co/uwAB1gzWBj https://t.co/y3kU0q5ijo

— Daniel Dale (@ddale8) February 10, 2020
A few new cases have been confirmed over the course of the US trading day, but the total number of cases and deaths hasn't really moved since early this morning Eastern Time.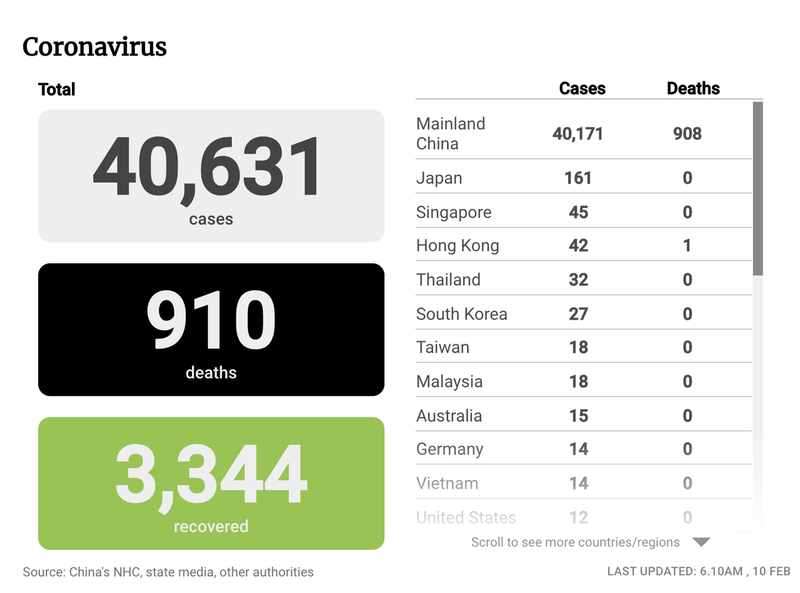 * * *