Does A Sudden Surge In SO2 Levels Suggest A Huge Surge In Cremations Across China?
by Mike Shedlock via MishTalk,
ZeroHedge.com
Mon, 02/10/2020
A sudden rise sulphur dioxide (SO2) levels is associated with sudden burning of organic matter including human bodies.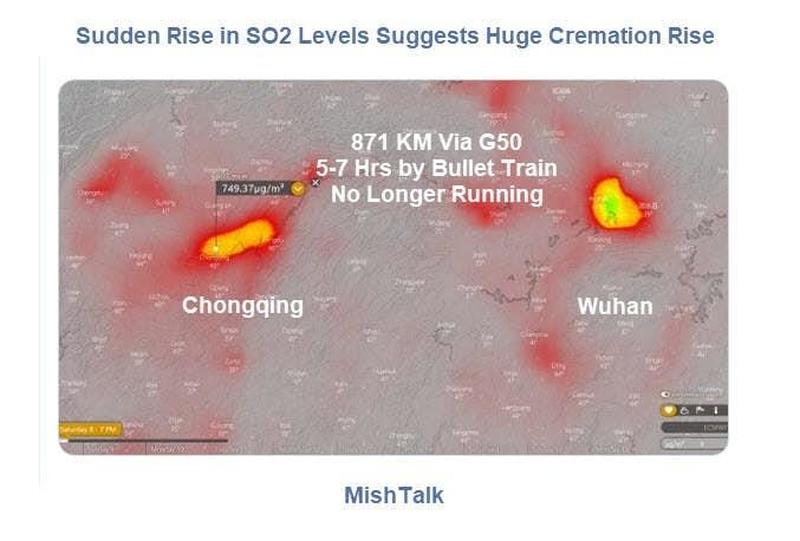 Massive Release of Sulphur Dioxide
https://twitter.com/inteldotwav/status/1226267582740811777?ref_src=twsrc%5Etfw%7Ctwcamp%5Etweetembed%7Ctwterm%5E1226267582740811777&ref_url=https%3A%2F%2Fwww.zerohedge.com%2Fhealth%2Fdoes-sudden-surge-so2-levels-suggest-huge-surge-cremations-across-china
Tweet Chain
Data from http://windy.com shows a massive release of sulfur dioxide gas from the outskirts of Wuhan, commonly associated with the burning of organic matters. Levels are elevated, even compared with the rest of China.
From the same time, using the same scale – notice that the emissions are heightened across the board. Only other city that comes near to it is Chongquing, which is also afflicted by the coronavirus.
A few distinct possibilities:
1.This is a power plant releasing all this gas. Unlikely, considering how deviant the numbers are from the norm. No other city comes close to how much SO2 is being released from Wuhan.
2.A second one: Wuhan is burning municipal trash and possibly contaminated animal carcasses. Possible, but why would they not just dump it where they usually do?
3.And the third and most morbid: Dead bodies are being burned on the outskirts of the city, the death numbers are way higher than the CCP is letting on about, and things are really, really bad.
The Rest…HERE