"If You Are Angry, Stand Up": Beijing Scrambles To Tamp Down Unrest As Furious Chinese Take To Social Media
by Tyler Durden
ZeroHedge.com
Sat, 02/08/2020
Summary:
Fatalities in China reached a single-day high of 86 on Friday, raising the national death toll to 724
WHO reported 31,481 confirmed global cases on Friday, up by 3,000+ cases from Thursday; SCMP says total cases closer to 35k
First American citizen has died
First Japanese citizen suspected of succumbing to virus
France elevates travel advisory to orange after 5 Britons fall ill in ski resort
Roundup of suspected infected in Wuhan continues
Beijing appoints Xi protege to help lead virus response
Vigil for Dr. Li held in Hong Kong
China blocks Foxconn plan to reopen factories
* * *
Update (1500ET): The NYT just published its latest critical piece about the Chinese government's handling of the coronavirus outbreak. This one centers on President Xi's decision to stay out of the limelight over the past two weeks, instead leaving the crisis to his No. 2, Premier Li Keqiang, who has been charged with leading the committee of senior officials tasked with overseeing the government response to the outbreak.
One academic quoted in the article explains that the government's botched handling of the outbreak could be the biggest threat to Xi's rule during his tenure so far, and that the changes he's imposed on the Chinese constitution could make it difficult for Xi to avoid blame.

"It's a big shock to the legitimacy of the ruling party. I think it could be only second to the June 4 incident of 1989. It's that big," said Rong Jian, a writer about politics in Beijing, referring to the armed crackdown on Tiananmen Square protesters that year.
"There's no doubt about his control over power," he added, "but the manner of control and its consequences have hurt his legitimacy and reputation."
Meanwhile, three more cases of nCoV have been confirmed aboard the 'Diamond Princess', the Carnival-owned cruise ship currently under quarantine in Yokohama. Three more individuals have tested positive, bringing the number aboard to 64, the government said Saturday. All passengers are facing a two-week quarantine.
In China, much of the population has ordered to stay home, with only limited runs for essential supplies allowed. Factories will remain closed for at least another week or so, and airlines have cut service. JPM recently warned that the economic impact could drive China's economy to a standstill. Here's the latest update on how China's tourism industry is dealing with the fallout.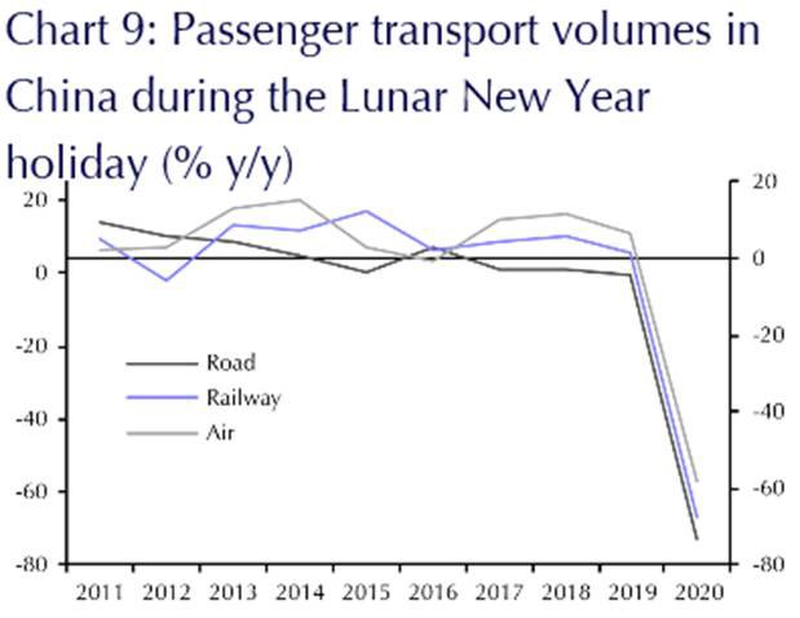 In other economic news, the government in Beijing just blocked Apple supplier Foxconn's plan to reopen factories in the southern city of Shenzen on Monday. According to Nikkei, health inspectors visited the factories and determined there was a "high risk" of infection.
But most unusually about this crisis is the fact that the Communist Party's immense propaganda machine is struggling to regain control of the narrative. After cracking down too hard on people like Dr. Li and others who warned of the outbreak before it became a national – then international – issue, the government dialed down its censorship machine, only to ramp it back up a few days later. Now, the party and its cadres are struggling to reassert control. Citizen journalists covering the outbreak in Wuhan have been harassed and arrested.
Though it wasn't mentioned in the NYT report, Beijing bolstered its response to the crisis by appointing a protégé of President Xi to the committee overseeing the response to the outbreak, the latest effort by the government to rebuild confidence after the death of Dr. Li. Chen Yixin, secretary general of the Central Political and Legal Affairs Commission, the Communist Party's top law enforcement body, was appointed to Li's committee, according to Taoran Notes, a social media account affiliated with state-owned Economic Daily, which was cited by SCMP.
https://zh-prod-1cc738ca-7d3b-4a72-b792-20bd8d8fa069.storage.googleapis.com/s3fs-public/styles/inline_image_desktop/public/inline-images/Screen%20Shot%202020-02-08%20at%203.09.14%20PM.png?itok=Cq1CE3rD
Dr. Li. Chen Yixin
A vigil for the doctor was held in Hong Kong.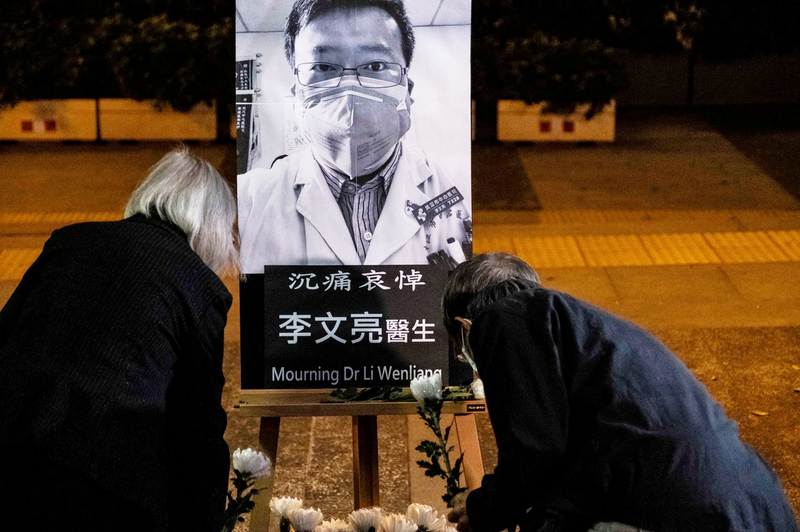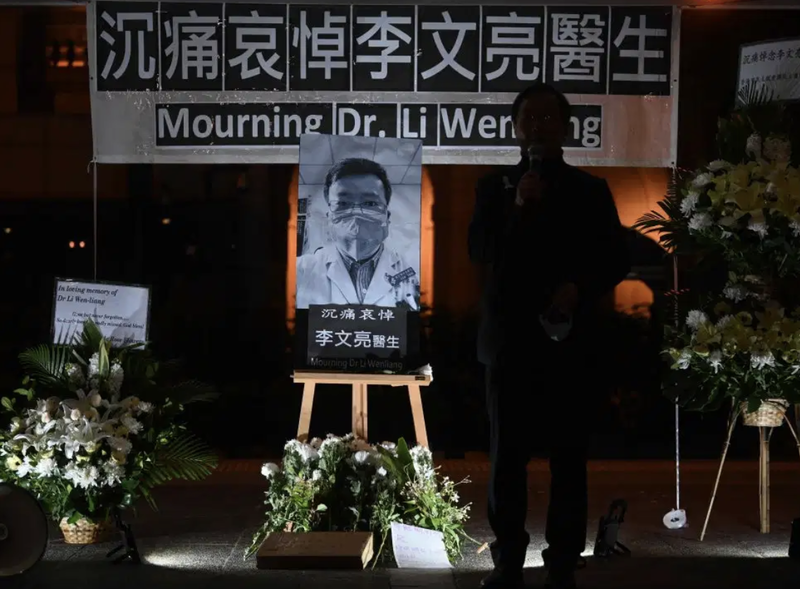 Here's video from one vigil:
One image circulating online shows Dr. Li's face with his mouth covered by a dragon paw, a symbol of how the government silenced him.
Hero of freedom of information Dr. Li Wenliang, the world's face of the China coronavirus pic.twitter.com/pLdzMT6GCW

— Antonio J. Montalván II (@AntonioJMontal2) February 8, 2020
Canada's National Post has documented some more of the outrage growing on social media, which the Communist Party is scrambling to suppress.
"Good people don't live long, but evil lives for a thousand years," read one post mourning Li's death.
A hashtag referencing the message that Dr. Li was forced to sign by police in Wuhan after he was punished for speaking out is spreading on Weibo and other Chinese social media sites.
Now, many users are using the hashtag "Can you manage, do you understand?" — a reference to the letter Dr. Li was forced to sign when authorities accused him of disrupting "social order," according the BBC.
Though the comments hold back from outright naming Li, they demonstrate the escalating anger towards the government.
"Do not forget how you feel now. Do not forget this anger. We must not let this happen again," one commenter wrote on Weibo.
"The truth will always be treated as a rumour. How long are you going to lie? What else do you have to hide?" another wrote.
"If you are angry with what you see, stand up."
In one of the most unlikely outbreaks so far, the coronavirus has arrived in the Haute Savois in the French Alps according to Bloomberg and Vanity Fair. As we mentioned earlier, five Britons have been diagnosed with the holidays just a week before the resort is set to be packed with vacationers from the UK.
Beijing has also sent members of a powerful anti-corruption committee to investigate the circumstances surrounding Dr. Li's death, a sign that Beijing will likely find some poor local official to scapegoat.
The virus has been tracked back to a contaminated chalet in Les Contamines-Montjoie. Family members from two apartments within the chalet have been infected, including a 9-year-old girl. The virus is believed to have traveled to the resort after another Briton traveled to Singapore.
So far, only a handful of new cases have been reported Saturday afternoon in the US, though it's the middle of the night in Beijing right now. Here's the latest count courtesy of SCMP.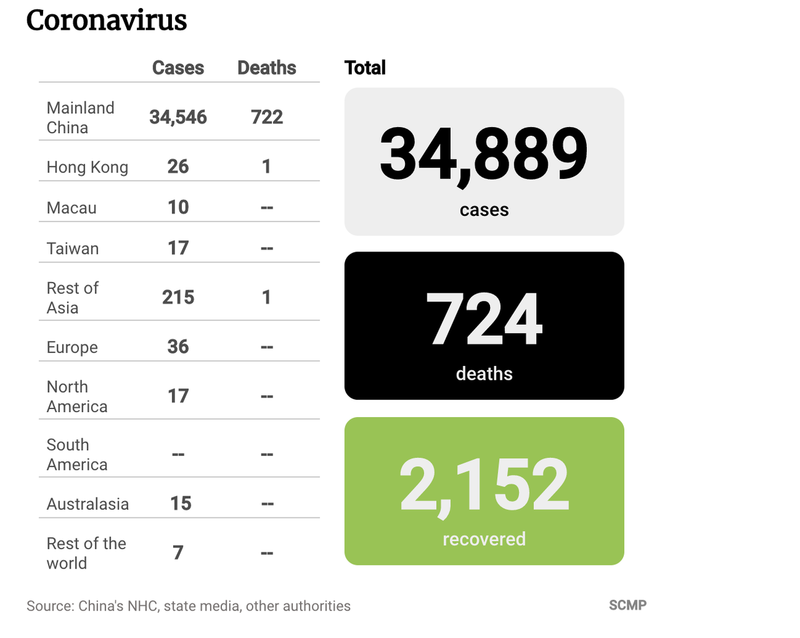 * * *