"We'd Rather Die At Home" – Chinese Citizens Rebel Against Mandatory Quarantine As Lockdown Expands
by Tyler Durden
ZeroHedge.com
Thu, 02/06/2020
Update (1100ET): Is this the WHO's "Mission Accomplished?"
During a press conference in Switzerland Thursday evening, Dr. Tedros, the WHO's director-general, thanked the Gates Foundation (which committed $100 million) and Japan (which contributed $10 million) for answering the organization's call for more funding to help suppress the coronavirus outbreak that has now claimed more than 560 lives, mostly in China. He also claimed that the number of new and suspected cases is finally starting to slow, a sign that the outbreak could be subsiding, and that the China-led response has been a success.
Though researchers have already mapped the virus's DNA and are already working on a remedy, there is still a lot we don't know about the virus, Dr. Tedros said. We don't know where it came from (though there are theories) and we don't 100% understand how it spreads. There are also many tools we don't have, like a vaccine, that will hopefully soon be developed. In effect, "we're shadow-boxing with the virus," Dr. Tedros said. "We need to bring it into the light."
The organization continued to sidestep questions about China's censorship and its initial reluctance to share information about the outbreak with the international community.
Responding to a reporter's question, the WHO rep confirmed that the doctor who was one of the first to detect the virus before being ignored and eventually sickened has now died.
Dr. Li Wenliang, the Chinese whistleblower doctor who warned the public of a potential "SARS-like" disease in December 2019, succumbed to the virus in Wuhan on Thursday, the WHO said.
* * *
Thousands of athletes around the world breathed a sigh of relief on Thursday when Japanese Prime Minister Shinzo Abe confirmed that the Summer Olympics in Tokyo won't be delayed. Then again, if the outbreak continues to worsen in Japan and the broader region, who is going to want to come if they don't feel safe?
As the second week of global pandemic panic comes to a close, China, increasingly frustrated that their ruse with the WHO didn't manage to calm the international community, again registered its "strong objections" to the growing number of travel bans directed at its citizens.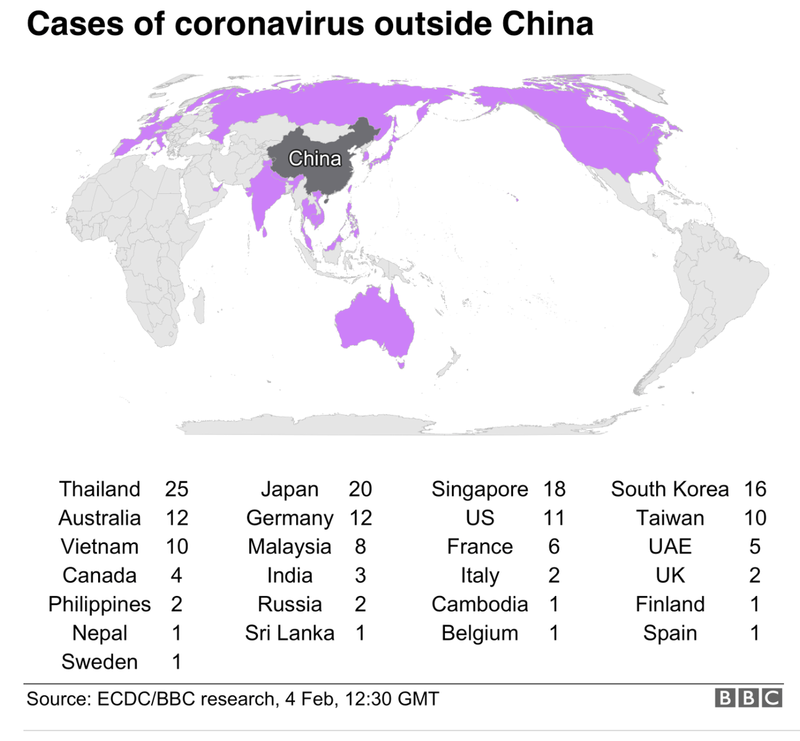 The warning followed a decision by Taiwan's health authority to ban all international cruise ships from docking at the island from Thursday as the number of suspected outbreaks aboard cruise ships grows.
The global death toll has ticked higher, reaching 566 overnight, while the total number of confirmed cases has broken above 28,000 to 28,384.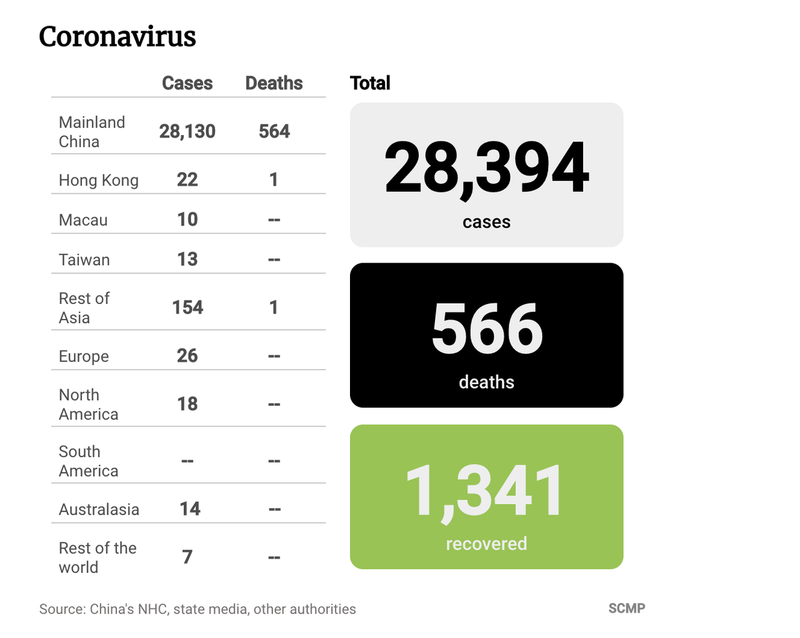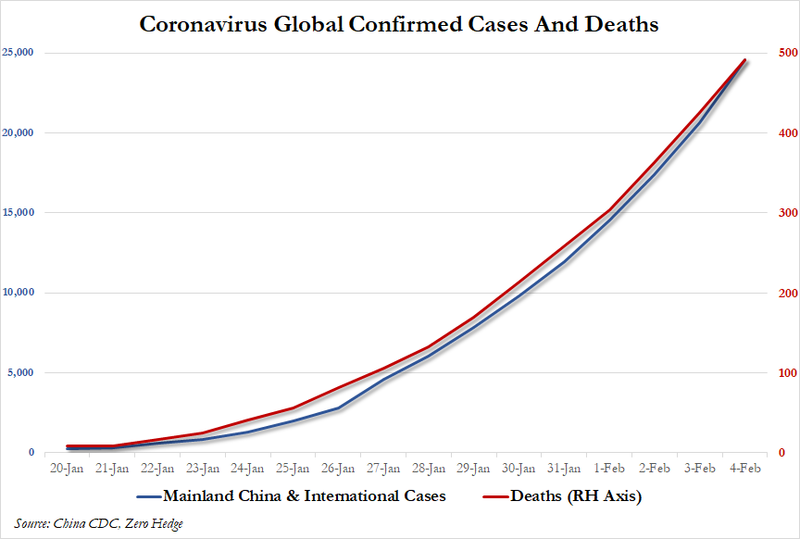 More than a dozen countries have imposed some kind of restriction on foreigners who have recently visited China. Within China, images of police clad in hazmat suites and touting infrared thermometers have become frighteningly common. Many airlines cancelled passenger routes to China, and some are extending those cancellations out to March or April.
"China is strongly concerned and dissatisfied," said a spokeswoman for China's Foreign Ministry. "We hope relevant countries will bear in mind overall relations and people's interests and resume normal operation of flights to guarantee normal people-to-people exchange and cooperation."
"I must stress that certain countries' ill-advised decisions to suspend flights to and from China are neither cool-headed nor rational," she added.
But while Beijing tries to spin the narrative to accuse other countries of racism, some brave journalists have shared the stories of families brave – or foolish – enough to speak out against the regime.
One resident of Wuhan who has been stuck in the city since the quarantine told the BBC that his uncle died in a quarantine because of supply shortages.
The image of life in Wuhan is every bit as bad as the most chilling conspiracies would have you believe.
"My uncle actually died in one of the quarantine points because there are no medical facilities for people with severe symptoms. I really hope my father can get some proper treatment but no-one is in contact with us or helping us at the moment."
"I got in touch with community workers several times, but the response I got was, 'there's no chance of us getting a bed in the hospital.'"
Beijing, which just announced a spate of new treatment-related projects in Wuhan and the surrounding area, seemingly can't get beds online fast enough. Because the government is literally condemns some elderly patients to die in their homes.
But for people like us, we can't even get a bed now, let alone get one in the new hospitals.
If we follow the government's guidelines, the only place we can go now is to those quarantine points. But if we went, what happened to my uncle would then happen to dad.
So we'd rather die at home.
Many are saying that if they knew authorities would lock down Wuhan last week, they would have left for the holiday earlier.

What I want to say is, if I knew they were going to lock down the city on 23 January, I would have definitely taken my whole family out, because there's no help here.
If we were somewhere else, there might be hope. I don't know whether people like us, who listened to the government and stayed in Wuhan, made the right decision or not.
In news from outside China, Indonesia is reportedly planning to build a quarantine center on an uninhabited island to isolate coronavirus victims, even though Indonesia has yet to record a single case of the virus, though 243 have been quarantined on the island of Natuna.
Across the globe, health officials are racing to develop treatments and testing methods for the virus. Wuhan, ground zero of the outbreak, opened an emergency test laboratory on Wednesday to begin human trials.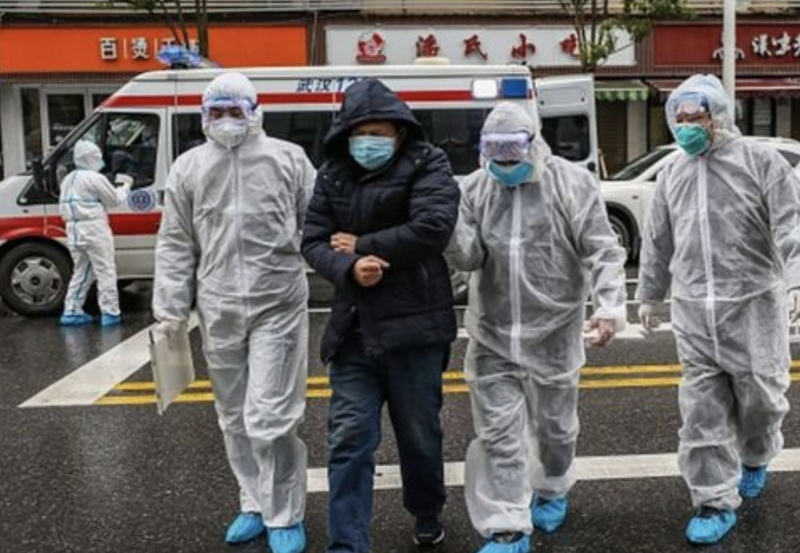 Over in Hong Kong, a top public health official has declared a community outbreak, according to the SCMP.
A day after the city government revealed that it would impose a mandatory 14-day quarantine on anybody crossing into Hong Kong from China, the city government has provided some more details on how it will combat the crisis. Most of the new cases in the city are being caused by human-to-human transmission. Six people have been diagnosed with the coronavirus over the past few days, five of whom had not left the city recently. Of the 21 cases in total, eight are believed to have no travel history relevant to the coronavirus.
Circling back to the mainland, local authorities in the city of Tianjin announced on Thursday that it would ban the exit and entry of its villages and compounds, becoming the latest city to essentially quarantine its entire population. Over in Wuhan, authorities are now demanding that all residents report their temperatures at least once per day.
So, that's 60+ million people under quarantine in China. And though the pace of new cases in the country has slowed slightly, the virus is accelerating, especially in Asia.