Japan Confirms 10 nCoV Cases Aboard Quarantined Cruise Ship; Hong Kong Warns Virus Could "Spread Widely" As Deaths Near 500: Virus Updates
by Tyler Durden
ZeroHedge.com
Tue, 02/04/2020
Summary:
Global confirmed deaths: 492
Confirmed cases on mainland: 24,324; additional 172 in ROW
185,555 cases under medical observation
Chinese authorities have enforced full community lockdown in Nanjing Province
American Airlines, Cathay Pacific and Jetstar close routes to China
Taiwan tightens travel restrictions
WHO infectious hazard chief says outbreak 'not a pandemic'
Japan confirms at least 10 cases of coronavirus aboard "Diamond Princess"
Kudlow says impact on US economy from outbreak will be 'limited'
* * *
Update (1845ET): At least 10 cases of coronavirus have been discovered aboard the Carnival Japan cruise ship "the Diamond Princess", which has been quarantined at Japan's Yokohama port since yesterday after officials learned that a passenger who recently disembarked tested positive for the virus in Hong Kong.
JUST IN: More than 10 people aboard a Japanese cruise liner have tested positive for #coronavirus, Japan's @tbs_news reported, after all 3,000+ passengers were quarantined earlier Tuesday pic.twitter.com/I6Z4iqIMEB

— QuickTake by Bloomberg (@QuickTake) February 4, 2020
As we reported earlier, 3,000+ passengers aboard the cruise ship are under quarantine. It's unclear when they'll be allowed to leave the ship. All individuals who were found to be infected with the virus were taken to a local hospital for treatment.
Meanwhile, after unveiling the city's first virus-related death, Hong Kong health officials warned Tuesday that the coronavirus outbreak could "spread widely through Hong Kong." Three newly diagnosed cases raised the total number diagnosed in the city to 18, with at least four of those cases being confirmed human-to-human transmissions, according to SCMP.
"It is highly probable the four were infected locally, so there could be invisible chains of infection happening within communities," Chuang said. "We are not ruling out a large spread [of the virus] in the future."
In other news, South Korea just confirmed 2 more cases, raising the country's total to 18 (the same as Hong Kong).
And for the second time in as many hours, health officials on the mainland updated the tally of confirmed cases.
NEWLY CONFIRMED CORONAVIRUS CASES ON MAINLAND AT 3,887 ON FEB 4
MAINLAND CHINA REPORTS 65 NEW CORONAVIRUS DEATHS ON FEB 4
CHINA'S TOTAL NUMBER OF CONFIRMED CORONAVIRUS CASES ON MAINLAND HITS 24,324 AS OF END-FEB 4
CHINA'S TOTAL NUMBER OF CORONAVIRUS DEATHS ON MAINLAND REACHES 490 AS OF END-FEB 4
Additionally, according to China's NHC, 185,555 cases under medical observation, up from 171,329 yesterday. Meanwhile, 892 cases have been cured. After Tuesday's rally in US stocks, will this number be all that bulls need to drive this massive short-squeeze even further?
Here's the SCMP's latest roundup of coronavirus cases (it has yet to be updated to reflect the new cases):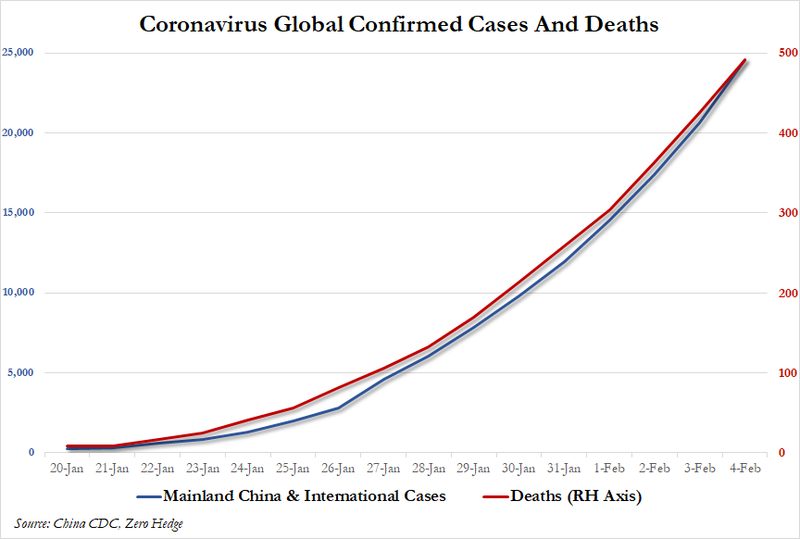 More than 5,000 health care workers walked off the job on Tuesday, worsening what's becoming a serious public health crisis, as they pressure the city government to close all borders with the mainland. Health officials warned that newborns and the elderly are still at risk.
Back in Wuhan, the entire city remains on lockdown, with streets eerily empty aside from a handful of pedestrians. The New York Times just published a video of sweeping drone footage of the city, which is the epicenter of the virus and by far the hardest hit.
The Rest…HERE