Carrie Lam Caves, Closes All Hong Kong Crossings Into Mainland China
by Tyler Durden
ZeroHedge.com
Wed, 02/05/2020
Carrie Lam finally knows what it feels like to be brought to her knees by the people of Hong Kong.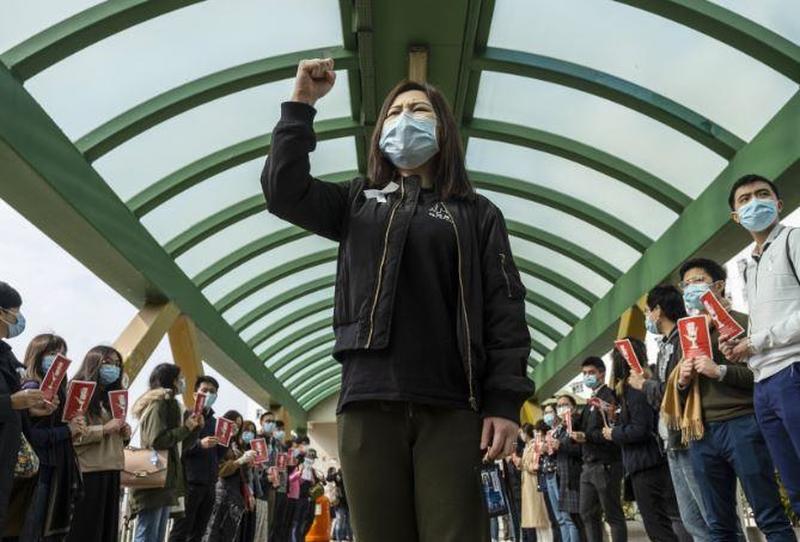 After successfully resisting the pro-democracy movement's demands (aside from withdrawing the hated extradition bill, a decision that likely had Beijing's backing) for months and months, Lam lasted all of about two days after thousands of health-care workers decided to go on strike in the face of a worsening epidemic poised to be the worst infectious outbreak in the city since SARS (SARS killed 300 after ripping through the city's financial district).
On Wednesday, Lam said all travelers from mainland China, including local residents re-entering the country, will be required to be quarantined for 14 days. The new policy takes effect on Saturday, giving travelers 48 hours to figure out where they need to be.
However, Lam didn't explain how the 'quarantine' will be enforced, sowing doubts about the city's ability to forcibly house that many people, particularly after protesters persuaded the city government not to use a newly built public housing project to isolate infected patients.
Lam also apologized for a controversial comment made on Tuesday when she chided public officials not to wear masks except under dire circumstances to help conserve supplies.
https://twitter.com/France24_en/status/1224998951641927680?ref_src=twsrc%5Etfw%7Ctwcamp%5Etweetembed%7Ctwterm%5E1224998951641927680&ref_url=https%3A%2F%2Fwww.zerohedge.com%2Fgeopolitical%2Fcarrie-lam-caves-closes-all-hong-kong-crossings-mainland-china
#coronavirus epidemic: "#Wuhan is a ghost town. It's incredible to see."

Wuhan international clinic chief doctor Philippe Klein tells us more about the situation of the #virus outbreak in the city ⤵ pic.twitter.com/Bqitq35Rt1

— FRANCE 24 English (@France24_en) February 5, 2020
The strikers forced Hong Kong's hospitals to cut services for a second day as they demanded that Carrie Lam acquiesce and shut the border with the mainland.
HK confirmed its first coronavirus death on Tuesday – the second outside mainland China. That's another reason why Lam's government might have caved. On Tuesday and Wednesday, the city confirmed six new cases, increasing the total to 21. The three confirmed cases on Tuesday had no travel history.
"It is worrying…the coming 14 days will be key," she added.
"The situation has entered another critical stage. After consulting medical experts, I am announcing the further reduction of cross-border traffic."
The chief executive said the government would also suspend immigration services at Kai Tak Cruise Terminal and Ocean Terminal.
Lam said the city would set up a $1.28 billion (HK10 billion) fund to help combat the outbreak. She also begged citizens to "unite" to fight the outbreak, a reference to lingering protests and resentment between the people and the government (and particularly the police).
"We must unite and set aside our differences, so that we can win this war against the disease," Lam said.
By folding, Lam is likely infuriating her backers on the mainland, including President Xi, who managed to 'convince' the WHO that China isn't unsafe and that border closures and travel restrictions targeting Chinese citizens aren't necessary.
Still, the news that China's special administrative regions are joining the rest of the world in cutting ties to the mainland is hardly reassuring. But markets still look set to notch their first back-to-back gains in a week, even as quarantines are being set up on the Chinese base of iPhone maker Foxconn, at land borders with Hong Kong, on a cruise ship docked in Japan and US military bases.