American Experts Warn Global Coronavirus Outbreak Now Inevitable As WHO Begs For More Money…""There is not a doubt this is going to end up in most countries eventually."
by Tyler Durden
ZeroHedge.com
Wed, 02/05/2020
Summary:
First babies born infected with coronavirus
Hong Kong closes borders with mainland
Doctors say death rate exaggerated by Wuhan fatalities
24,628 cases, 492 deaths
President Xi says China 'capable of suppressing outbreak
Cruise ship quarantined in Hong Kong
WHO asks for more money as it 'confirms' China's numbers
* * *
Update (1100ET): At this point, most people who have been paying attention probably understand that the coronavirus pandemic probably won't be 'contained' within China
But in case you had not yet been disabused of that notion, we'd like to turn things over to the WHO, which has repeatedly defended China's response and transparency. In what looks like an attempt to shore up confidence in the numbers being released by Beijing, the WHO have "confirmed" that more than 3,100 new cases of the virus were discovered in China over the last 24 hours.
WHO Director-General Tedros Adhanom Ghebreyesus said during a Wednesday afternoon news conference in Switzerland that the reported cases are "the most cases in a single day since the outbreak started."
LIVE: Press briefing on the #2019nCoV outbreak with @DrTedros https://t.co/VYKBDINtRJ

— World Health Organization (WHO) (@WHO) February 5, 2020
Now that nCoV has been declared a global pandemic, the WHO said it needs more resources to fight it: So Dr. Tedros announced a response plan and is requesting additional funding to the tune of more than half a billion dollars.
"We are requesting $675 million (in) U.S. dollars to fund the plan for the next 3 months," he said on a call with reporters, explaining that only $60 million of that will fund WHO operations while the rest will go toward supporting countries fighting to contain. "Our message to the international community is invest today or pay more later." The WHO has already tapped $9 million of funding from its contingency fund for emergencies, Tedros said.
Perhaps China wasn't pleased with the WHO's admission that the virus is a dangerous pandemic. They can't simply turn to Beijing for money to clean up a global mess that China made?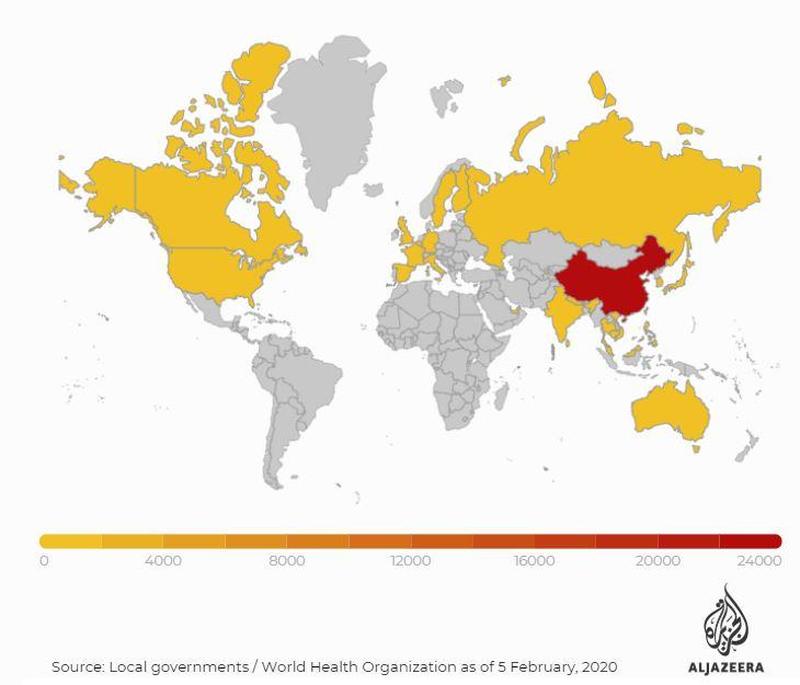 In what might be a preview of a CDC presser expected early Wednesday afternoon, BBG reports that top American infectious disease experts now fully expect a major outbreak in the US.
"It is not a matter of if—it is a matter of when," said Amesh Adalja, a senior scholar at the Johns Hopkins University Center for Health Security and a spokesman for the Infectious Diseases Society of America. "There is not a doubt this is going to end up in most countries eventually."
At this point, the best-case scenario is mitigation: preventing every country from turning into Wuhan.
"This is about mitigation at this point, and keeping the global spread as minimal as possible," said Rebecca Katz, a professor and director of the Center for Global Health Science and Security at Georgetown University.
Only 11 cases have been confirmed in the US so far, even as more Americans evacuated from Wuhan arrive in California.
In other news, millions of Africans were probably relieved to hear that five people in Botswana tested negative for the virus on Wednesday. But across the continent, African countries are rallying their "fragile" medical infrastructure to face the task of containing the virus. According to Reuters, isolation wards stand ready inside hospitals in Khartoum, labs in Senegal and Madagascar have stocked up on testing equipment and passengers arriving in Gambia, Cameroon and Guinea are being screened for fever and other symptoms.
The African CDCP has activated an emergency operation center to coordinate the response to the virus across more than 54 governments. They know early detection will be critical to preventing a full-blown outbreak.
John Nkengasong, Africa's CDC director, told a briefing in the Ethiopian capital Addis Ababa this week that the activation of the emergency operation centre would create a single incident system to manage the outbreak across the continent.
The Africa CDC will also hold a training workshop in Senegal for 15 African countries on laboratory diagnosis, he said.
The continent has more than doubled the number of laboratories now equipped to diagnose the viral infection, this week adding facilities in Ghana, Madagascar and Nigeria and to established testing labs in South Africa and Sierra Leone.
"By the end of the week we expect that an additional 24 countries (in Africa) will receive the reagents needed to conduct the tests and will have the test running," a spokeswoman for the WHO's Africa Region told Reuters.
The Democratic Republic of Congo has barred its citizens from traveling to China, Burkina Faso has asked Chinese citizens to stay away for now, and Kenya, Tanzania and Rwanda have all suspended flights to China. We're surprised more of their neighbors haven't followed suit.
* * *