Watch: 1 Kilometer Line For Face Masks In Taiwan
by Tyler Durden
ZeroHedge.com
Wed, 01/29/2020
Update (1130ET): The Global Times has confirmed another death, bringing the death toll to 133, and another ~30 cases have been confirmed on the mainland.
* * *
Update (0950ET): Germany's Lufthansa and American Airlines are the latest airlines to suspend flights to China. American is cancelling flights from LAX to Shanghai and Beijing beginning Feb. 9 through late March. Other airlines that have cancelled some or all flights to China since earlier this morning include Air Canada, Lion Air, Seoul Air and a handful of others around the world.
Asiana Airlines Jeju Air Jin Air Co Finnair Oyj Lion Air Jetstar Airways' Singapore Ops and Air Macau have also cancelled flights.
Representatives for Lufthansa are reportedly denying reports that it plans to suspend flights. It seems only time will tell. BBC reports that Britons who have been evacuated from Wuhan will be kept in quarantine for two weeks. Japan and the US have also evacuated citizens from Wuhan via chartered plane. Australia and New Zealand are also planning evacuations.
Mark Woolhouse, a professor of infectious disease epidemiology at the University of Edinburgh, told the AP the UK's steps are justified.
"There's always a balance between the draconian measures of public health and what people might want to do, and obviously it's regrettable if people who turn out not to have the virus are quarantined unnecessarily," he said.
We're still waiting on confirmation regarding whether the White House will ban flights into and out of China. And just like that, an already dismal outlook for the airline industry is getting worse.
* * *
Update (0910ET): You had to know it was coming.
As more local governments on the mainland (including Beijing and Wuhan) mandate that facemasks be worn at all times, price gouging throughout Asia and even in certain parts of the US has become extremely common. Locals say Chinese everywhere are snapping up masks and mailing them to family in the mianland.
Of course, stores around China, Taiwan, Hong Kong and Macau can't get their hands on more facemasks fast enough (Japan is reportedly preparing a shipment to assist the Chinese government). As a result, lines outside shops and factories are growing to a staggering degree.
One line outside a factory in in Changhua City reportedly stretched for more than a kilometer (0.62 miles).
【抢购口罩 台湾彰化工厂排长龙】
【绵延一公里 工厂存货卖光】
武汉肺炎疫情严峻,台湾虽然还没全面扩散,但民众已经十分警觉,市面上的零售点已经买不到大量口罩。在彰化一家创意生活馆,民众排队买口罩的队伍近一公里。工厂发1000张号码牌,每人限购一盒。加班生产12万份口罩在春节三天销售一空。 pic.twitter.com/JIMhqpanXA

— 自由亚洲电台 (@RFA_Chinese) January 29, 2020
Lines were everywhere across China – Taiwan, Hong Kong, Macau – as well as Australia, New Zealand and the US.
【中国人全球抢购口罩】
不论是中国大陆、香港,还有世界各地都掀起口罩抢购潮,29日,上海和香港的药房门口都大排长龙,不少人为买一盒口罩,不惜清晨就开始排队。就连美国、澳洲、新西兰,口罩都突然间供不应求,据当地人说,都是华人在抢购口罩,然后寄回中国大陆。#口罩#武汉肺炎 pic.twitter.com/AUX3x6Hd7L

— 自由亚洲电台 (@RFA_Chinese) January 29, 2020
One video from Sichuan depicts an angry mob crowding the home of a family that allegedly ignored a case of the virus, allowing it to spread. The scene was reminiscent of something out of 'Lord of the Flies', a book that we imagine is probably banned in China.
In Hong Kong, where SARS killed roughly 300 people back in 2003, public-transit workers are threatening to strike if the city government doesn't widen its closures.
【港铁新工会促港铁要求政府封关】

新成立的港铁工会"港铁新动力",周三(29日)到港铁总部请愿,促请港铁在1月30日前,要求政府关闭罗湖及落马洲口岸,否则将不排除发起进一步工业行动,包括罢工

工会认爲,有近一半的内地旅客从罗湖及落马洲口岸来港,期望港铁能尽社会责任,保护员工及乘客安全 pic.twitter.com/MZiU5YDNV0

— 自由亚洲电台 (@RFA_Chinese) January 29, 2020
The New York Times Beijing bureau chief shared photos from across China and Hong Kong, depicting empty public transit stations and barren streets.
Temperature check stations are set up at the exits of every train along with a computer that my be screening people's ID card origins. They didn't screen me, but then I got checked as I left the station and again at a toll. First thing cabbie asked me: "where you coming in from?" pic.twitter.com/zweFKAFePS

— Paul Mozur 孟建国 (@paulmozur) January 29, 2020
And streets are pretty empty in Guangzhou too. Apparently most shops closed, more so than simply for CNY. The approach seems to be put up checkpoints absolutely everywhere to scan temperatures. Luckily everyone has contactless thermometers. pic.twitter.com/xgHcoQKKD1

— Paul Mozur 孟建国 (@paulmozur) January 29, 2020
In other news, after the White House denied weighing a complete shutdown of all passenger air traffic between the US and China, Secretary of State Mike Pompeo has confirmed that a complete ban is, in fact, one of several options being considered.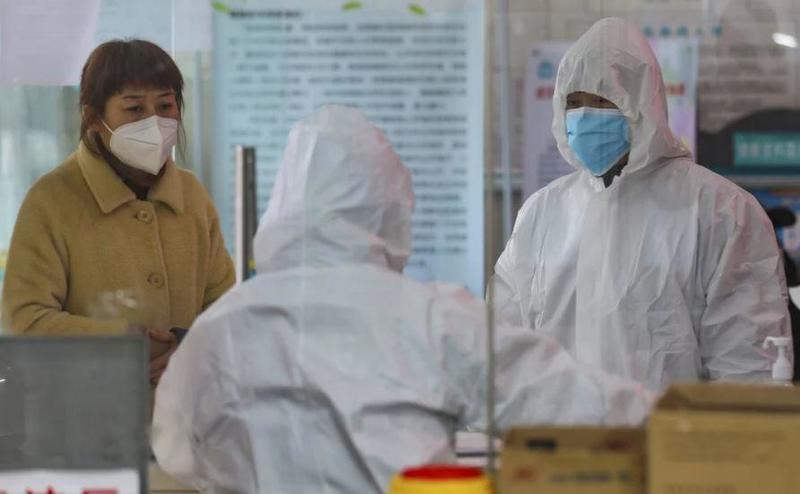 Different governments have been throwing out estimates for the timeline of developing a usable vaccine for the virus. According to CNBC, the latest estimate comes from Swiss drug giant Novartis, which said finding a vaccine will take "over a year" – much longer than the timeline for developing a vaccine for SARS, 17 years ago. But clearly, the market isn't worried, even as SocGen recommended to clients that they wait until the virus situation has "stabilized" before taking on more risk.
Back in China, health officials in Guangdong confirmed that two Australians and one Pakistan student have contracted the virus – making them the first confirmed foreigners to contract the virus in China. Another report claims four other Pakistanis have been diagnosed in Wuhan.
In the UK, a gathering of regional leaders from the UK and China that was set to take place in Birmingham in February has been cancelled, according to the SCMP. Following British Airways decision to close all flights to China, Germany's Focus Magazine has reported that Lufthansa plans to follow suit.
A few more cases have been confirmed, as the global total approaches 6,200.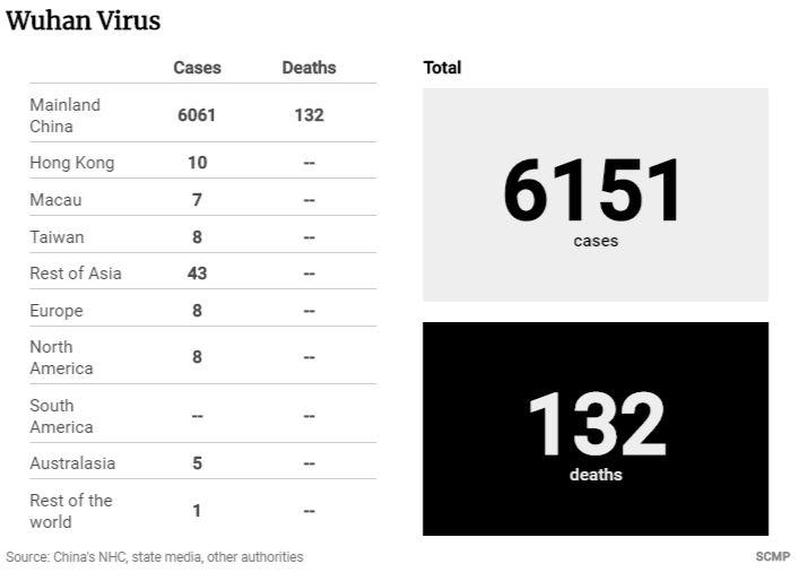 More cases are gradually being announced as airlines and governments around the world tighten travel restrictions in response to the virus. The WHO is expected to hold a press conference shortly.
* * *