Hundreds Of Virus Carrying Planes Headed For US, London, Paris, Vancouver
by Mike Shedlock via MishTalk,
ZeroHedge.com
Tue, 01/28/2020
Lockdowns are for the peasants, not those with money.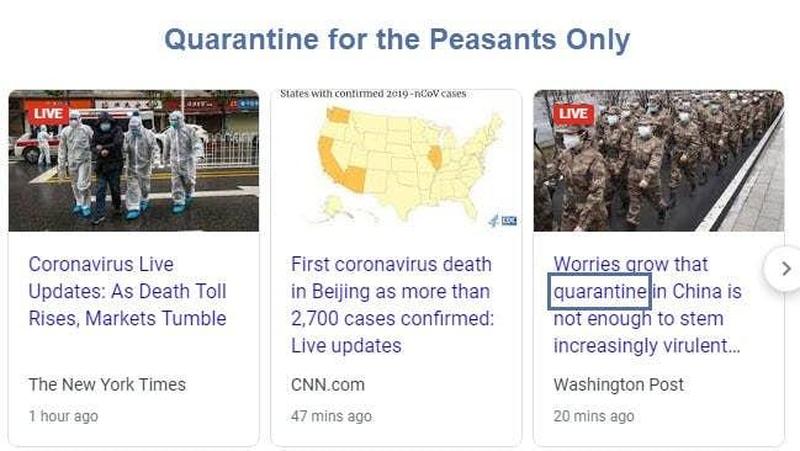 What Does Halt All Traffic Mean?
This morning, I Decided to Research this Question:
I don't Know Jim, good question.

China statements say "tours"

Other sources suggest "individuals"

So … Is it Tours or Individuals?

And what about those who visited China from other countries?

Not covered at all IMO. https://t.co/K5QEoTFXPG

— Mike "Mish" Shedlock (@MishGEA) January 27, 2020
Results below.
Lockdown? What Lockdown?
There is no lockdown in China, if you are wealthy.
Check out this Beijing Flight Schedule for today. Here's the Wuhan Flight Schedule for today.
Lockdowns are for those with no money, not the wealthy.
Beijing Departures
25 flights on a page
5 pages for the 00:00-06:00 departures
26 pages for 06:00-12:00 departures
22 pages for the 12:00-18:00 Beijing departures
20 pages for the 18:00-00:00 departures
That's about 1825 flights out of Beijing.
Wuhan Departures Today
How easy is it to escape Wuhan?
You can still catch a flight from Wuhan to Anchorage, Tokyo, Seoul, Bangkok, Singapore, Taipei and countless cities in China including Beijing and Shanghai.
There are 8 pages of flights out of Wuhan today. That's about 200 flights. Most of the flights are within China, but that hardly stops containment.
In the 00:00-06:00 slot one flight left for Anchorage. Another left for Bangkok, Thailand and another went to Tokyo.
In the 06:00-12:00 slot, two planes left for Tokyo and three to Hong Kong.
In the 12:00-18:00 slot, three planes left for Seoul, South Korea and two went to Taipei, Taiwan.
In the 18:00-00:00 slot, one plane went to Bangkok , three went to Taipei, three went to Hong Kong,
Wuhan Departures Tomorrow
Tomorrow, there are four flights from Wuhan to Singapore, three to Taipei, two to Bangkok, three to Tokyo, three to Paris, and six to Hong Kong, three to San Francisco,
The rest headed for other parts of China including Beijing. Then where?​ Here are international possibilities from Beijing.
US and Canada Destinations From Beijing Today
New York, Boston, Los Angeles, San Francisco, Detroit, Anchorage, Newark, Vancouver
European Destinations From Beijing Today
Amsterdam, Istanbul, Paris, Prague, Milan, Moscow, Frankfort, Munich, Athens, Barcelona, Warsaw, Rome, Stockholm, London
Other International Destinations From Beijing Today
Sydney, Singapore, Melbourne, Abu Dahabi, Manila, Auckland, Hong Kong, Seoul, Macau, Osaka, Bangkok, Ho Chi Minh, Taipei.
Flight Ban Starting Today?
Starting Monday
Bit too late.https://t.co/ewZIUoIiAx https://t.co/FfbLm33xfJ

— Mike "Mish" Shedlock (@MishGEA) January 25, 2020
No, that was a blatant lie by China.
Dereliction of Duty Everywhere
​Earlier today Chris Martenson proclaimed "WHO is Derelict" on Coronavirus
WHO is the World Health Organization. Add to that list, the Center for Disease Control (CDC), Chinese officials, and other US health officials.
The sane thing to do was ban all flights from China days ago.
But more landed today and far more are scheduled for tomorrow. And that's just from two cities. I did not check departures from Shanghai or other large Chinese cities.
Many of you know Chris Martenson from his economic website, Peak Prosperity.
But even those who do know him, may not be aware that his background includes a PhD in pathology.
If you have not done so already, please do yourself a favor and watch Chris Martenson's Must See Video on the Coronavirus.
Addendum – Monday Departures From China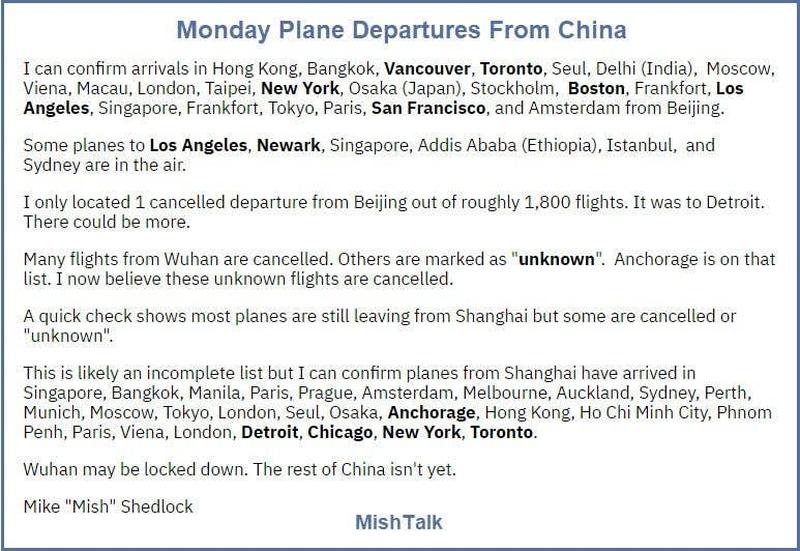 I can confirm arrivals in Hong Kong, Bangkok, Vancouver, Toronto, Seul, Delhi (India), Moscow, Viena, Macau, London, Taipei, New York, Osaka (Japan), Stockholm, Boston, Frankfort, Los Angeles, Singapore, Frankfort, Tokyo, Paris, San Francisco, and Amsterdam from Beijing.
Some planes to Los Angeles, Newark, Singapore, Addis Ababa (Ethiopia), Istanbul, and Sydney are in the air.
I only located 1 cancelled departure from Beijing out of roughly 1,800 flights. It was to Detroit. There could be more.
Many flights from Wuhan are cancelled. Others are marked as "unknown". I now believe these unknown flights are cancelled.
I can confirm planes from Shanghai have arrived in Singapore, Bangkok, Manila, Paris, Prague, Amsterdam, Melbourne, Auckland, Sydney, Perth, Munich, Moscow, Tokyo, London, Seul, Osaka, Anchorage, Hong Kong, Ho Chi Minh City, Phnom Penh, Paris, Viena, London, Detroit, Chicago, New York, Toronto.
Wuhan may be locked down. The rest of China isn't yet.