US Urges Americans To "Reconsider" China Travel As New Cases Emerge From Scotland To Singapore
by Tyler Durden
ZeroHedge.com
Thu, 01/23/2020
Update (1045ET): Just in case you had plans to celebrate LNY at a fish market in Wuhan, the US government has published a travel warning advising Americans to 'reconsider traveling to China' amid the latest viral outbreak.
U.S. URGES TRAVELERS TO RECONSIDER CHINA VISITS DUE TO VIRUS
Even if you made it to Wuhan at this point, one might encounter difficulties trying to enter the city, especially as a foreigner.
* * *
Update (0950ET): The BBC is reporting that a suspected case of coronavirus has been detected in Scotland.
Note: These are only suspected cases – not yet confirmed.
3 people who've recently travelled from Wuhan to Scotland are being treated as suspected cases of Coronavirus.

The head of infection medicine at the University of Edinburgh, Professor Jurgen Haas, said all 3 had respiratory symptoms and had been in Wuhan in the last 14 days.

— James Shaw (@JGBS) January 23, 2020
If confirmed, this would be the first case of the virus in the UK, and would indicate another intrusion into the developed world, this time in Europe.
The UK Health Secretary said Friday morning that the coronavirus is "increasingly likely" to hit Britain, the Times of London reports.
According to CNN, the number of coronavirus cases confirmed around the world has climbed to 622 (once again, the graphic below is ever-so-slightly out of date):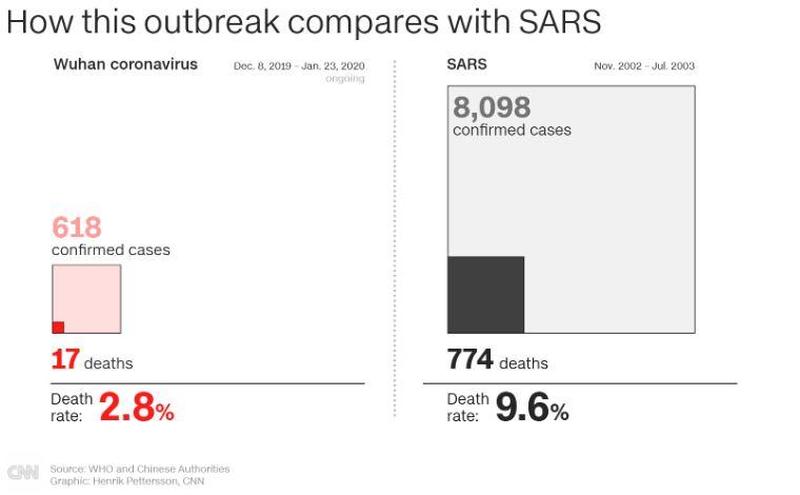 And the scramble for facemasks continues, with Hong Kong stores swiftly running out of stock, and black-market sellers engaging in widespread gouging of terrified customers.
Update (0935ET): India's foreign office said Thursday that an Indian nurse in Saudi Arabia has been diagnosed with the Wuhan coronavirus.
"About 100 Indian nurses mostly from Kerala working at Al-Hayat hospital have been tested and none except one nurse was found infected by Corona virus," tweeted Vellamvelly Muraleedharan, Indian Minister of State for External Affairs, on Thursday.
Spoke to @CGIJeddah on Indian nurses quarantined at Al-Hayat Hospital, Khamis Mushait, Saudi Arabia due to Corona virus threat.

They are in touch with hospital management and Saudi foreign Ministry. Have asked our Consulate to provide all possible support. @MEAIndia @PMOIndia

— V. Muraleedharan (@MOS_MEA) January 23, 2020
Update from @CGIJeddah : About 100 Indian nurses mostly from Kerala working at Al-Hayat hospital have been tested and none except one nurse was found infected by Corona virus. Affected nurse is being treated at Aseer National Hospital and is recovering well. @PMOIndia @MEAIndia https://t.co/jM0u5243GV

— V. Muraleedharan (@MOS_MEA) January 23, 2020
Cases have also been reported in Russia, Hong Kong and Macau, in addition to all of the countries listed below:
Confirmed cases of Coronavirus:

– China
– US
– Singapore
– Thailand
– Japan
– Taiwan
– South Korea
– Vietnam
– Saudi Arabia

— Breaking News Feed (@pzf) January 23, 2020