We've Been Sold a Bill of Goods
Rob Kirby
GoldSeek.com
Friday, 10 January 2020
During the run-up to year end, the narrative being fed to the population by the Wall St./Fed crowd was that massive liquidity [cash] injections were required in the banking system to ensure there were no "accidents" over the "turn" of the year end calendar to 2020. We've all been treated to some pretty sophisticated technical explanations by Wall Street and Fed mavens about the intricicies and manutia of balance sheets and bazookas.
So what is the true nature of our global financial malaise?
Compound Interest and Debt
What the Fed is confronting is not unique or specific "squaring financial books" for the year end. The issue is much more systemic in nature and it stems from the very fact that irredeemable debt based fiat money systems with compound interest are unstable in their very design. Years ago, when this fact that keynesian monetary theory was fatally flawed and it was pointed out to the dispicable cad John Maynard Keynes [who lends his namesake to our failing monetary system], he shrugged and said, "so what, we're all dead in the long run anyway".
Well folks, welcome to the long run.
Outcome Guaranteed, Perpetual Money Growth
In an irredeemable debt based fiat monetary system there is no way to "reduce" money supply except bankruptcy or forgiveness [jubilee]. Empirically, these outcomes are avoided at all cost. The reason money supply must perpetually grow is as follows: when each new monetary unit is loaned into existence, the future interest due on the loan is not. For interest to be paid, this necessitates perpetual money growth to satisfy the payment of ever increasing interest due. As in nature, perpetual uncontrolled growth is referred to as cancer – which often kills the host. When money was redeemable in specie, debt money could be extinguished with an exchange for specie.
Cancerous Growth and Timing of Collapse
In monetary parlance, perpetual money growth is referred to as monetary debasement. When monetary debasement grows in an unbridled fashion, mathematics dictates that it metasticizes into hyper-inflation through dilutive destruction of the value of the currency unit. The destruction of the currency unit through hyper-inflation is manifested through parabolic [vertical] growth in money supply. This is the ultimate fate for ALL irredeemable debt based fiat money regimes with compound interest – bar none.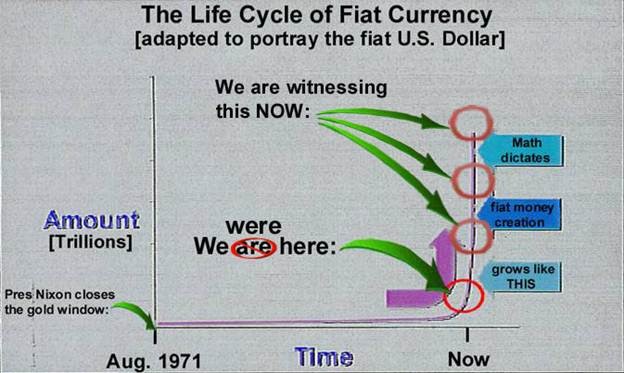 The Rest…HERE